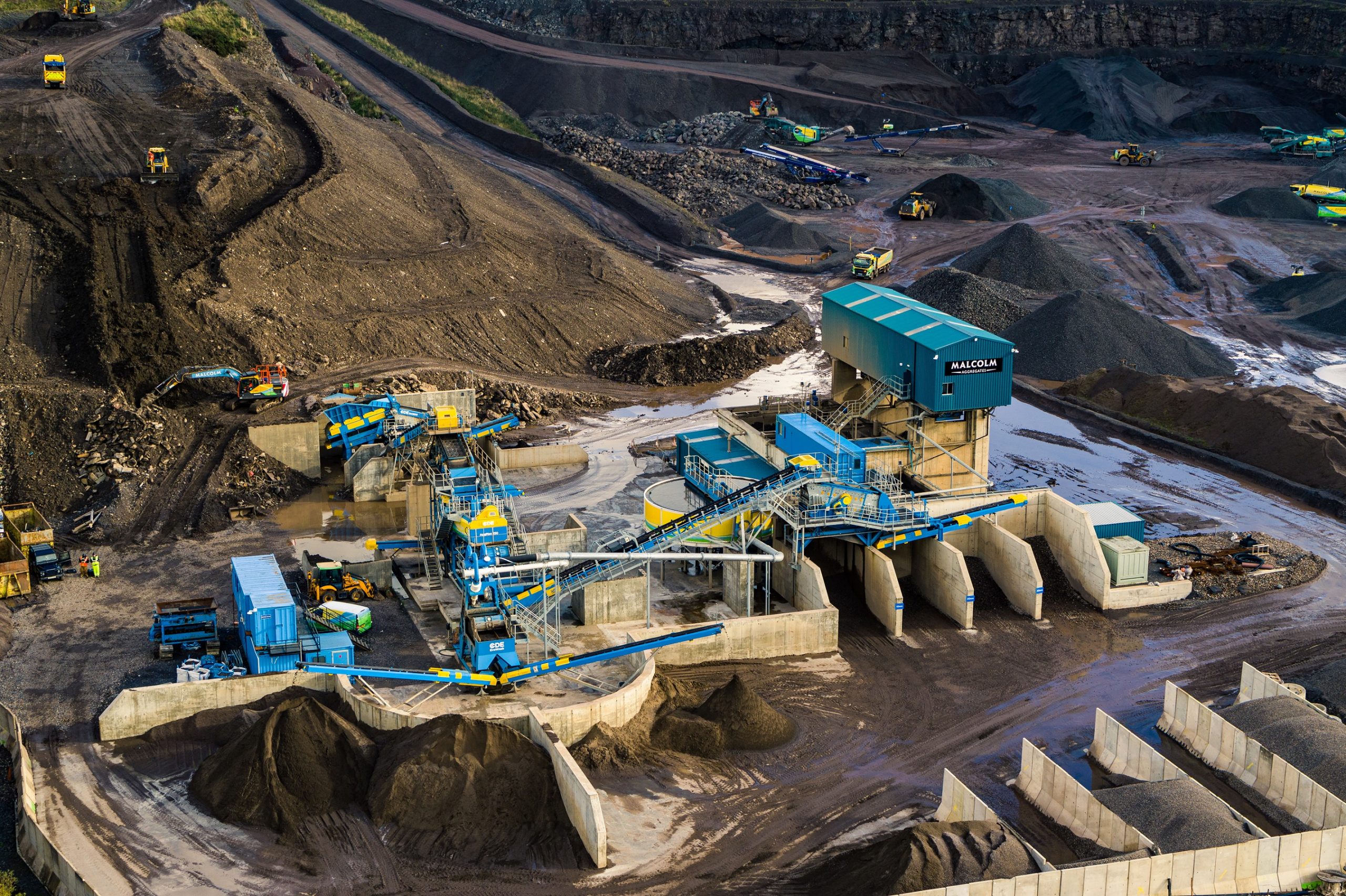 A new construction and demolition waste recycling facility has been created at Malcolm Group's Beith site.
The firm said the new facility will assist in the development of sustainable business solutions, with it set to be the focus of an upcoming open day event from September 7-8, which will offer tours giving a 'unique look' at its operation.
It comes after Malcolm Construction identified that landfill space for waste products it could not treat and repurpose was becoming exhausted. The firm therefore set an objective to divert over 500,000 tonnes of material a year from landfill. In addition, the company sought to develop marketable and innovative solutions with a broad range of applications in the construction sector.
Ten years ago, it worked with CDE to install a 70tph recycling wash plant at its Shewalton Quarry. The plant continues to operate to 'great benefit' of the company, and to date has diverted over one and a half million tonnes from landfill. However, as a small capacity plant it could no longer meet growing demand alone.
The team at Malcolm Construction spent five years researching all options for the development of a new washplant at the Loanhead site. This included considering a number of brands on the market and visiting a range of CDE reference sites across the UK to observe different plant set-up options. The company concluded that CDE could offer them the best solution to meet their production requirements and made the decision to invest.
As the site is an existing hard rock quarry, which produces a wide range of aggregates, Malcolm Construction said the solution developed by CDE can conserve their natural reserve and save tipping space.
Graeme Lindsay, waste transfer & recycling operations manager at Malcolm Construction, said, "Our investment was a very considered one and based on intensive research done over a number of years. We have had a ten-year relationship with CDE and greatly value its 'Customer for Life' model; we have had nothing but positive experiences.
"In addition, we felt that this investment was our best approach to delivering on our sustainability goals by saving void capacity, extending the life of hard rock reserves, developing resources from waste and aligning with further long-term business goals."
The C&D waste recycling facility delivered by CDE consists of an R4500 primary feeding and screening system, AggMax 252R logwasher, EvoWash sand washing fine material classification plant, AquaCycle A600 thickener and Filter Press sludge dewatering system that increases water recycling to more than 95%.
Walter Malcolm, MD of the Malcolm Group Construction Service division, added, "We overcame any issues in the installation process together with CDE – which were to be expected with a project of this scale – and we also had to deal with Covid risking holding us back. I think it has been extraordinary that we managed to get the plant finished in the time we did and up and running as quickly as we did as well."
Malcolm Construction said that the plant is already proving its effectiveness and delivering high quality in-spec products for it, including a 0-2mm soft sand and 0-4mm concrete sand. The products will be used for concrete production, pipe bedding, and backfilling utility tracks amongst other applications.
David Kinloch, director of business Development UK & Ireland at CDE, commented, "We have been long term partners with Malcolm Construction and have always had a great working relationship, so we were pleased when they confirmed they wanted to re-invest with CDE to install a new plant at a second company location. The waste recycling solution we have installed is already providing new products for the company, to the benefit of its business objectives both in terms of return on investment and sustainability goals. We look forward to continuing our partnership with Malcolm Construction and witnessing the effectiveness of this new plant."
Walter Malcolm added, "CDE, as they know, were not the cheapest option. However, we decided to go for the most cost-effective option for ourselves and for our customers as well, that provides the best return on investment. We knew the support we get from CDE, and we also know the quality and material we are going to produce. That, for us, made it quite a straightforward decision to partner with CDE again. It's been a first-class experience and the build quality is excellent.
"Sustainability is very important for us at Malcolm Construction. We've been operating here as a family business for nearly 100 years. We'd like to be here for another 100 years and value the contribution of CDE technology to making that ambition a reality."