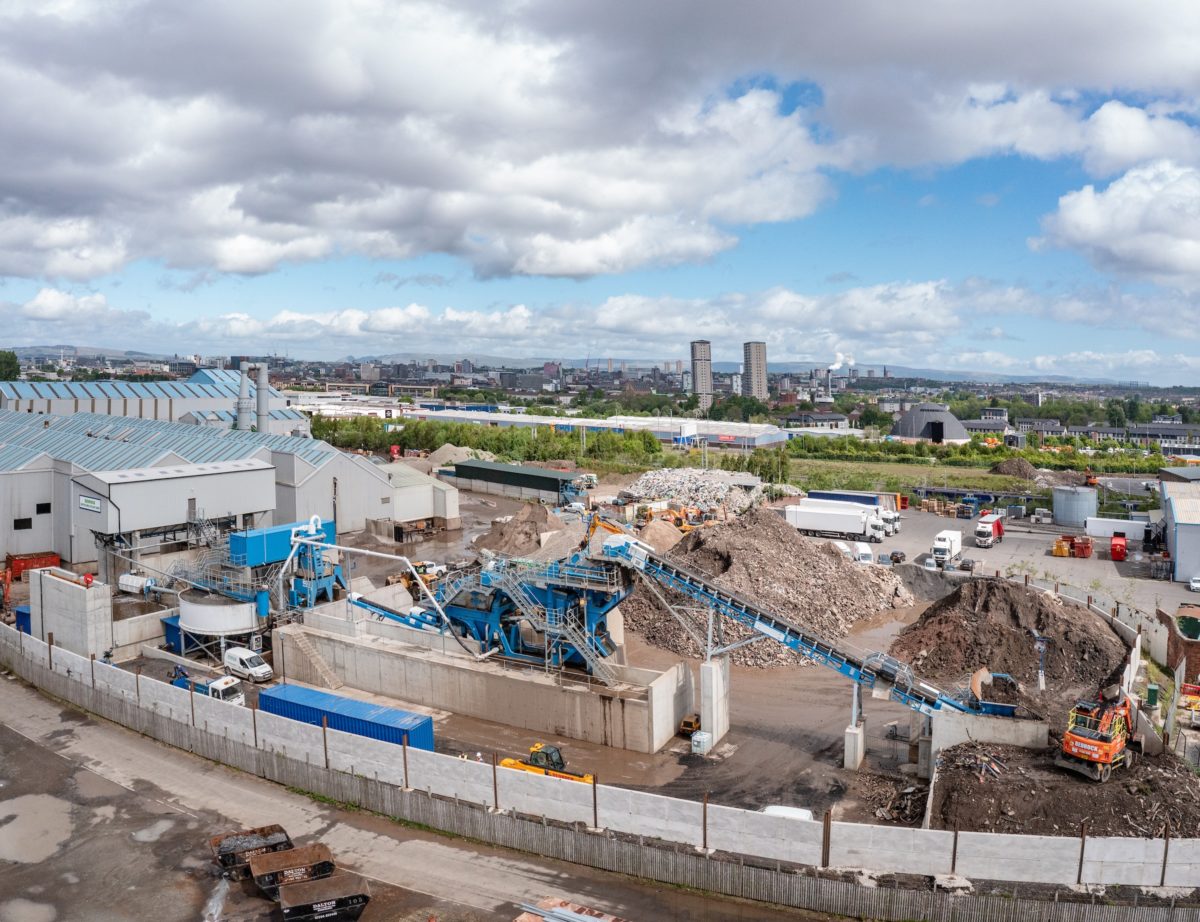 GLASGOW-based Bedrock Plant is reportedly processing 1,000 tonnes per day after investing in a new CDE plant.
The business, which was founded in 2022, originally specialised in plant hire across Scotland's central belt.
Growth led to the requirement for a landfill site with screening and crushing operations. Bedrock teamed up with CDE to install a construction, demolition and excavation (CD&E) waste recycling plant at its Polmadie site, which created further opportunities within the recycled aggregates market.
Demand for recycled aggregates in Glasgow has increased significantly as the city is regenerated with new commercial and residential developments.
During the city's hosting of the COP26 climate summit late last year, the installation of the CDE plant was nearing completion just half-an-hour from where world leaders were debating the climate emergency.
The project marked Bedrock's first venture into wet processing. Previously, with dry processing operations, the company was said to be crushing and screening to produce only a 'low-value' fill.
Accompanied by CDE business development manager Garry Stewart, Bedrock representatives visited several sites, including Brewster Brothers and Brocklebank, to hear from existing customers operating CDE technology.
The 80tph CD&E waste recycling facility comprises an R1500 primary scalping screen, AggMax 83SR logwasher, a dual pass EvoWash sand washing fine material classification plant and AquaCycle A400 thickener with Flocstation.
CDE explained it was developed with the intention of reducing the volume of waste destined for landfill, turning it and other low-value material into 'profitable, saleable' recycled aggregates.
The R-Series is said to allow for a 'constant, even flow' of material to be delivered to the integrated screen before being sent for additional screening, washing and sizing. The AggMax modular logwasher incorporates 'aggressive attrition' of conglomerates to release sands through scrubbing and organics removal, as well as recovering fines and removing filtrates.
The dual pass EvoWash employs modular hydrocyclone technology, which CDE revealed provides 'unparalleled' control of silt cut points with two washes. Meanwhile, the AquaCycle high-rate thickener recycles up to 90% of the process water for immediate re-use.
Garry Stewart said, "Reducing Bedrock's environmental footprint was a driving force in the decision to invest in a CDE waste recycling plant. The Bedrock team were conscious of the tricky materials to be processed and had full confidence in the capabilities of our technology due to our commitment to engineering excellence and our comprehensive analysis of their raw feed, the results of which informed the development of the plant."
Since commissioning, the plant has decreased volumes going to landfill by some 70-80%. The investment has also opened new revenue streams for Bedrock through the outputs generated, with eight variations of recycled aggregates being produced for sale and use in the construction industry. They include 0-2mm, 4-10mm and 40-100mm rinsed oversize.
Bedrock is also delivering drainage stone (10-20mm) to the construction sector, as well as pit and utility sands for concrete. The aggregates will also be used for cable bedding and pipe bedding.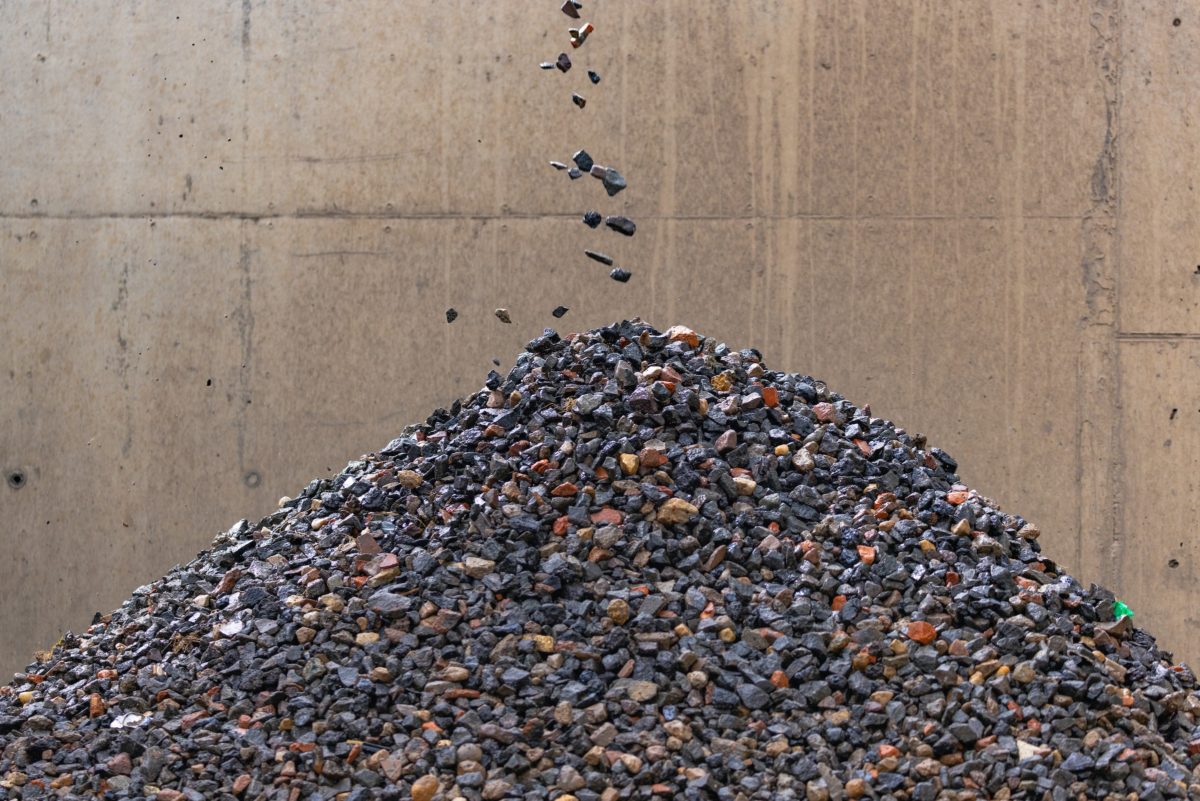 The site at Polmadie is compact and located in a highly industrialised area close to large residential neighbourhoods. Due to its urban setting and limited footprint, Bedrock required a closed-loop system capable of recycling the process water and eliminating the need for settlement ponds.
CDE explained that its water management expertise, realised through the combination of an A400 AquaCycle coupled with a P15 filter press, ensured Bedrock's vision was feasible.
The filter press deals with around 20-30 tonnes per hour of sludge to produce a dry cake from the silt and clay generated from the washing process. This cake product is used as a capping material for Bedrock's own landfill while the company investigates other uses for the material to bring it back into the circular economy.
Bedrock now plans to increase capacity. Director Joe McHugh explained, "We wish we had been able to do this ten years ago. The technology has changed remarkably in that time and CDE is at the top of its game when it comes to wet processing and waste recycling. We really see these areas as a defining part of Bedrock's future.
"Our experience with CDE has been extremely positive. We visited other reference sites and hearing the endorsements first-hand from existing and satisfied CDE customers was reassuring that we were indeed making the right decision on such a significant investment.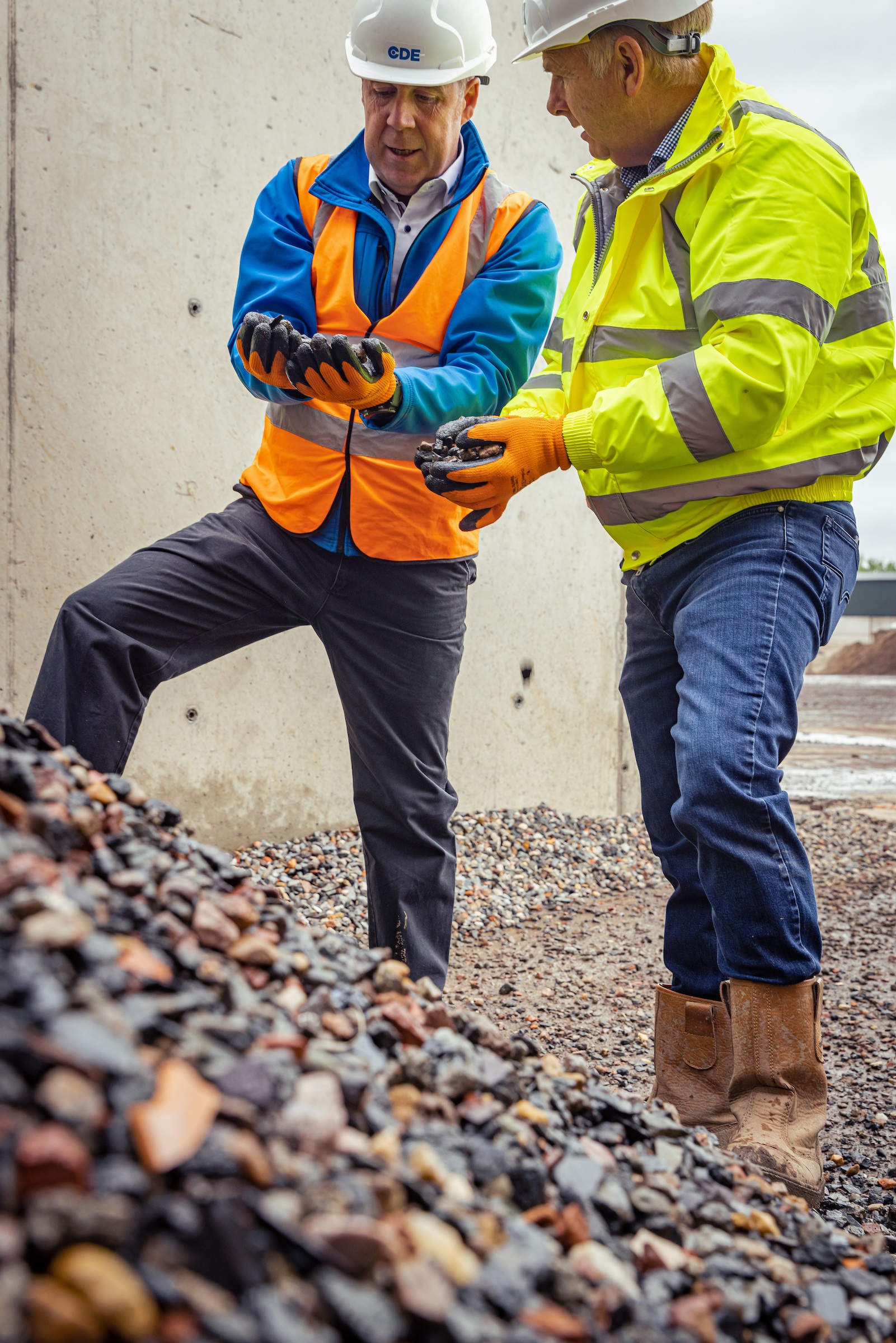 "The team were always managing our expectations while sharing our vision. We found them easy to work with and the bespoke, compact structure of the plant is first class and unique to our requirements. We have hopes for the future that this will only be the first plant we collaborate with CDE on, especially with the relationship we are building together."
Garry Stewart added, "It has been a pleasure to work with Bedrock, a family business focused on building a sustainable future through strategic investments. It felt particularly poignant as the final stages of our project came at such a significant time for the city of Glasgow, as it played host to global climate summit COP26.
"We are proud to be part of Bedrock's journey towards a more sustainable business model and look forward to working with its team to strengthen its position within the market in Glasgow."