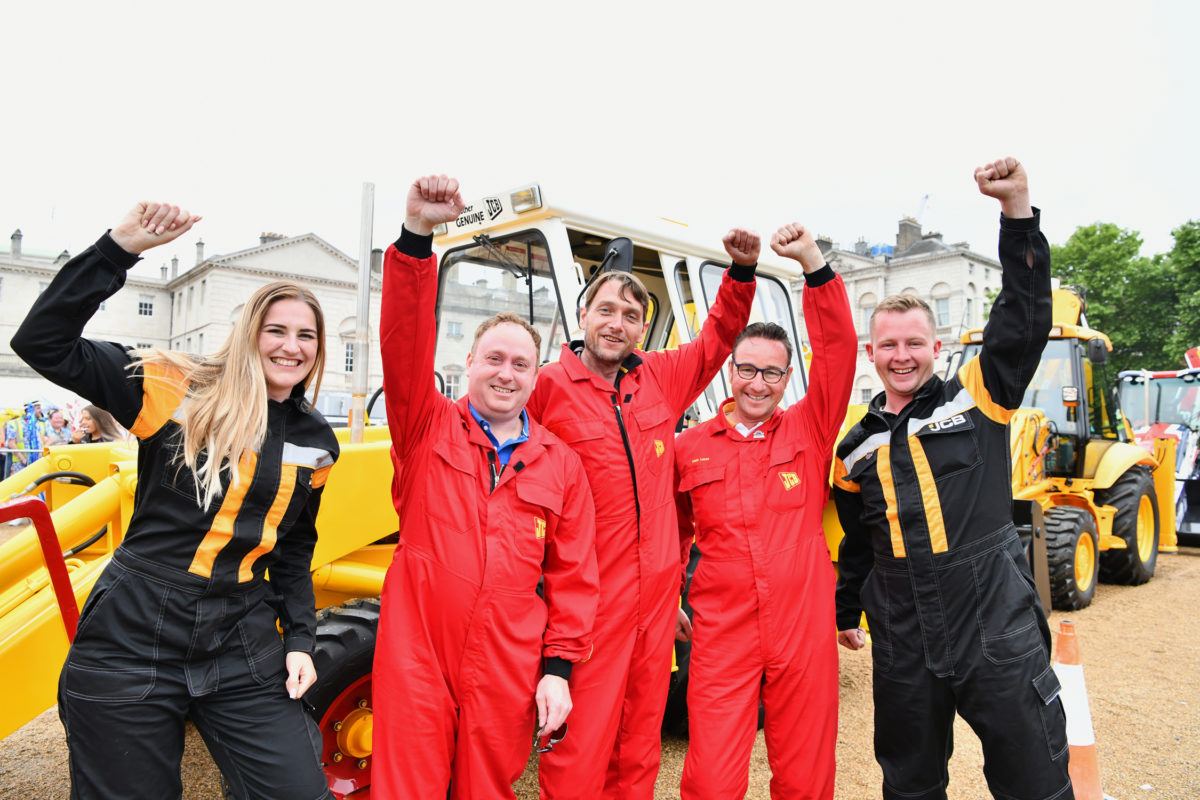 FIVE JCB machines representing landmark years of Her Majesty the Queen's 70-year reign featured in the Platinum Jubilee Pageant in London on June 5.
The diggers paraded down The Mall towards Buckingham Palace past members of the Royal Family and thousands of spectators lining the route.
The operators driving the machines have spoken of their pride at being involved in the tribute as they drove models manufactured in The Queen's jubilee years of 1977, 2002, 2012 and 2022 – and one made in her coronation year 1953.
JCB backhoe loader product marketing manager Julian Carder was driving a 1977 JCB backhoe from the year of the Silver Jubilee – a machine he restored to its former glory in 2012. He said, "It is hard to find the words to describe what an amazing occasion this was. The response the JCB machines received from the crowds, who were at least 10 deep along most of the route, was simply incredible.
"They were waving and cheering us as we drove the machines down The Mall, and it was a very emotional experience. We are all very proud to have taken part in such a fantastic tribute to The Queen."
JCB test site operator Georgina Williams brought the parade of backhoes up to date as she drove a 2022 model powered by hydrogen. The machine is currently being developed as part of JCB's plans to explore the potential of hydrogen as a zero CO₂ alternative to fossil fuels.
Georgina said, "The highlight for me came when we drove through Admiralty Arch and took in the scene in front of us – the flags in The Mall and the tens of thousands of people waving and cheering. It was simply amazing and a once in a lifetime experience."
Leading the parade was one of the first backhoe loaders ever built by JCB in 1953, driven by Andy McLeod of ABM Plant Hire. JCB demonstrator Dan Potter was driving another 3CX backhoe from 2012 – the year of the Diamond Jubilee. JCB demonstrator Matt Lucas drove a 2002 JCB backhoe loader made in the year the Queen celebrated her Golden Jubilee. He said, "The moment when the Queen came out on the balcony was very emotional. The roar of the crowd and the singing of the national anthem in front of Buckingham Palace at that moment is something I will never forget."
The pageant was the culmination of celebrations to mark The Queen's 70 years on the throne. It involved more than 10,000 people and told the story of the seven-decade reign through music, dance and fashion.