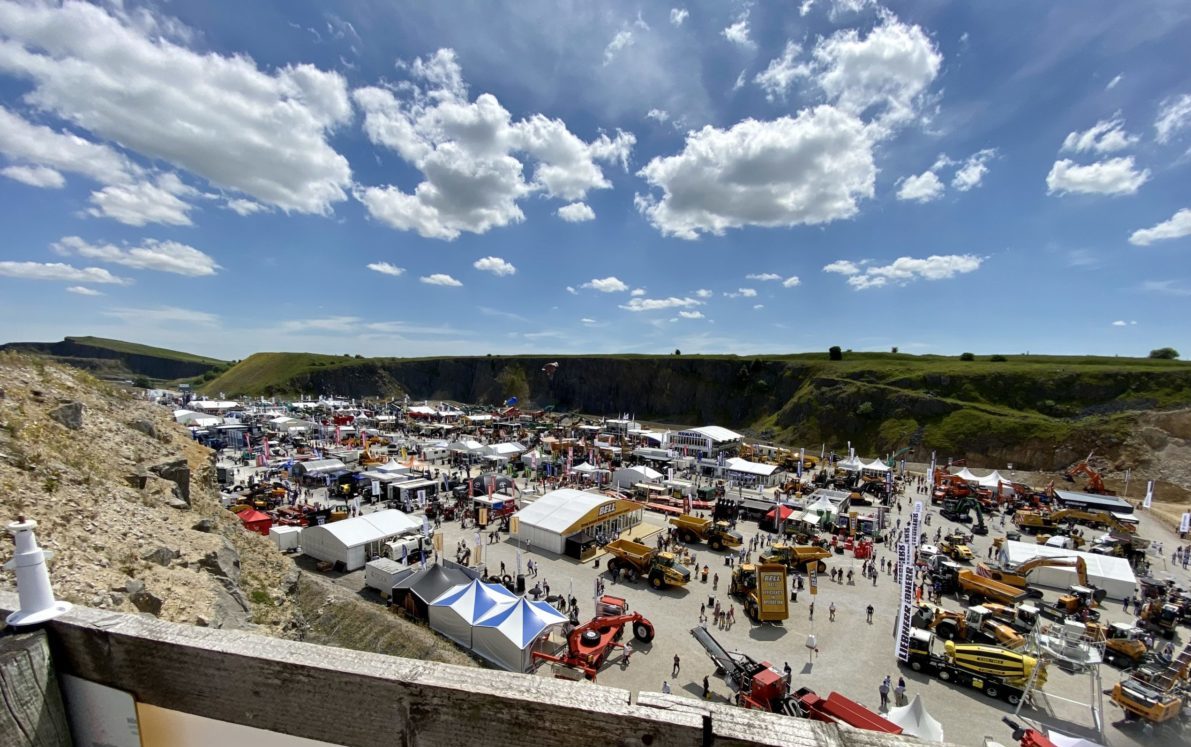 A record number of exhibitors showed off their latest products and innovations as large crowds enjoyed a sun-kissed Hillhead 2022.
Around 600 exhibitors and thousands of visitors took the opportunity over three days to network, do business, and marvel at live demonstrations featuring some of the world's most impressive quarrying machines.
Hillhead 2022 marked the first time in four years the event had taken place, following the Covid-enforced cancellation in 2020. Visitors were treated to an incredible line-up of equipment from leading manufacturers including Liebherr, Doosan, Hyundai, CASE, Hitachi, Takeuchi, Komatsu, Volvo, Kobelco, SANY, LiuGong, Terex Finlay, Powerscreen, and many more.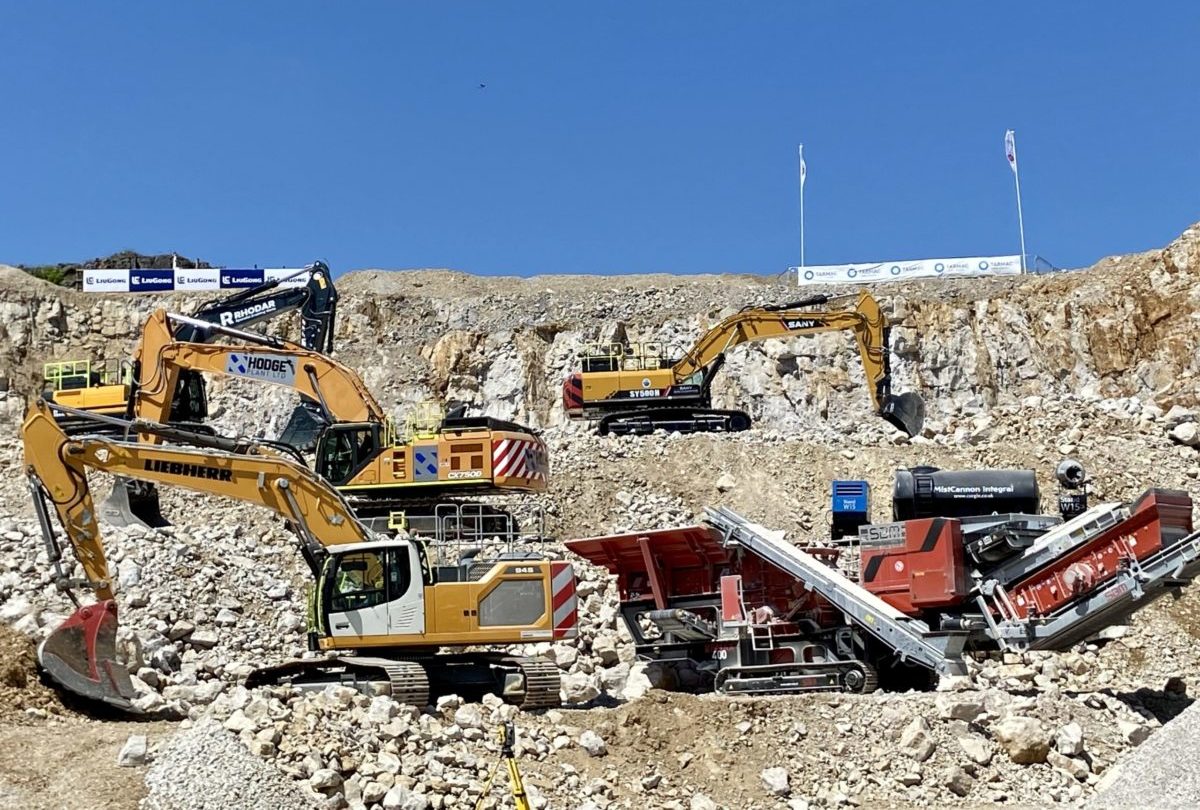 Event manager Harvey Sugden told Project Plant on the afternoon of Day One that he believes the absence of live events has only served to make people realise the importance of them.
"You just look around now and you see how busy it is; how much it's buzzing," he said. "People are actually looking at the equipment, seeing it working, which is what we're all about here at Hillhead. It's a live event with live demos. We did our own digital event in 2021, and that went reasonably well, but I don't think there's any substitute for getting back in front of people."
Harvey confirmed this year featured a record level of exhibitors, with numbers up by around 50 on 2018 figures. Organisers extended the show further into the quarry face and tweaked the registration demo area to allow for even more outdoor exhibitors.
One of the most noticeable elements this year in terms of equipment, Harvey revealed, was that exhibitors had chosen to go big!
"We've got some really big kit," he added. "We've got 300-tonne machines in the quarry face from LiuGong, Volvo and Hitachi. The most noticeable thing I think from our point of view is the show has gone very much back to basics; back to quarrying. We've got more crushing and screening than we've ever had before."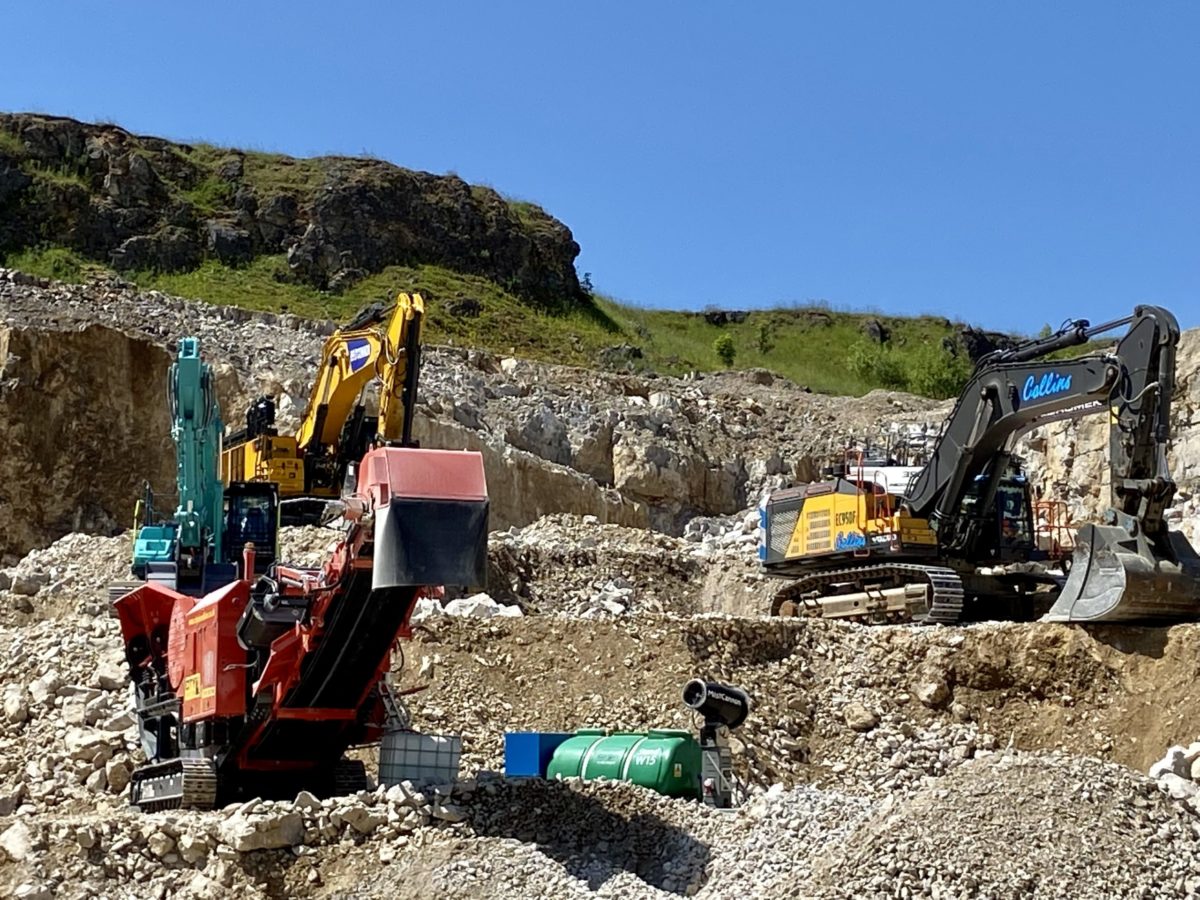 Project Plant also caught up with Hillhead debutant SANY on Day One. UK and Ireland business development director Leigh Harris said there had been a 'steady flow of customers all day' on the stand, with feedback 'really positive'.
SANY was launching the 16-tonne SY155W wheeled excavator. Also on the stand was the SY390H tracked digger, which debuted at ScotPlant earlier this year where it was bought by MacInnes Bros, who lent it back to SANY to display at Hillhead.
"We're still trying to build the brand (in the UK)," Leigh said. "We want to meet as many new customers as possible. We're hoping to sell quite a few machines.
"The SY155W has only been in the UK for two weeks. People who have seen it really like it. We've put it to UK-specification so it's got front dozer blades, rear stabilisers, twin boom. It's really well suited to the UK market. I think a lot of our competitors are struggling to supply those kind of machines."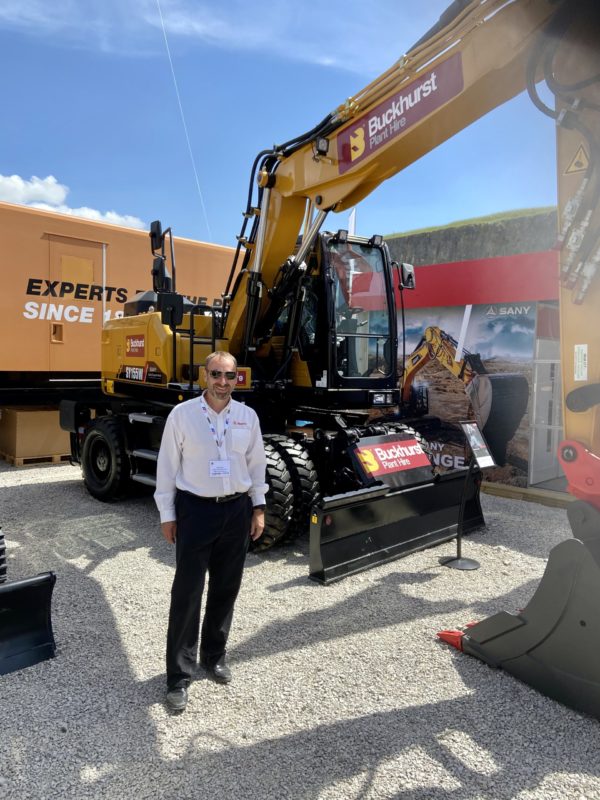 Attachment specialist Rototilt displayed a range of products including the RC9, described as the world's largest tiltrotator and optimised for excavators up to 43-tonnes. UK sales manager Andrew Little told Project Plant that despite the growing impact of social media, customers still appreciate the chance to meet in-person and witness equipment in action.
"Hillhead is always a good show," he commented. "The weather's obviously helped and I think the fact we've had the pandemic and now people can get out and mix and talk (has been beneficial). There's been a real mix of new customers, existing customers, and potential customers. People want to see demonstrations. I think it's confirmation of what they've been talking about over the phone."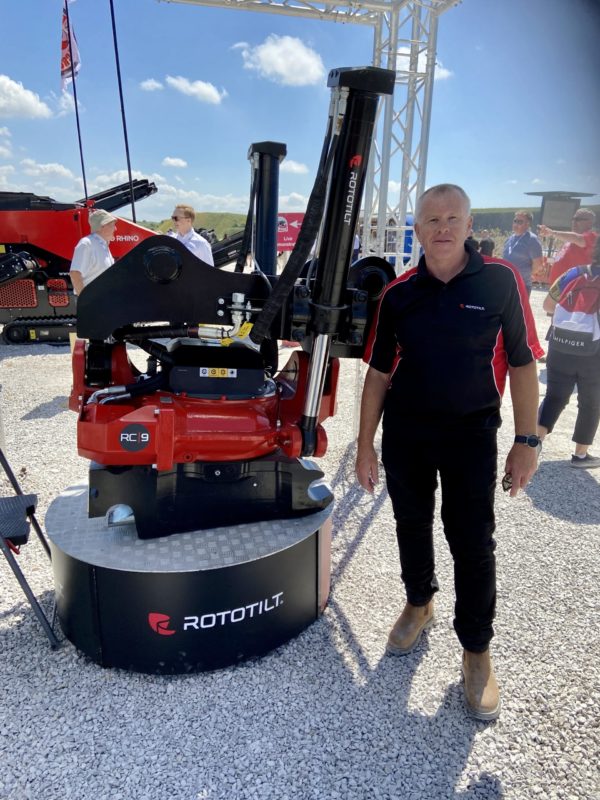 Also on display was the Rototilt QuickChange automatic coupling system, which Andrew said has already started to gain traction in the marketplace despite being introduced during the pandemic with limited opportunities to showcase it.
The Wirtgen Group arrived at Hillhead with a line-up which included new products such as the Kleeman Mobicat MC 110(i) EVO2 jaw crusher and Mobiscreen MSS 802(i) EVO screening plant.
Scottish sales manager Keith Campbell told Project Plant it was great to have everything encapsulated in one location, highlighting the synergy between all the firm's customers.
"It's lovely and warm; it's also been good to get back and see people and meet face-to-face," Keith said. "To see the machines (and) walk around them is so much more beneficial. The online stuff is great – it works for a reason – but it's not the same. Everyone loves to see new, shiny machines. We're all like magpies at the end of the day!"
Elsewhere at Hillhead, CDE took the opportunity to announce it is to commission its largest waste recycling plant in the UK for Peel NRE, part of regeneration business Peel L&P. With capacity to produce up to 240,000 tonnes of secondary raw materials per year, the plant will be based at Port Salford in Eccles, Greater Manchester, the site of a proposed tri-modal freight facility and distribution park on the banks of the Manchester Ship Canal.
The waste recycling plant will process C&D waste to produce in-spec recycled sand and aggregate products which will support the development of Peel L&P projects. CDE business development manager Mike Bibby said, "This is a transformational project, and when our CDE solution is operational it will support the continued development of a circular economy in the north west and facilitate sustainable construction in Greater Manchester and beyond for many years to come."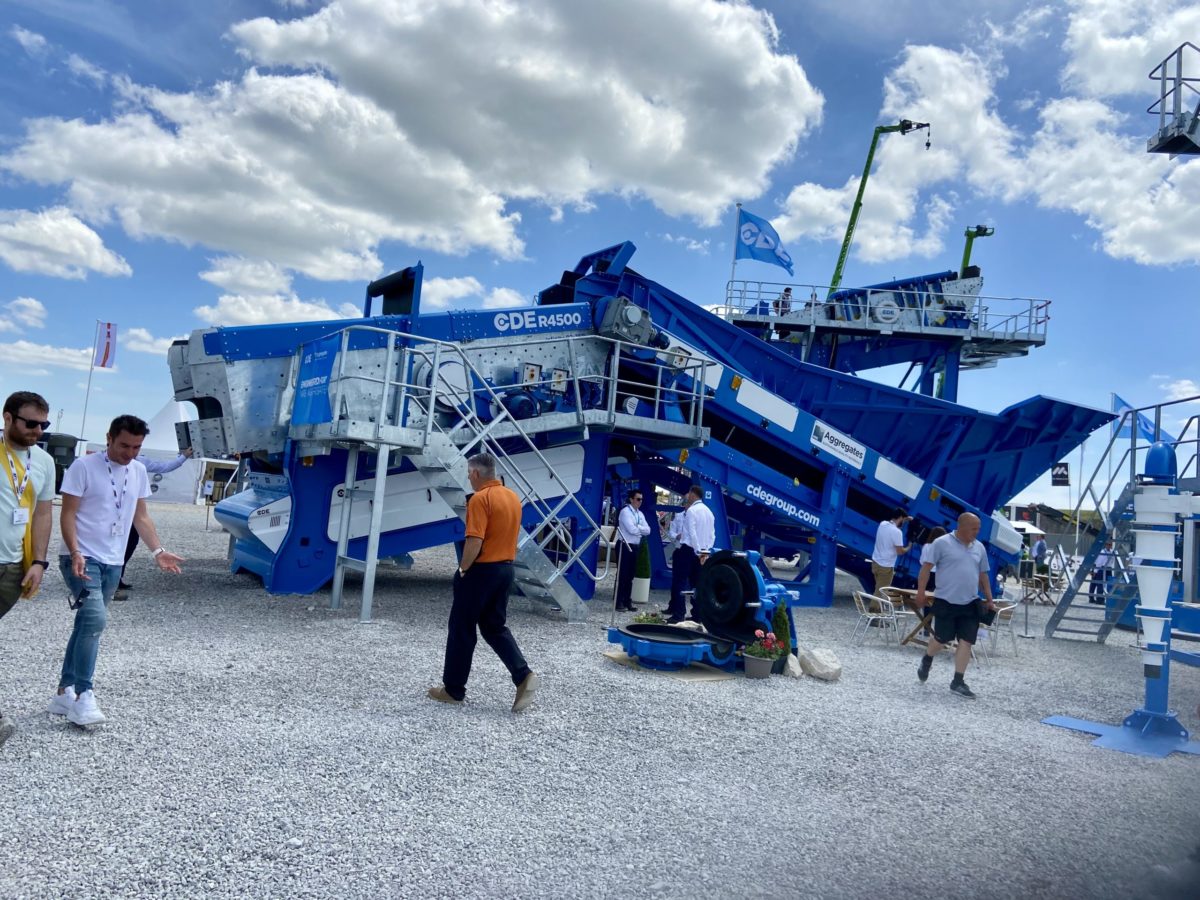 Hyundai Construction Equipment unveiled two new ADTs. The HA30A and HA45A have rated payloads of 28-tonnes and 41-tonnes respectively, and are built around a full-time six-wheel drive concept, with front and rear limited slip differentials and a longitudinal differential than can be manually locked.
Hyundai explained the trucks have a compact chassis design, to aid manoeuvrability, with a sloping rear frame and a front-mounted differential integrated into the ZF transmission, allowing for a shorter front frame section. This, the manufacturer said, results in the 'smallest turning radius in the sector' and 'outstanding stability'.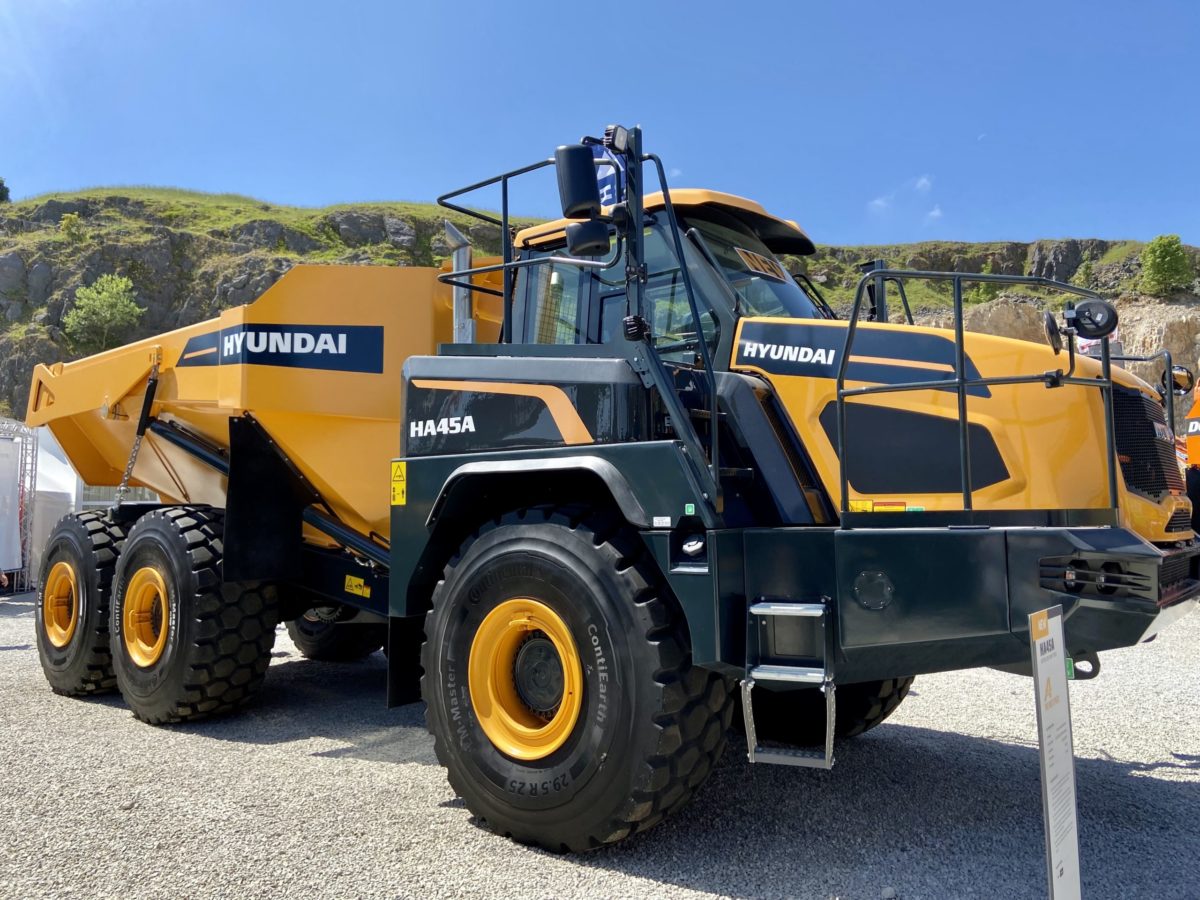 Bobcat presented several new products for the first time at Hillhead including the E88, an eight-tonne Stage V-compliant model that extends the company's new generation R2-Series of mini-excavators. The machine replaces the previous E85 M-Series model and boasts features such as an optional fourth AUX4 auxiliary tilt coupler line, a fifth AUX5 hydraulic coupler line as standard, and a longer undercarriage.
The Bobcat D24 Stage V 4-cylinder engine offers a maximum power output of 48.5 kW (65 HP). The cab has a 3D door handle, anti-slip step on the undercarriage, and foot space above the track.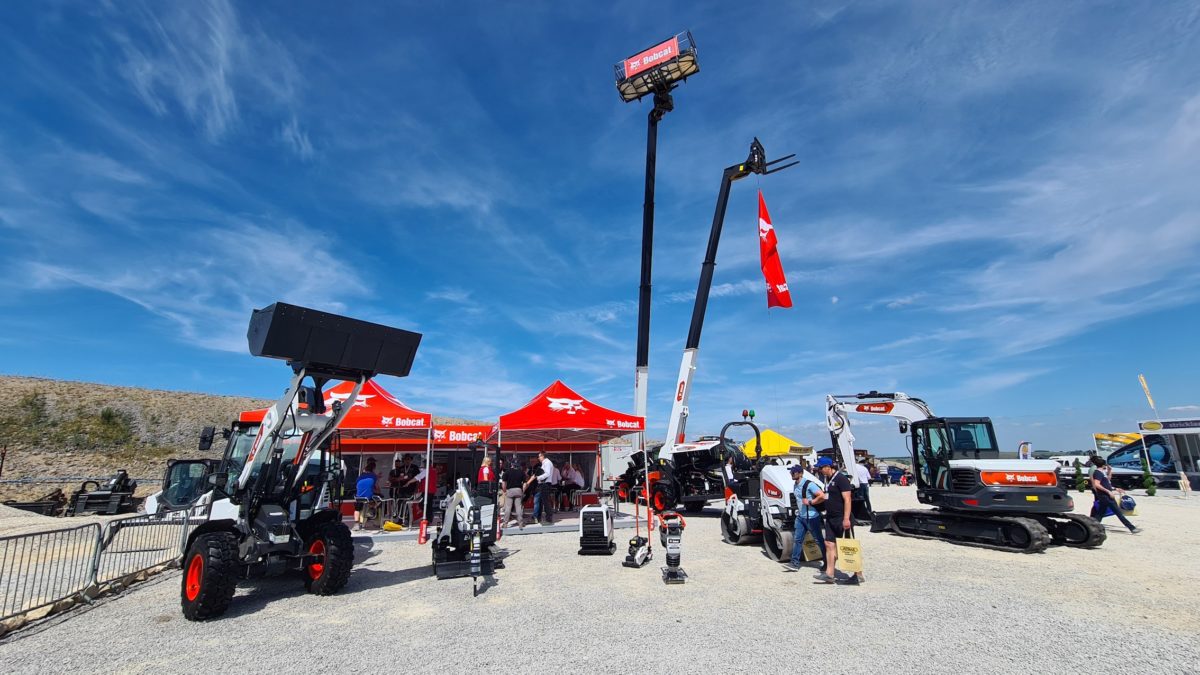 Motherwell-headquartered Rokbak used Hillhead to highlight the firm's 'robust and reliable' haulers. An RA40 was on Rokbak's stand while an RA30 took pride of place on dealer Molson Group's stand. An RA40 was also working in the demonstration area.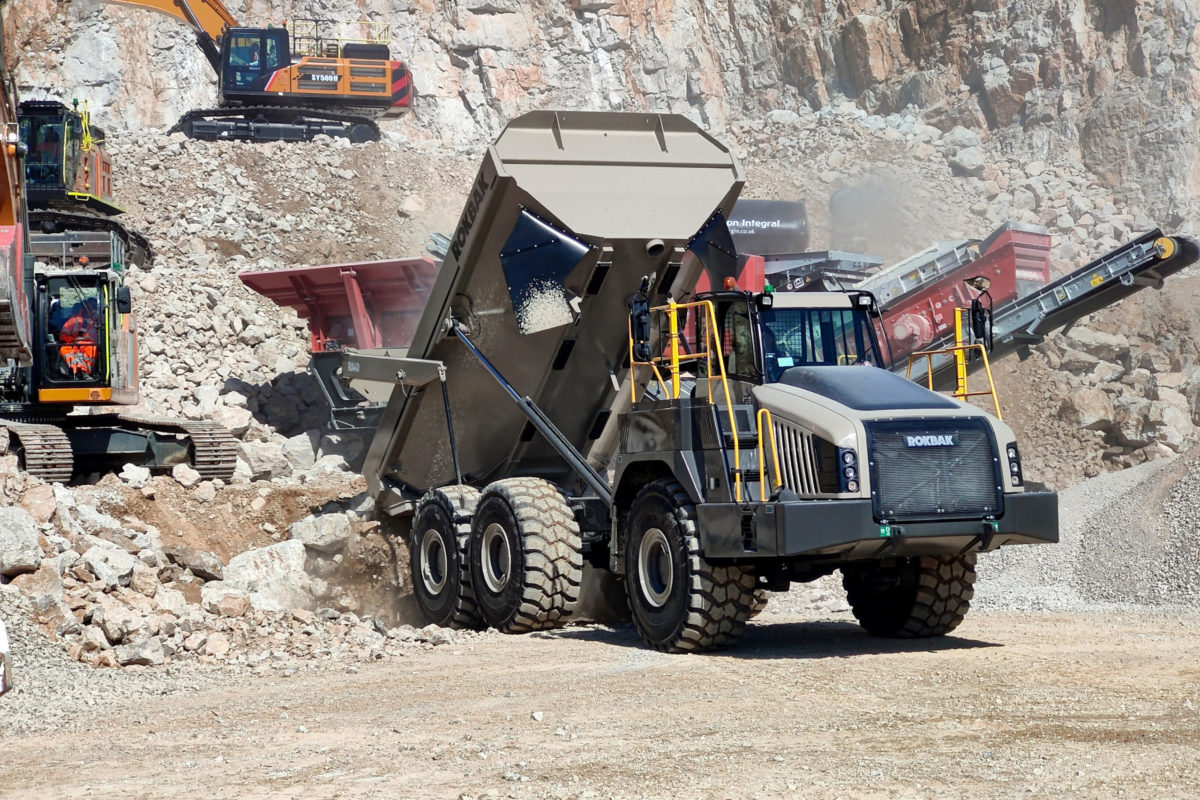 Rokbak MD Paul Douglas said, "At Hillhead we're showing visitors how the RA30 and RA40 deliver low total cost of ownership and high productivity on a variety of jobs, including quarries, large-scale construction projects, infrastructure developments and mines. We're currently seeing huge demand for our articulated haulers, with dealers and customers excited to get hold of the new machines."
MB Crusher made its Hillhead debut this year, showcasing the firm's range of attachments including its next generation of shaft screeners.
In the demo area directly behind The Italian-headquartered manufacturer's stand, an MB-HDS314 shaft screener was put through its paces. The product is suitable for excavators from 12-20-tonnes.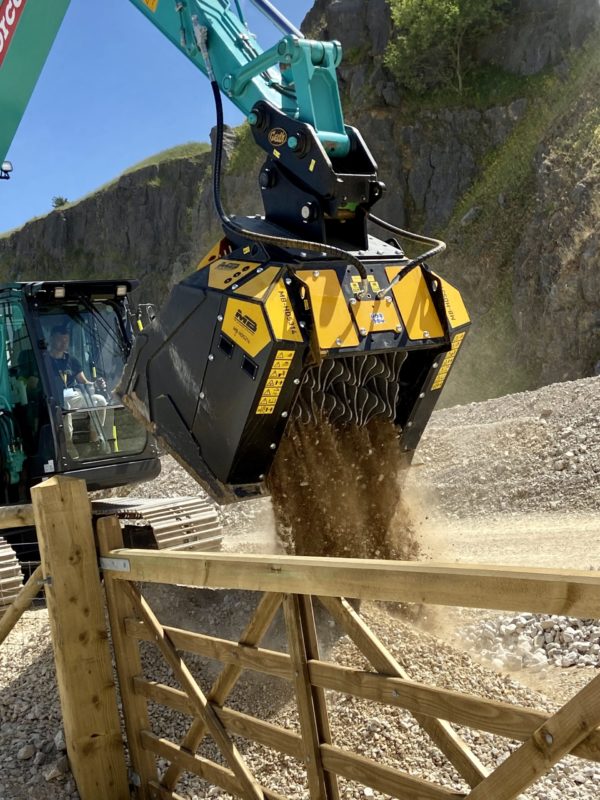 Described as ideal for both large and small construction sites, the rotating shaft kits that can be replaced on-site allow operators to process different materials. The frame is designed to minimise noise and vibration, while an automatic hydraulic buffer system is utilised to protect the engine and transmission.
Terex Washing Systems (TWS) launched two new machines at the show. First was the FM Pentium, which is described as having the capability to wash one grade of sand and one aggregate on a single chassis. The FM Pentium range is a static sand and aggregate washing unit. The machine combines a collection tank, centrifugal slurry pump, hydrocyclone(s) and a dewatering screen. With a feed rate of up to 150tph of pre-screened material, TWS said the FM Pentium can produce up to 120tph washed sand.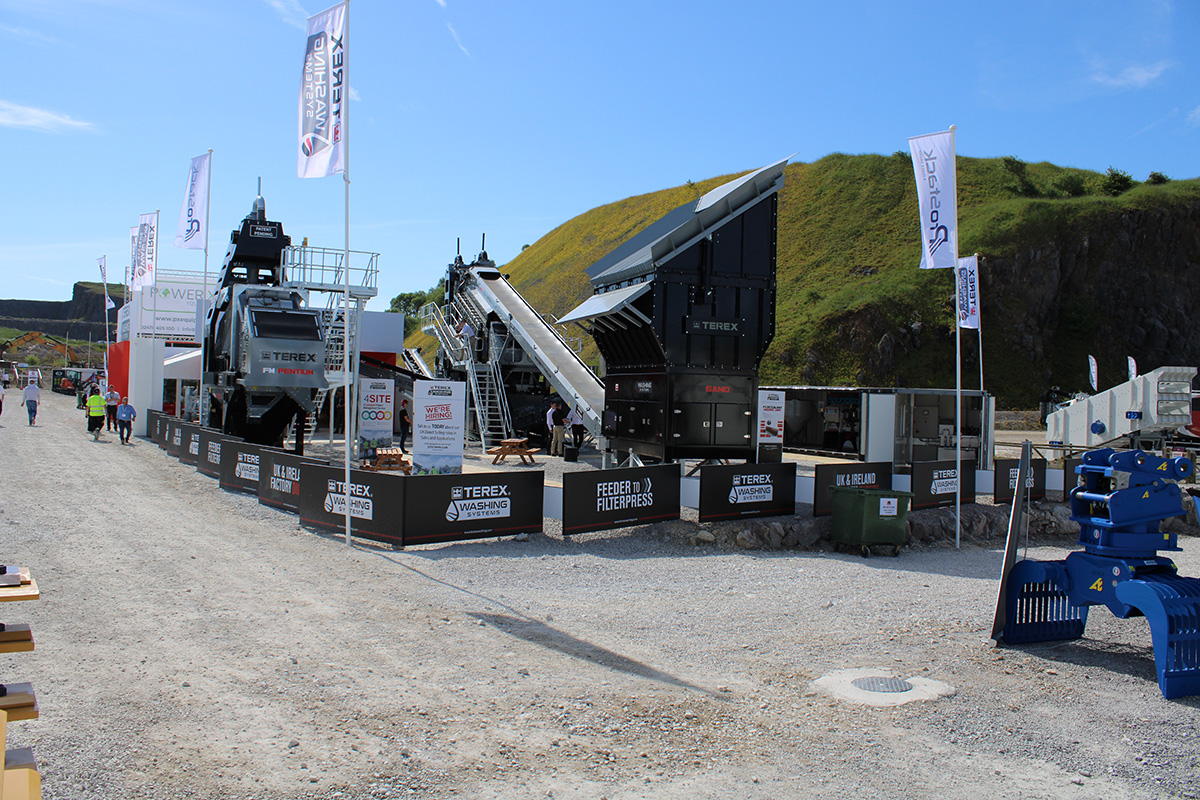 The second machine launch was the 'new and improved' AggreSand 206.  Features include increased feed hopper size option to allow for greater feed capacity, redesigned Cyclone underflow box and dewatering screen to give much sharper cuts in blending and 'enhanced' end product.
An undoubted highlight of Hillhead 2022 was when Hitachi Construction Machinery UK handed over a cheque for £25,000 to the Lighthouse Construction Industry Charity after auctioning a vintage UH063. The machine was sold to the highest bidder, Paul Poulter, director at Surrey Excavations, with all proceeds going to the charity that provides emotional, physical, and financial wellbeing support to construction workers and their families.