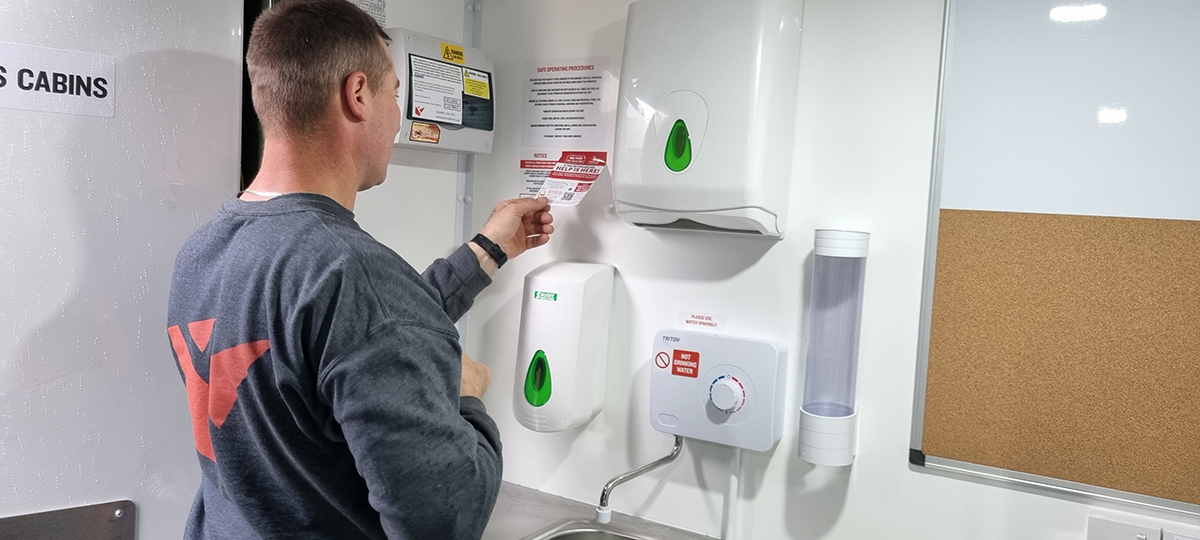 WELFARE manufacturer Boss Cabins has teamed up with the Lighthouse Construction Industry Charity for a new initiative to promote awareness of the support the charity offers to construction workers in need.
In every welfare unit that rolls of the production line from now on, Boss Cabins will place information stickers signposting workers to the range of emotional, physical and financial wellbeing support services that Lighthouse Club provides.
The stickers will direct people to the charity's 24/7 Construction Industry Helpline which provides a range of free confidential support and is complemented by a free Self Support App accessed via a QR code on the sticker. The stickers also detail the free 'text HARDHAT to 85258' service.
Sarah Butcher, Boss Cabins' head of customer experience, said, "We recently partnered with Lighthouse Club on a promotion of our Sleep Space units whereby we will be donating £50 for every sleep accommodation unit sold during 2022 to the charity. After seeing the amazing work Lighthouse Club are doing, we looked for other ways we could become involved.
"Printing these stickers and placing them in our cabins seemed an ideal way to support their work. All day every day, workers on construction sites are in and out of our cabins, having a rest and a cup of tea, eating their lunch, going to the loo, etc, and therefore putting the stickers in our welfare units means a lot of people should get to see them and become more aware of the charity and how it could help them."
MD James Kearsey added, "Boss Cabins is paying for the printing of the stickers and they have been added into the decal packs of all our welfare cabins to be displayed in a prominent position in the canteen immediately visible to all cabin users. We are extremely happy to be able to assist the work of such an important charity and one that is so relevant to the industry we all owe our livelihood to.
"Many of us will have suffered mental health issues or other difficulties at some point or know someone who has, so it means a lot to us at Boss Cabins to be able to to support the Lighthouse Club in a positive way that should hopefully benefit vulnerable people in the future."
Bill Hill, CEO of the Lighthouse Construction Industry Charity, added, "We are delighted to be partnering with Boss Cabins to ensure that more people know about our charitable services. The information being displayed will signpost workers to all of our resources and let people know that there is support out there for everyone and also ensure that there are a number of ways they can reach out for that support, depending on what they are comfortable with. Reaching out to every level of the workforce is vital and so having this information so prominently displayed is fantastic for us."