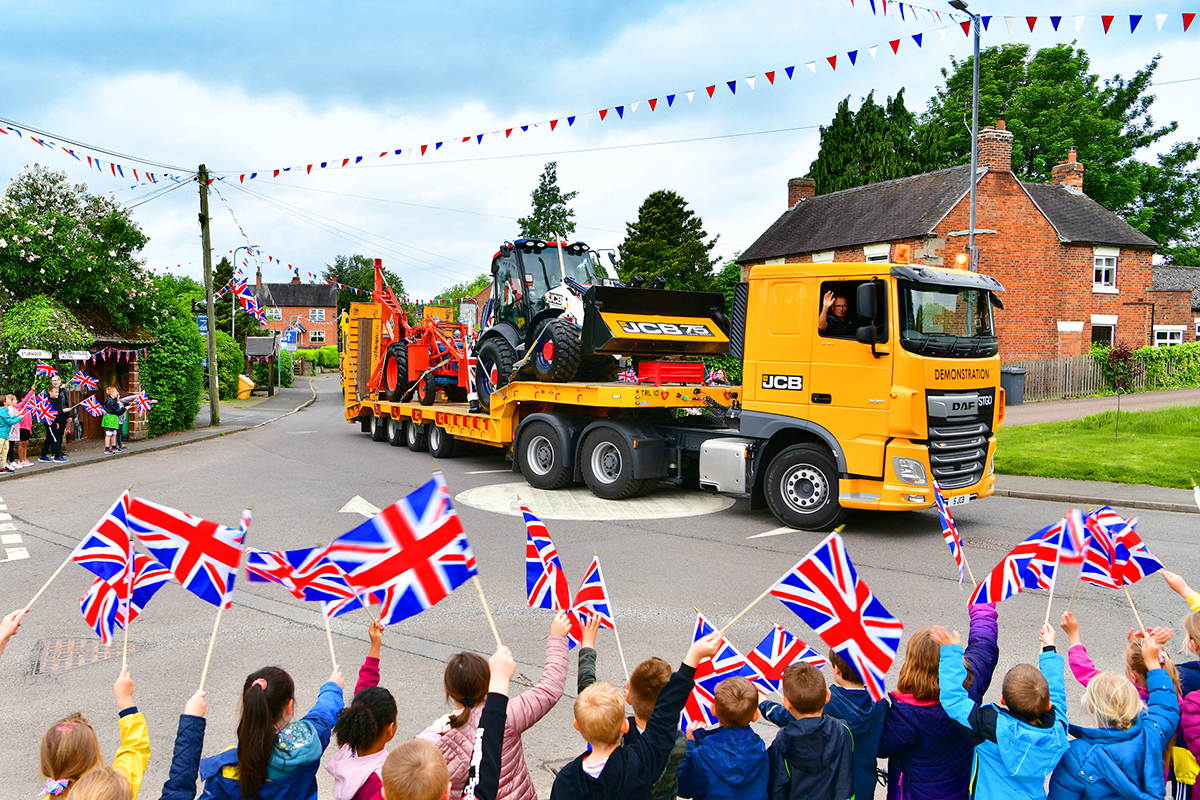 JCB machines from both past and the present were given a patriotic send off as they headed to London to take part in Her Majesty The Queen's Platinum Jubilee celebrations.
The manufacturer recently announced it had become a Platinum Jubilee Pageant Partner and is providing five milestone machines spanning The Queen's 70-year reign to take part in a parade through the capital.
The JCB machines – including a backhoe loader in Union Flag livery – began their journey to London with a send off from pupils at All Saints CE Academy in Denstone, Staffordshire, near to JCB's World HQ in Rocester.
Executive headteacher Rebecca Walker said, "The children were thrilled to see the JCB machines which will be taking part in the Platinum Jubilee Pageant, especially the digger in Union Flag colours. They will all be looking out for them now on the television next week!"
The Pageant, which is due to be held on Sunday June 5, will be the culmination of celebrations to mark The Queen's 70 years on the throne. It will involve more than 10,000 people and tell the story of the monarch's seven-decade reign through music, dance and fashion.
Included will be JCB backhoe loaders from landmark years of the reign. Leading the way will be the Mark 1 JCB backhoe from 1953, the year of Her Majesty's Coronation. Also in attendance will be JCB 3CX backhoes manufactured in the jubilee years of 1977, 2002 and 2012. And bringing the parade right up to date will be a 2022 backhoe powered by hydrogen.
The event will culminate in front of Buckingham Palace and is expected to be watched by up to one billion people globally. It will also be a public outing for JCB's new hydrogen-powered machines, which are currently being developed by the company as it explores the potential of hydrogen as an alternative to fossil fuels.