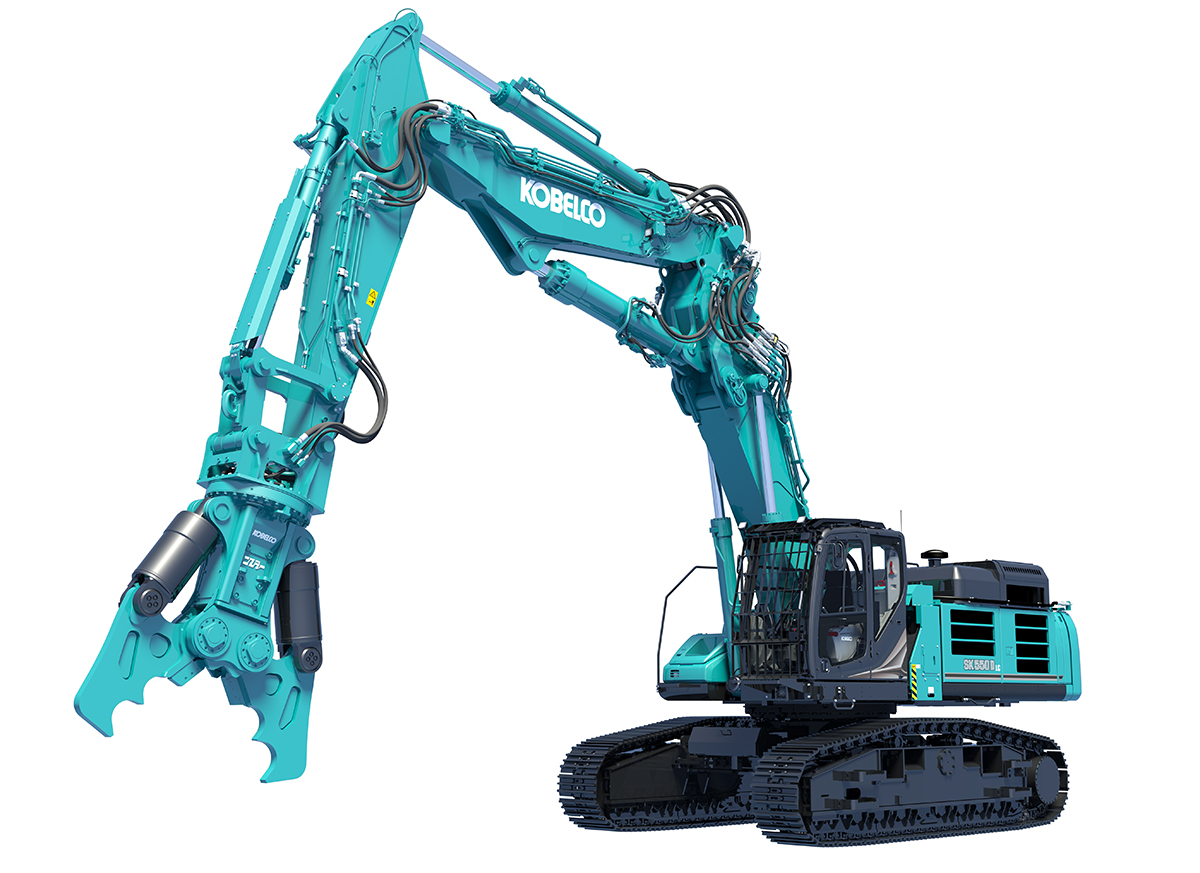 KOBELCO has announced the launch of its next-generation SK550DLC-11 demolition machine in Europe.
The model is a replacement for the SK550DLC-10, which debuted in 2018. Like its predecessor, and the smaller capacity SK350DLC and SK400DLC machines, the SK550DLC-11 features Kobelco's NEXT system for both high elevation and foundation demolition work.
The machine boasts four 'ultra-long' attachment configurations and can work to a maximum height of 27.5m. The separate boom configuration is said to be 'ideal' for tackling lower floors of tall buildings and has a maximum working depth of 6.2m.
Kobelco listed an important benefit of the NEXT system as the low storage height of the ultra-high attachment when collapsed. The height of the attachment in its stored position is approximately 2m, which means it can be transported between projects on a standard trailer.
The SK550DLC-11 features an electronically controlled environmental engine, which is compliant with European Stage V emission regulations. Kobelco added that engine output is 10% or more higher than the previous model. The AIS (Auto Idle Stop) function helps avoid unnecessary fuel consumption.
Like Kobelco's conventional Generation 11 excavators, the SK550DLC-11 follows the manufacturer's Performance X Design concept. There is a Kobelco-branded Grammer air suspended seat, a four-inch arm rest, and a seat heater. The cabin's 10-inch colour monitor enables reading of important information and also provides birds-eye and eagle-eye views from the machine's cameras.
The demolition-specification cabin is fitted with high strength security glass and radial grid guards across the front and top windows. It can tilt up to 30-degrees to allow operators to maintain a comfortable posture during high elevation work. If the attachment comes within a certain distance of the cab, an alarm and warning on screen alert the operator, and the attachment stops. A reversible cooling fan helps keep the machine's cooling system clean by blowing out dust automatically.
Kobelco product manager, Peter Stuijt, said, "Kobelco has long been a leader in demolition equipment and the SK550DLC-11 offers customers the versatility and flexibility of being able to perform both high reach and foundation demolition work, all with the same machine. The NEXT system is a big selling point for this machine as it has been designed to save significant costs and time on the job site; attachments can be changed on-site in around 30 minutes, and the machine can be transported easily on a regular trailer.
"The SK550DLC-11 has also been reinforced to withstand some of the toughest demolition conditions. Like all Kobelco machines, the SK550DLC-11 is built to last."