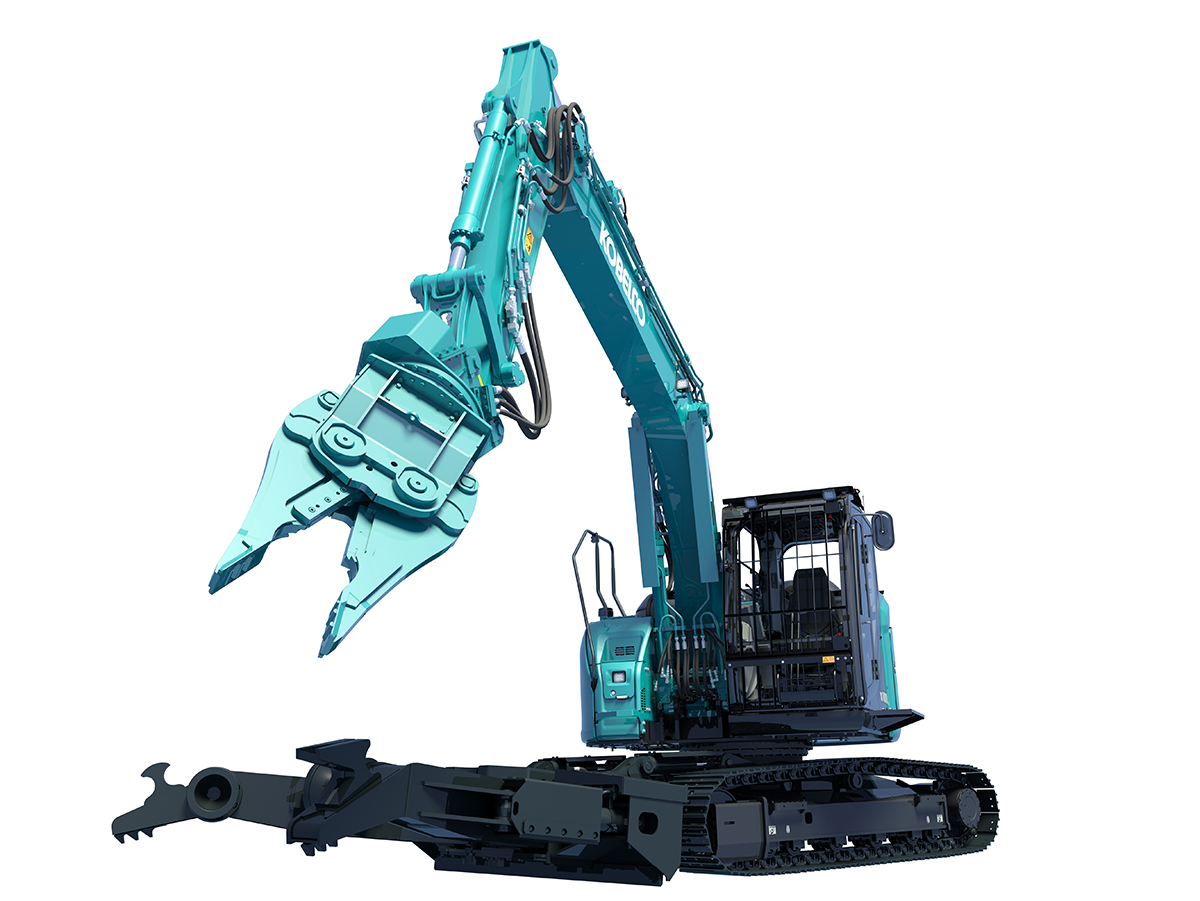 KOBELCO has added to its recycling equipment portfolio with the launch of the SK140SRD-7 multi-dismantling machine.
The manufacturer said that while in many ways its body looks like a conventional Kobelco excavator, the model has been designed specifically for multi-dismantling applications and can strip end-of-life-vehicles (ELV) as well as engines, white goods, goods vehicles, aircraft and marine transport.
The dedicated HD boom has been reinforced with thick steel plates to resist twisting, while the sides and back of the HD arms have been reinforced with thick steel plates and a rock guard. Kobelco explained the reinforced frame provides the 'durability and strength' to withstand automotive dismantling work, handle heavy loads and tearing operations.
The lower frame has a circular swinging section to ensure the operating range of the clamp arms while maintaining the required strength. The SK140SRD-7's ISUZU engine is compliant with the latest emissions regulations.
The multi-use nibbler has a lightweight design, which Kobelco added allows for fine movements, and is shaped for smooth grabbing, picking, cutting, and pulling. The clamp arm can secure large objects and pinch smaller objects such as wiring, aluminium components, harnesses, drive shafts and starter motors. An additional 580kg of weights are included as standard.
Following the same Performance X design concept as the recently launched conventional Generation 11 models, the SK140SRD-7 is equipped with a number of 'home comforts'. The FOPS Level II cabin has a Grammer air suspension seat with superior shock absorption as standard. A 4-inch integrated armrest is designed to reduce operator fatigue while the PHC (proportional hand control) lever allows clamp-arm movements to be performed simultaneously in combination with the foot pedal.
The 10-inch colour screen provides important information, and operations can be performed from a menu screen. 'Multiple' operations can be performed with the jog dial, Kobelco said, while a smartphone holder, USB port, DAB Radio and Bluetooth capability is also included.
Safety features include boom and arm safety valves to prevent the boom/arm from falling if the hose is damaged. Kobelco added that the boom cylinder cover prevents collisions from damaging the cylinder, and the boom foot cover/centre cover and cab front polycarbonate guard provides better protection against debris. Bolt-on rubber pad shoes also help to avoid damage to the concrete or tarmac.
Bright LEDs are fitted to both sides of the boom, in two places on the top of the cab, and on the upper right of the body. Visibility on the jobsite is provided by three standard cameras located on the left, right and rear sides of the machine. 
Kobelco product manager Peter Stuijt said, "The main benefits of using specialist machinery, like the SK140SRD-7, to dismantle cars and other vehicles is the increased productivity and reduced labour/operating costs. For example, the SK140SRD-7 offers approximately four times the vehicle dismantling capability compared with hand dismantling, bringing real tangible benefits to any reclamation business.
"In addition, its Short Radius (SR) design means that it is best suited to smaller-to-medium size jobsites where space may be cramped, such as smaller recycling jobsites and inside warehouses."