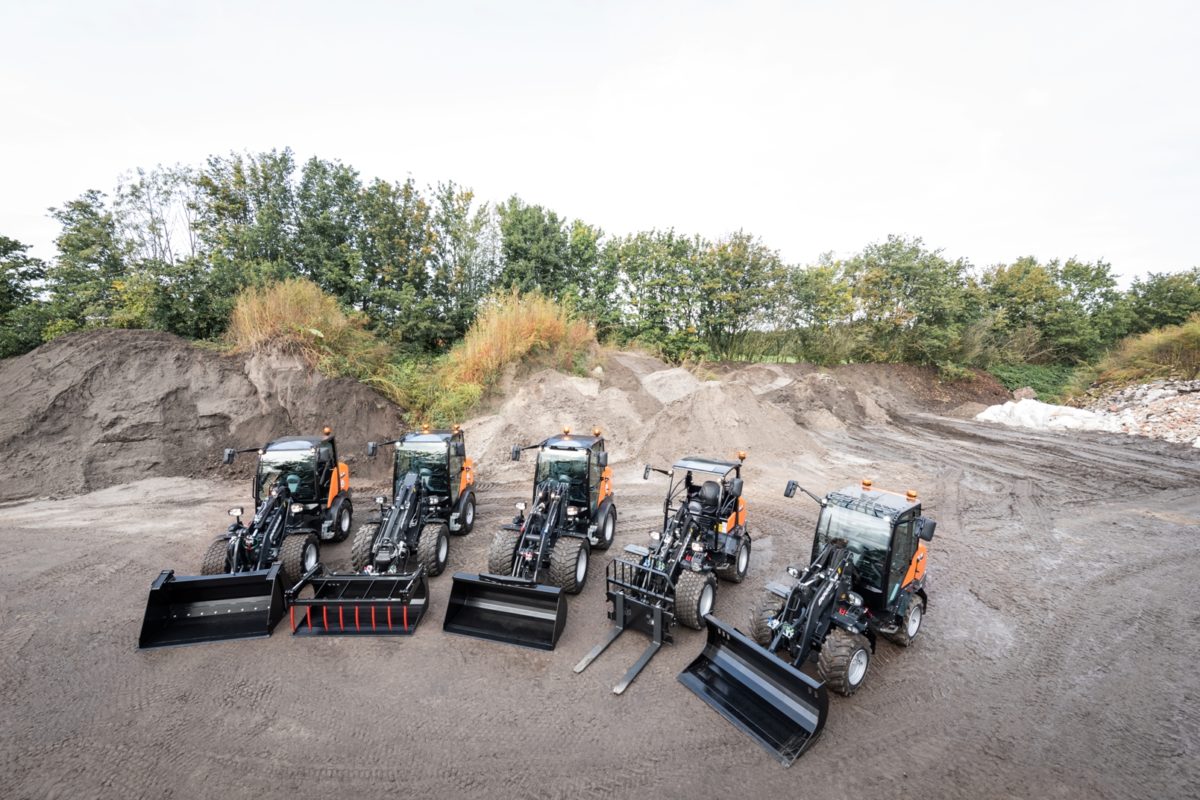 FOLLOWING the signing of a supply agreement with Netherlands-based Tobroco-Giant, Doosan has announced details of the new range of 3.5 to 5-tonne compact wheel loaders now available from the company.
Comprising the DL60-7, DL65-7, DL80-7, DL85-7 and DL80TL-7 models, the loaders cover a wide range of applications, including construction, agriculture, earthmoving, waste/recycling, rental, builders merchants, landscaping, materials handling, warehousing and general industry.
The DL60-7 and DL65-7 are powered by a Stage V engine providing 48.5 kW (66 HP) of power at 1600 RPM. The Stage V engine in the DL80-7, DL85-7 and DL80TL-7 models provides 55 kW (75 HP) of power at 1500 RPM.
Doosan explained that both engines offer high-pressure fuel injection and 'precise timing' to provide a 'highly efficient' fuel burn and perfect combustion. The after treatment system comprises an oxidation catalyst and long-life diesel particulate filter to reduce emissions without requiring SCR (Selective Catalytic Reduction).
The hydrostatic transmission is said to boost acceleration performance and deliver 'smooth, shock-free' operation. The brake pedal provides an inching function. With no pressure on the brake pedal, full power is available for the drive system.
Light pressure on the brake pedal reduces travel speed, with more engine power for the working hydraulics. When full pressure is applied to the brake pedal, the machine stands still and full engine power is available. An optional hand-throttle system can be used to set a minimum engine RPM.
As well as the hydrostatic 4-wheel drive and automotive control (Rexroth), the new wheel loaders boast a 100% differential lock on both axles.
Cab features include an air-suspended seat as standard, adjustable steering column and DAB radio. Air conditioning is an option, while all necessary information can be read from the gauge panel.
Three versions of the cab are available to meet different needs with ROPS/FOPS certification. All the models are equipped with a safety roof as standard. For higher comfort, a safety roof deluxe or a fully enclosed cab are available. The use of narrow styles and a skylight is said to give operators all-round visibility. 
Doosan added that the articulated pendulum joint provides a lot of stability and gives the machines a small turning radius. The 'extremely manoeuvrable' models can operate in tight spaces.
To suit a range of applications, the loaders are equipped with three types of kinematics to suit preferences: Z-bar arm to ensure high breakout force and 'excellent' loading heights (DL60-7 and DL80-7); pull-bar arm for a lower front frame and higher lifting capacities (DL65-7 and DL85-7); and telescopic arm to provide maximum lifting height and reach (DL80TL-7).
All the models are equipped with a hydraulic quick coupler as standard. Available attachments include several types of buckets, manure forks, pallet forks, push brooms, clamps, snow blades, and levelling frames.