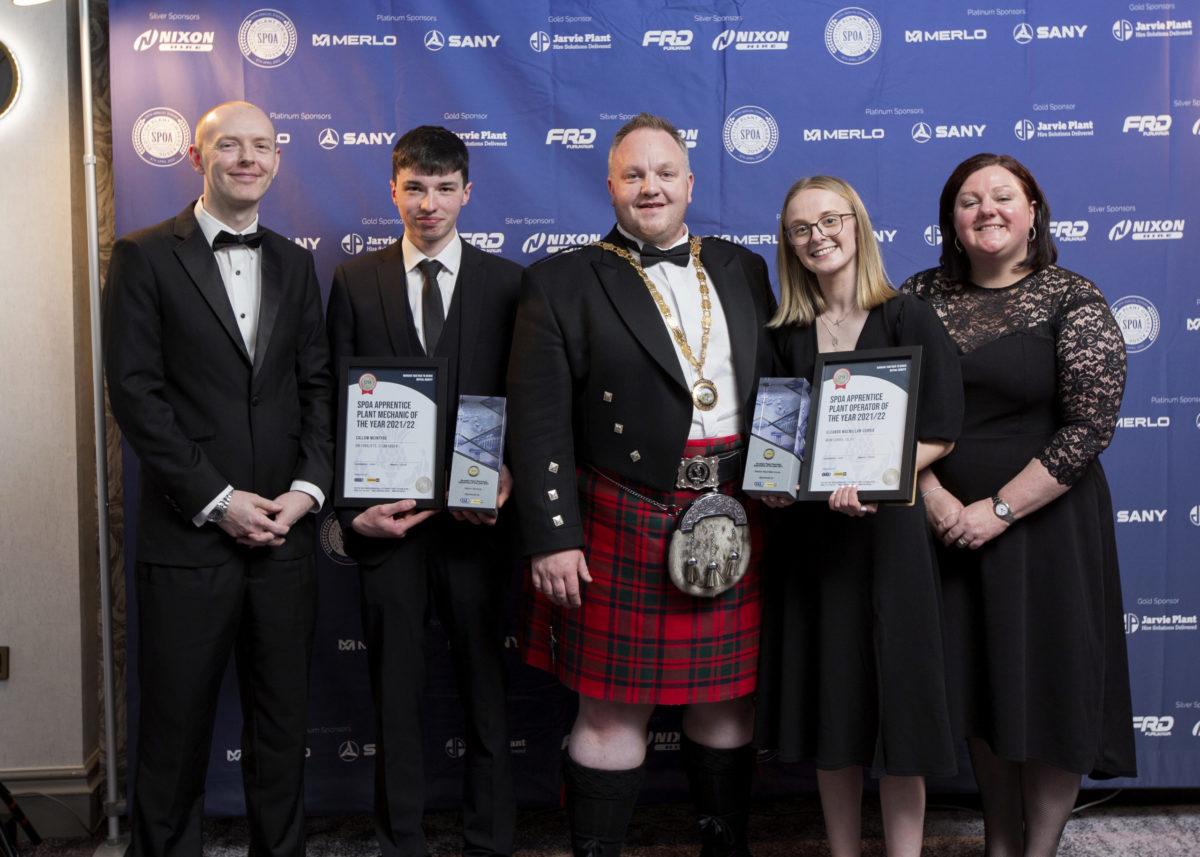 HUNDREDS of industry professionals attended the Scottish Plant Owners Association's (SPOA) 70th annual dinner at Glasgow's Hilton Hotel on Friday April 8.
The event, which had been rescheduled from its traditional February date due to pandemic-related uncertainty earlier in the year, marked a welcome return of the organisation's annual celebration for the first time since 2020.
The evening was compered by broadcaster and comedian Fred MacAulay, who welcomed guests and spoke warmly about how great it was to be back in a room full of people after all the constraints of the past two years.
SPOA vice president John Sibbald introduced the top table guests including Ian Hughes (CITB engagement director), Jos Van Son (MD of Furukawa Rock Drill Europe), and Mark Oakley (vice chair of CECA Scotland).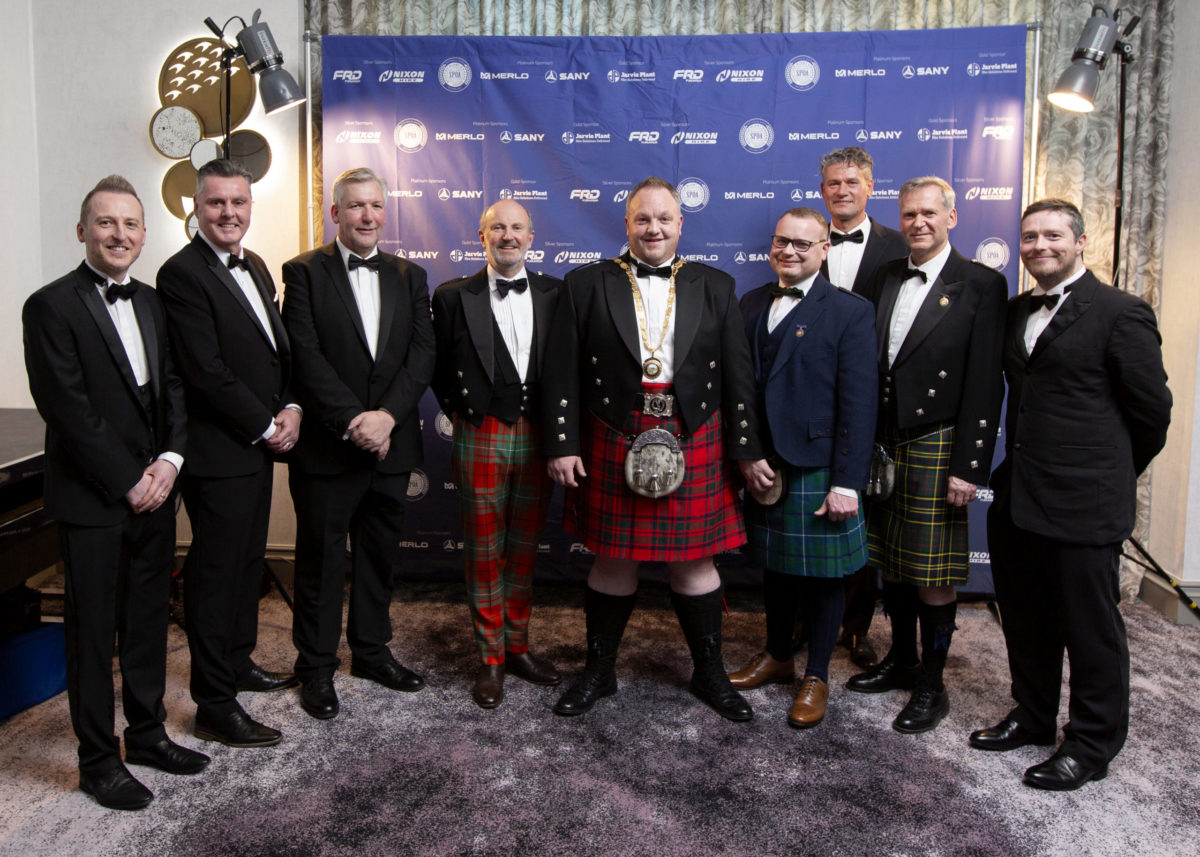 SPOA president Callum Mackintosh then took to the stage for a speech in which he stressed the importance of being a member of the SPOA as the trade body continues to help tackle a wide range of sector issues including the recent changes to red diesel legislation and attracting a more diverse workforce.
Two of Scotland's top plant apprentices were honoured during the event. Plant mechanic apprentice Callum McIntyre and plant operator apprentice Eleanor Macmillan-Currie were awarded the title of Apprentice of the Year 2021/2022 in their respective fields.
The awards, co-sponsored by Finning UK & Ireland and CITB, were handed out in recognition of the achievements of Callum and Eleanor as they progress through their CITB apprenticeships. The SPOA revealed it plans to make the Apprentice of the Year awards a permanent feature at its annual dinner.
Barry Dawson, customer engagement manager for Scotland at the CITB, selected Callum and Eleanor for the skills and aptitude that they have shown during their apprenticeships, and also because of their attitude and approach to learning, and their career ambitions.
Barry said, "The 2021/2022 award winners Callum and Eleanor were nominated by their respective NCC instructors as they are absolutely delighted with how they have progressed over the course of their apprenticeships and have tremendous confidence in their abilities. These awards are testament to the hard work, commitment and determination of both apprentices and are thoroughly deserved."
Callum and Eleanor received an awards package provided by Finning, which includes a full factory tour of the Caterpillar manufacturing facility for articulated dump trucks in Peterlee, the opportunity to drive the machines, and an overnight stay in luxury accommodation.
Gilly Butler, product support sales manager – north at Finning, was on hand in Glasgow to present the awards. She said, "I am privileged to be asked by Callum present these awards on behalf of Finning, as attracting and retaining talent within our industry is the key to the future. The way that the SPOA nurture and develop our young people in this way is wonderful, and I applaud Callum's passion in driving this forward, together with a culture of greater diversity and inclusivity.
"At Finning we've been running an award-winning apprentice academy for a number of years, which mirrors the magnificent work that the SPOA is doing, to invest in creating a talented future workforce to ensure our continued and future success as it becomes increasingly difficult to train and retain young people in our industry."
Callum, a plant mechanic apprentice at DM Forklifts in Stonehaven, said, "I wasn't expected to get this award so it is a real honour and I hope it shows other young people out there that you can achieve anything if you put your mind to it."
Eleanor, a plant operator apprentice at W&M Currie & Son on the Isle of Islay, added, "I am grateful for the nomination and to be presented the award was just fantastic. I would like to thank my dad and my grandpa for inspiring me and pushing me on this journey and all the trainers at CITB without whom this just would not have been possible."
SPOA President Callum Mackintosh said, "This was a special evening for the SPOA. As much as it was about celebrating the 70th anniversary milestone, however, it was also about looking ahead to the future and how apprentices like Callum and Eleanor will help to shape the future of the construction industry. I congratulate them on their achievements and hope they inspire other young people to join the industry."
Comedian Stuart Mitchell provided the after dinner entertainment. And for the first time ever at the SPOA's annual dinner, machines from the event's platinum sponsors were in the room. A Merlo e-worker telehandler was in one corner, while a SANY SY16C mini-excavator was in another. A popular topic of conversation throughout the evening was how the models had made it into the third floor ballroom!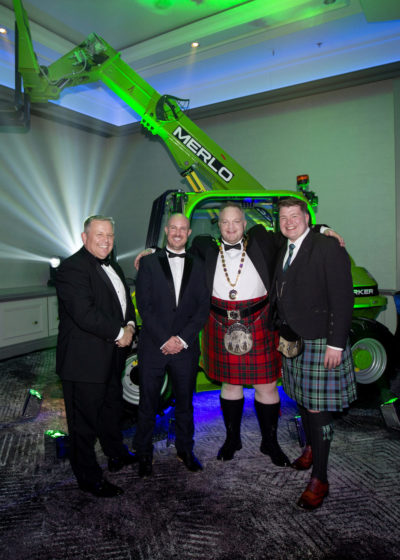 Owen Buttle, national sales manager at Merlo UK, commented, "Congratulations to the SPOA for such a fantastic event on Friday. The opportunity for Merlo to be a platinum sponsor was very much appreciated and has helped us to strengthen our partnership with customers in Scotland. We had a number of comments on how good the eWorker telehandler looked in the room. On a personal level, I and all of my guests thoroughly enjoyed the evening and found the entertainment outstanding. I look forward to continuing our association with the SPOA."
Brian McGrane, senior sales manager, from SANY UK, added, "We were incredibly proud to be one of the platinum sponsors of the Scottish Plant Owners Association dinner in 2022, particularly in its 70th anniversary year. SANY UK is committed to providing industry leading machines and a dedicated parts and service solution to our customers in Scotland and across the UK and this was a fantastic opportunity for us to further establish our brand as well as support the future of the construction and plant hire industry. Well done to the SPOA on a thoroughly enjoyable event."