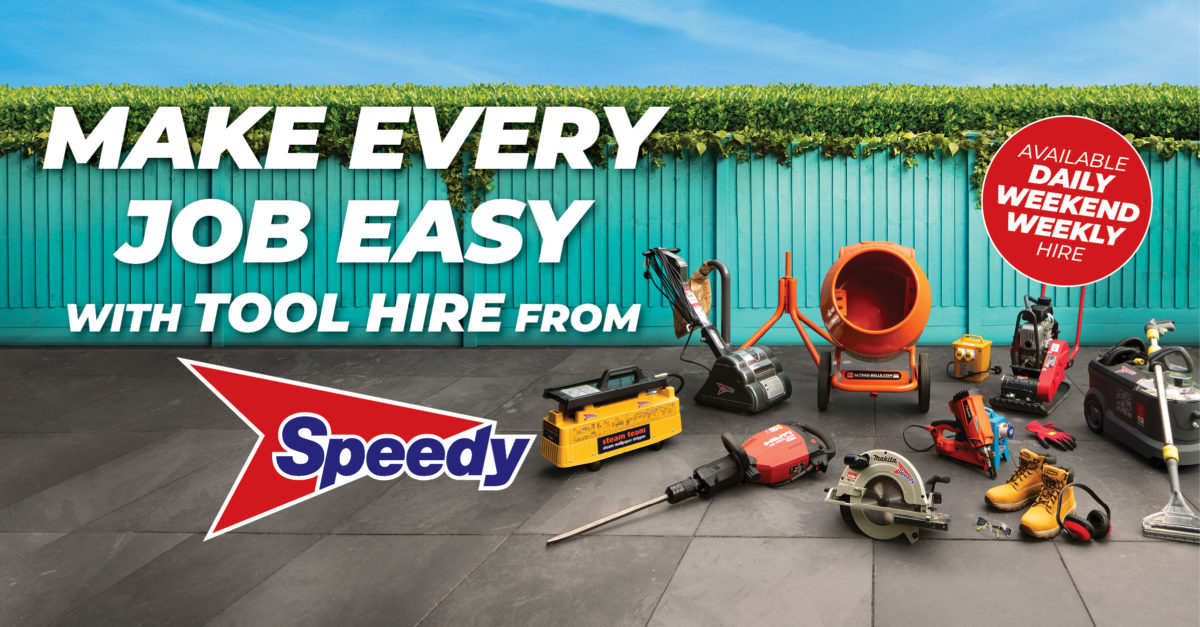 SPEEDY has announced the launch of a multi-million pound marketing and advertising campaign to promote tool hire across the UK.
The hire firm's 'Make Every Job Easy' campaign targets novice and pro DIYers alongside its core customer base ranging from small traders to major construction contractors.
The company is aiming to raise awareness of its partnership with B&Q along with the benefits of hiring its range of tools and equipment for DIY projects. The campaign comprises new advertising and partnerships spanning across TV, radio, digital outdoor media, digital and social platforms, along with PR activity.
TV ads are set to run nationally from 27 April. The campaign also includes sponsorship of Radio X sports news, and a Breakfast Show promotion with Chris Moyles, which will give listeners the chance to win £3,000 cash towards their next home improvement project.
Speedy added that is encouraging trades and DIYers to 're-think' their purchasing habits, claiming that hiring better quality tools makes completing jobs easier and offers environmental benefits by re-using and maintaining tools to maximise usage.
Russell Down, chief executive at Speedy, said, "As homeowners continue to invest into making their dream home a reality, home improvement activity is growing. This increase in activity represents an opportunity for Speedy to lead the hire market and effectively answer the 'why hire?' question for DIYers and small traders.
"Our multi million pound campaign demonstrates the benefits of hire in making it easier and quicker to complete home improvement works. We're excited to launch this campaign which re-enforces our position as the market leading brand in UK tool hire, bringing to life the incredible potential that lies with tool hire for both trade and DIY customers."
Guy Maddock, group marketing director, added, "There is a huge opportunity for our business in the DIY market. We want to connect our brand with homeowners at a scale and level of integration that no other hire company has done before.
"We know that tool and equipment hire can make it simpler for people across the UK to DIY, from fitting bathrooms, sanding floors and stripping walls, to landscaping gardens and digging up drives. This multi-channel campaign is designed to empower novices and experts to make every job easy, with Speedy."