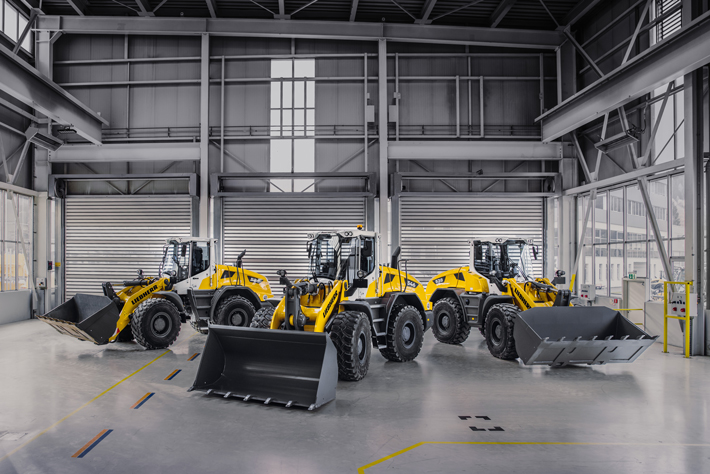 LIEBHERR has announced it has redeveloped and 'fundamentally revised' its mid-sized wheel loader range.
The manufacturer explained that the newly-designed lift arm ensures 'maximum' breakout, holding and lowering forces, adding that it has 'optimised' z-bar kinematics and improved working hydraulics.
Increases in engine power and tipping loads are described as preparing the machines for demanding operations in various sectors, such as excavation, recycling or log handling. Intelligent assistance systems include active personnel detection with brake assistant and the fully automatic LIKUFIX quick-coupler system.
The new eighth generation L 526 is said to have around 20% more engine power and over 20% higher breakout forces than its predecessor. The L 538 and L 546 models have also been boosted with features such as optimised travel drive. All three models are now available to order from European Liebherr sales partners.
Liebherr revealed it has reinforced the steel construction of the front section of the new wheel loaders. Structural reinforcements on the new lift arms are said to increase robustness, while the z-bar kinematics with electro-hydraulic pilot controls has larger hydraulic cylinders and more powerful working pumps.
Operators can activate the parallel guidance of the lift arms at the push of a button. The new bucket-tilt assist helps when working with sticky materials and is said to ensure accurate loading by shaking out the bucket. Liebherr has also revised the bucket design to help customers more accurately tailor individual elements and wear parts of the buckets to their needs at the time of ordering.
Liebherr explained that the new engines are characterised by a higher maximum torque at a lower nominal speed. More powerful hydraulic components, such as larger travel motors and travel pumps, are described as ensuring greater traction.