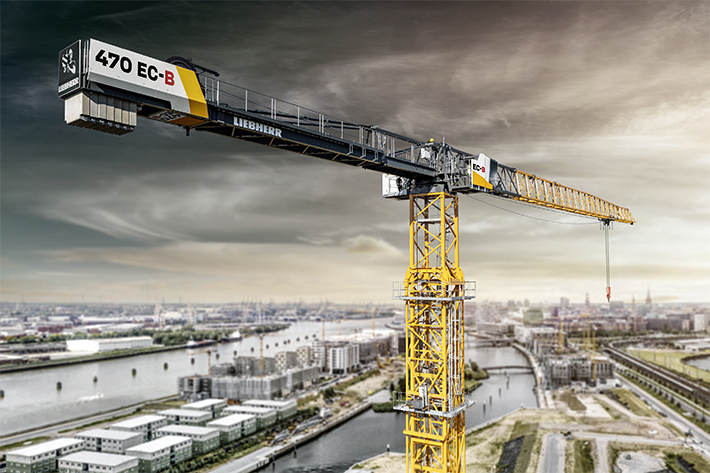 LIEBHERR has added a new flat-top crane to its EC-B series portfolio in the form of the 470 EC-B, which is available in both 16 and 20-tonne versions.
The manufacturer revealed the crane, with steel rope design, is now the largest in the 'Tough Ones' family.
The model with intelligent assistance systems offers a jib length of 80 metres. This reach can be increased to 83 metres via a jib extension. The 16-tonne version has a jib head load capacity of up to 3,200 kilograms, while the 20-tonne version has a jib head load capacity of up to 3,000 kilograms. The jib can be divided into two-and-a-half metre sections to adapt to meet a variety of requirements.
To assist assembly and transport, Liebherr explained that the jib and counter-jib can be attached to the slewing platform 'easily, conveniently and safely'. Only five trucks are needed to transport the slewing part with jib, including counter-ballast, to construction sites.
The 470 EC-B features a connection for both 24 HC 420 and 24 HC 630 tower systems.
The top-slewing crane is available with one of three versions of the LiCAB crane operator's cab: LiCAB Basic, LiCAB Air or LiCAB AirPlus. All three offer a floor space of more than two square metres, an 'unrestricted view' for precision lifting and an ergonomic control stand.
Also included in the cab is a 12-inch display screen with intuitive operability. The Tower Crane Operating System (TC-OS) provides operators with specific menus and a choice of languages.
LED advertising panel lighting can be configured. Liebherr said the panels don't have to be mounted separately during assembly and can remain in place on the counter-jib end section during transport.
As they don't have a tower head structure, several EC-B series flat-top cranes are able to work together on the same site, even in tight conditions.