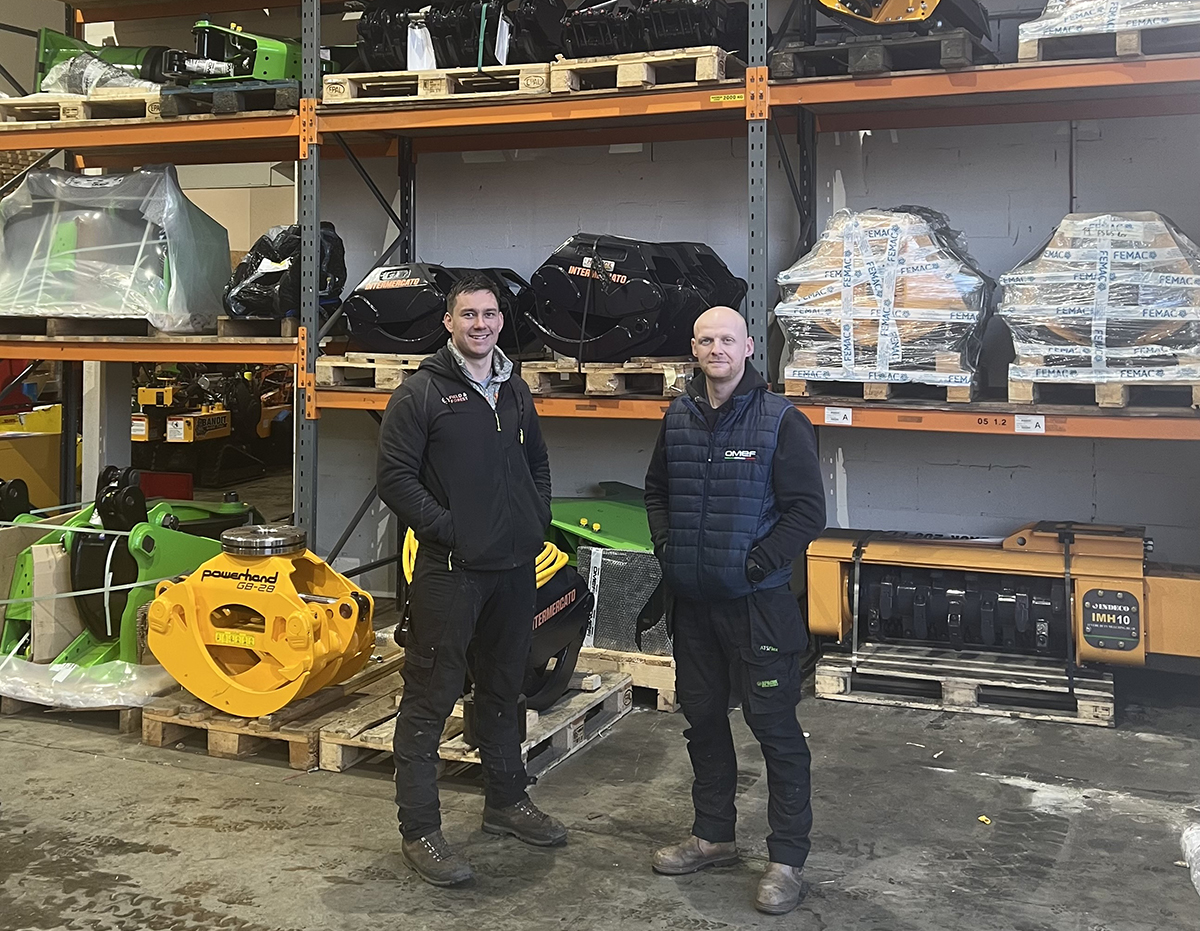 A multi-disciplinary equipment firm has revealed it is effectively about to launch a construction and demolition arm of the business to complement its forestry offering, after becoming the Scottish dealer for Italian-headquartered attachments specialist Indeco.
Indeco will join Field and Forest Machinery's household name brands such as OMEF, GMT Equipment, Bomford Turner, Intermercato and TerraTech.
Broxburn-based Field and Forest already has some clients in the construction industry, but MD Tom Brown anticipates that will intensify having secured a 'market-leading brand', with products which include hydraulic hammers, multi-grabs, compactors and pulverisers.
Tom told Project Plant the relationship stemmed from Field and Forest's initial interest in Indeco's mulchers. "We hit the ground running with the Indeco mulchers and have a good few out there working in the field as well as on our hire fleet. The mulchers are built at Indeco's American factory… we've got a range of fixed tooth mulchers from six up to 40 tonnes.
"On the back of that success we got into their construction demolition line: we've got breakers, selector grabs, pulverisers, sheers. 2022 is shaping up to be quite an exciting year at Field and Forest."
Mark Gee from Indeco commented, "We are delighted to welcome Field and Forest into the Indeco family. With the launch of our new range of mulching heads we are excited to step into a new sector and with Tom's knowledge and experience within the forestry sector we felt Field and Forest were the perfect fit to take that step alongside us. Indeco is an established family business that prides itself on exceptional customer service; Field and Forest's commitment to a customer-first approach aligns perfectly with that."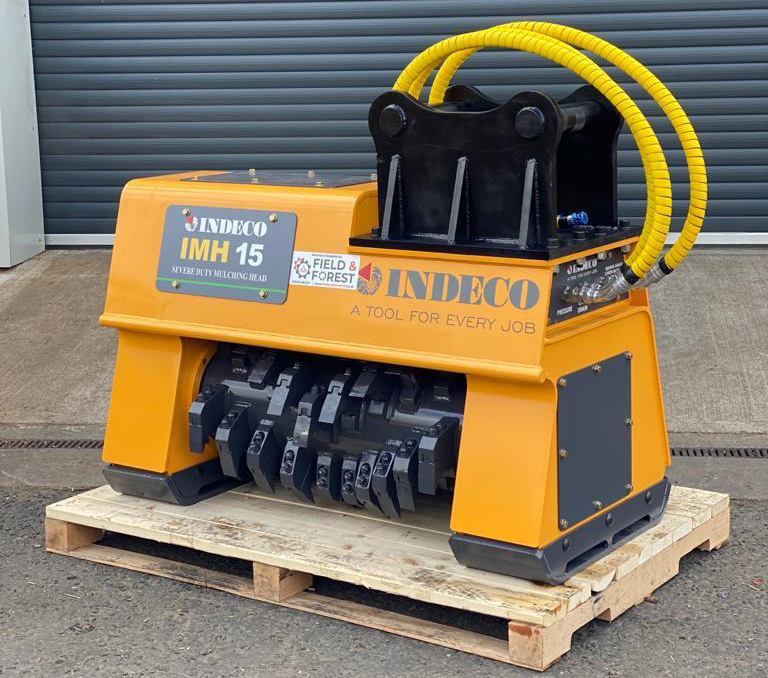 As well as forestry and construction kit, Field and Forest also operates in the rail industry. Eddie Cattanach, formerly of Network Rail, was recruited to join the business as operations manager, with Tom hoping his experience can help the firm further its work in that sector, which includes having machinery on hire at the landmark HS2 project, as well as dealings with Network Rail directly.
Business with national companies and bodies increased at the onset of the pandemic, with Tom explaining that these were the only organisations willing to commit to spending during that uncertain period.
Despite having a portfolio with a growing number of household names, Tom added that it is important to maintain the same level of service with all customers – regardless of whether it is a national firm, smaller company, or sole trader.
This attitude perhaps derives from his own humble beginnings. Tom, who is only 30, founded the business after purchasing a woodchipper to refurbish, before later making a profit on it via an online marketplace. He began replicating the process and, in 2015, Field and Forest Machinery was born. He attributes much of its success to hard work, a loyal customer base, good staff and delivering on your promises.
"A lot of our customers are now close friends," Tom explained. "We're very fortunate that we operate in nice industries – people don't just buy from us because our kit is good, they buy from us because there is a relationship there and because they know they're getting decent equipment backed up by a first-class service.
"We've got a resilient customer base with a can-do attitude – be it the forestry or construction guys.
"On the outside, it looks good dealing with big companies, but we wouldn't prioritise the national customer over the guy round the corner. You can lose a lot of your bread and butter by doing that. I think that's why we do so well, as we will go the extra mile to ensure that all customers are happy with the end product and service."
Tom revealed that, in the midst of Storm Arwen, a customer in Aberdeenshire phoned one lunchtime looking for an excavator grapple. The firm fabricated the hitch and assembled the grab within hours. The customer picked it up that evening at 6pm, with Tom claiming the quick turnaround is testament to the decision to invest heavily in stock.
"It's a reactive industry now," he said. "Gone are the days where you plan jobs and you know what you're doing for the next six months. You never know what's around the corner; you could have jobs stopped, but you've got to keep moving so we have to be as adaptable as our customer base.
"We've invested heavily and have a lot of attachments in stock and on our hire fleet. We've got plasma cutting facilities on site, so we can virtually start with a base product and do the whole lot and get it on a pallet in almost same-day service."
Having, by his own admission, previously run the business entirely from his head, Tom said the appointment of Eddie as operations manager will free him up to deal with customers and focus on the growth of Field and Forest. Eddie joined at the beginning of the firm's most successful ever month, which was January 2022.
"It really shows what we're doing. January is a fairly slow starting month with larger companies taking until mid-January to get back into full flow after Christmas," Tom said, before telling how it was mostly the smaller businesses that prompted the boost in work due to larger firms taking a longer break over the festive season. "That's why we've got a customer-first approach with both the smaller and bigger guys."
Moving forward, Eddie has been tasked to secure International Organisation for Standardisation (ISO) 9001, 14001, and 45001 for the firm as well as aiding Tom in transforming the overall business to a net carbon zero outfit, something the MD said they have a responsibility to do given its operations in the forestry sector. "It shows our commitment to our customers; we're in it for the long run, we're investing hard, putting all the procedures in place and it also helps us in the background," Tom said. "We've grown fast having good products, good staff and a good customer base – there's a lot of systems that we can put in place to help us use our time better on the back of the ISO accreditations."
ISO accreditation is evidence that the services and processes of a business are 'world class' in their efficiency, safety and quality – acting as genuine reassurance and point of reference for clients. In order to achieve it, the firm will need to undergo an audit by an accreditation firm, with the management system's capability, implementation and performance being analysed.
"We already have an exceptional reputation, but to have that accreditation stamp lets customers know that when they come to us for a service, they won't be disappointed," Eddie added. "There are many hoops that we need to jump through to get this accreditation, however it is a massive step forward for the reputation of our company, as well as benefiting our internal processes.
"From a customer point of view, it lets people look at our business and know we are professional and serious. The accreditation stamp gives our customers the confidence in our products as well as the level we are operating at."