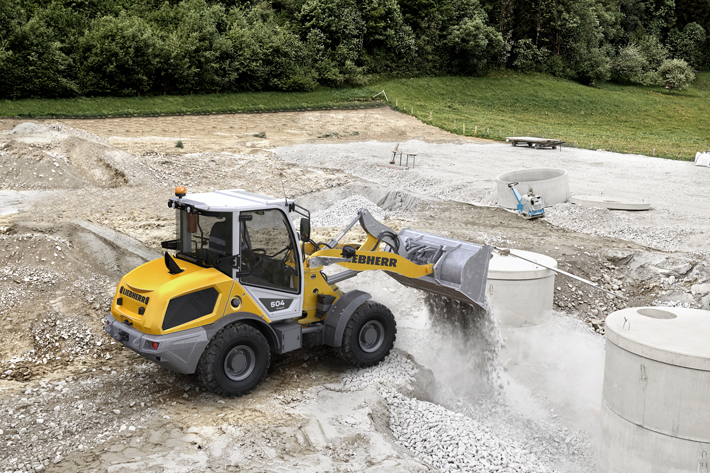 LIEBHERR has announced it has overhauled its compact loaders and expanded the series with the new L 504 model.
Innovations include a redesigned cab which boosts visibility with a 'generous' use of glass, the manufacturer stated. The optimised visibility of the lift arms also ensures an unobstructed view of the working attachment, Liebherr added.
The L 506 and L 508 models are now available as Speeder variants for the first time, capable of reaching a top speed of 30 km/h.
The new L 504 is Liebherr's smallest wheel loader, described as embodying the qualities of the larger models while also being 'excellent value for the money'.
The new loaders have lift arms with z-bar kinematics, enabling the use of a variety of attachments. Liebherr said it has optimised the parallel guidance for 'safe and precise' operation when working with forks. To increase versatility, high lift arms are offered for the L 506 and L 508 models on request. This is an extended version of the lift arms with a greater reach.
Liebherr is offering its fully automatic quick coupler system – LIKUFIX – for the three compact loaders. LIKUFIX allows operators to change between mechanical and hydraulic working tools from the cab within seconds at the touch of a button.
The amount of glass has been increased throughout the cab. The windscreen reaches into the foot area of the cab ensure better visibility in all directions, particularly of the attachment and in the articulation area. The rear screen is curved on the sides, enabling an unobstructed view of the rear area.