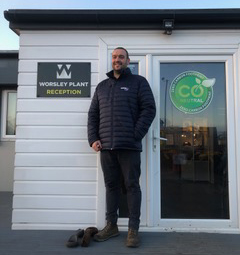 WORSLEY Plant has appointed Callum Poole to the newly created role of aftersales manager.
The attachments business revealed that Callum arrives with a wealth of relevant experience, having started his career as a fitter at ECY Haulmark over a decade ago. He then moved to a similar role at Murray Plant before returning to ECY in a sales position.
In his new role, Callum will be tasked with growing and improving Worsley's service and aftersales offering.
Sean Heron, Worsley Plant's MD, said, "Making sure the customer is happy with our products after they've bought them is a key focus for us. We don't just sell and hire attachments. We are with you all the way.
"Callum is well respected in the industry and is a very welcome addition to our team. We look forward to developing the aftersales side of our business even further in 2022."