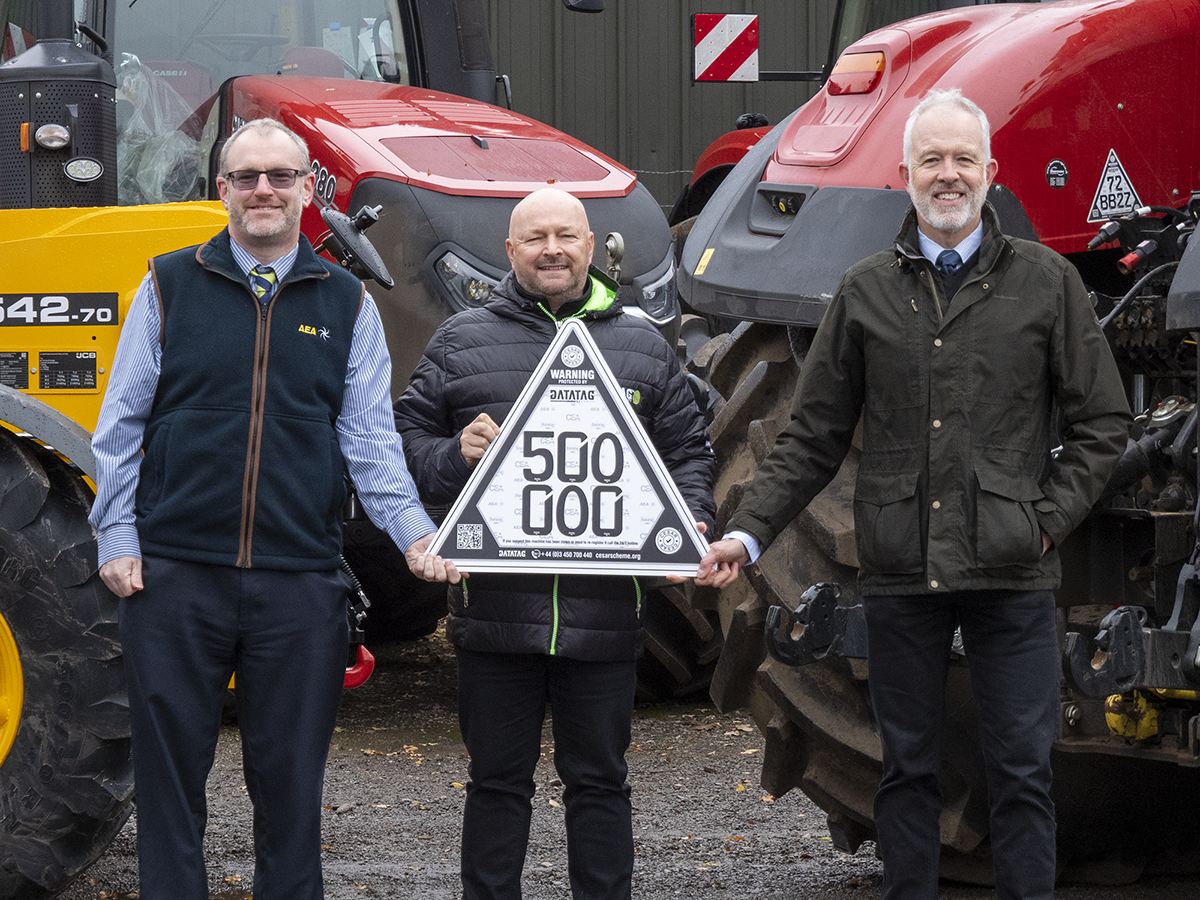 THE CESAR (Construction Equipment Security and Registration) Scheme has reached a major milestone after the 500,000th machine fitted with the security marking system rolled off the production line.
The scheme, powered by Datatag and owned by the CEA (Construction Equipment Association) and the AEA (Agricultural Engineers Association), was launched in 2007 to combat machinery theft across the construction plant and agricultural industries.
The CEA revealed that over 85% of new construction and agricultural machinery in the UK is now fitted with the system as standard.
The scheme has also evolved thanks to the introduction of the new Emissions Compliance Verification (ECV) product, which can be used for security and emissions identification and asset management.
To mark the 500,000th machine milestone, members from the CEA, AEA, and Datatag met at the HQ of one of the Midlands CESAR dealers, Sharmans Of Stamford.
Dave Luscombe, CEA's head of special projects, said, "The idea that we would one day achieve half a million pieces of construction plant and agricultural machinery, that would be protected with CESAR, when the Scheme was launched back in 2007, was just a dream for everyone involved.  Today we can all celebrate that dream becoming a reality and I would like to thank every one of our manufacturer members for the support that they have shown for CESAR over the years.
"Today we celebrate what has been achieved and look forward to achieving further success in the future with both CESAR and the ECV (Emissions Compliance Verification) Scheme."
Datatag MD Kevin Howells added, "Our technology has been supporting the Scheme for nearly 15 years and has helped to create a proven deterrent for theft of construction and agricultural machinery. This milestone is an outstanding achievement and we look forward to celebrating the 1,000,000th machine in the not too distant future."
Multi-layered technologies supplied by Datatag to help prevent plant theft include uniquely numbered tamper-evident triangular ID plates, hidden RFID transponders, microscopic Datadots, and a unique forensic DNA solution. Once fitted, the CEA said these technologies are 'almost impossible' to remove successfully and when recorded on Datatag's database, can help the police to identify any machine at the roadside.