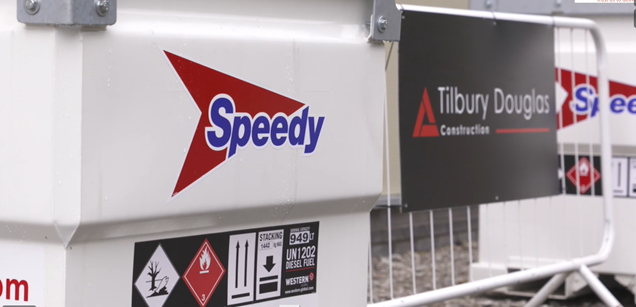 TILBURY Douglas has teamed up with Speedy to help cut CO2e emissions on its projects by using hydrotreated vegetable oil (HVO).
The company has switched to using HVO from red diesel to fuel generators and machinery on its UK sites. The partners expect the switch to save 2,500 tonnes of CO2e per year.
Tilbury Douglas's current projects include the construction of Walsall Healthcare Trust's new £40 million emergency department and a new 80-place Discovery Academy in Sheffield, which will both benefit from the HVO switch.
Speedy supplies Green D+ enhanced HVO as its preferred low emission fuel, which can be used in pre-existing engines to reduce CO2e. Use of the fuel also aims to improve local air quality to protect workers and neighbouring communities.
Sarah Burki, sustainability lead at Tilbury Douglas, said, "With the ability to slash carbon emissions and associated air pollution, it's important that we capitalise on these opportunities that help us reduce our impact on the environment and the communities in which we work."
Mark Johnson, major account director at Speedy, added, "One tonne of CO2 is saved for every 350 litres of Green D+ HVO fuel used, when compared to fossil fuels, meaning national contractors like Tilbury Douglas can make an extraordinary difference by switching. Tilbury Douglas are among the pioneers in construction that are taking up green fuel and electric-powered equipment well-ahead of the 2050 net zero emissions target for the benefit of the communities and clients they serve."