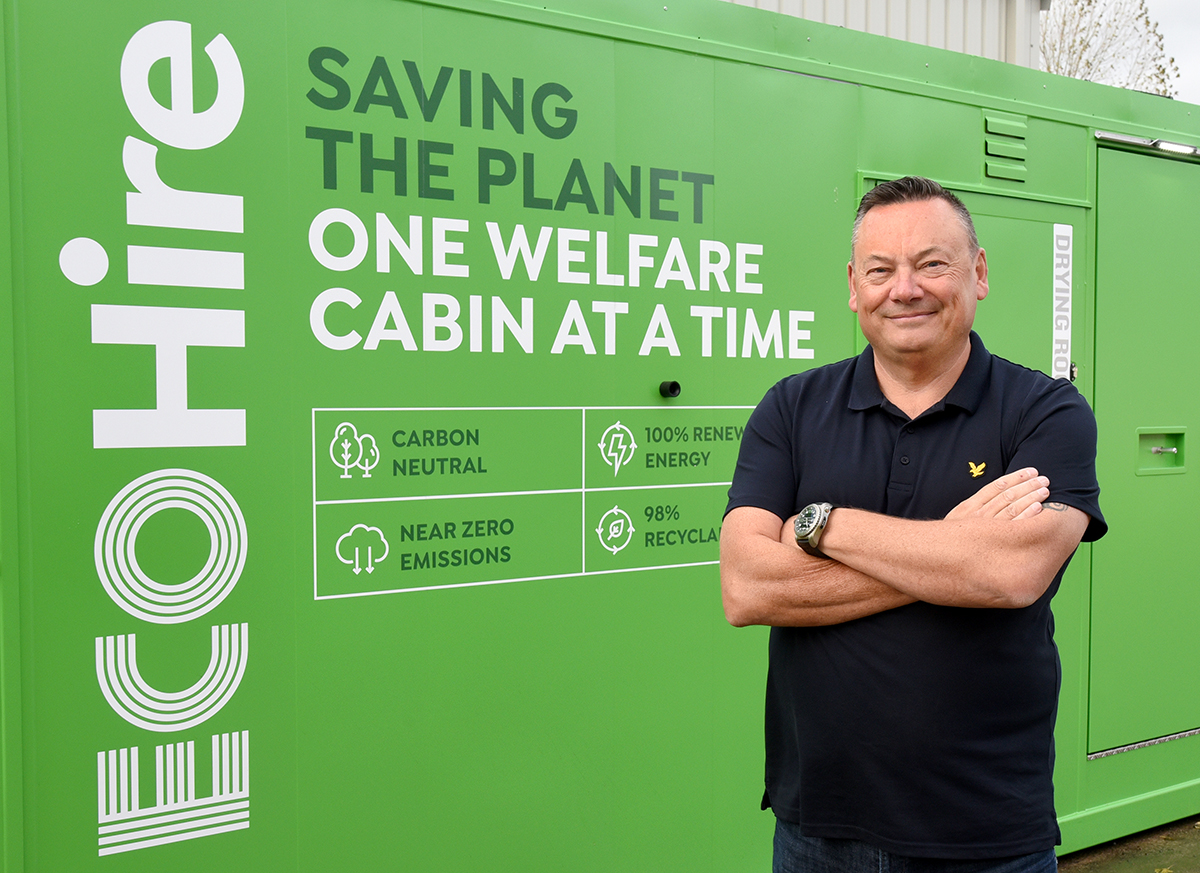 LOC Hire founder and MD Dan Wharton has created a new company within the group called ECOHire, which vows to deliver the most environmentally friendly welfare accommodation units on the market.
Described as a 'game-changer' for the construction industry, the ECOHire units, manufactured by Boss Cabins and described as 'virtually carbon neutral', feature full solar roof panels, LED lights, a rainwater harvesting and grey water recycling system, a solar flow electrical system, and remote energy monitoring.
The product has been tipped to slash fuel costs to virtually zero and is said to consume an average of 59.5 litres of fuel per week less than standard cabins. The units are almost entirely solar powered with a back-up generator using HVO biofuel.
Dan Wharton told Project Plant that with Scotland hosting COP26 this month, the time feels right to launch such a product. The business is investing £5.5 million in 100 units over the next two years. He's now challenging some of the largest contractors, who he said have made 'bold and radical' statements about their ambitions to reduce their carbon footprint, to 'put their money where their mouth is' and utilise this eco-friendly welfare solution.
"LOC Hire is now a multi-depot business," he revealed. "Turnover this year will be in excess of £9 million. The rise has been fairly quick and fairly steep. We go from strength to strength, but I think one of the things that we realised is that the world is changing. In our industry, the changes will be determined by the pace of people like ourselves who are willing to invest in a greener future.
"At LOC, we do predominantly welfare and we will continue to do that. What I've done is set up a separate business called ECOHire to focus solely on products that offer the lowest possible environmental impact and therefore are suitable for customers who are determined, either for ethical or legislative reasons, to make sure their companies and workplaces are as green as they can be."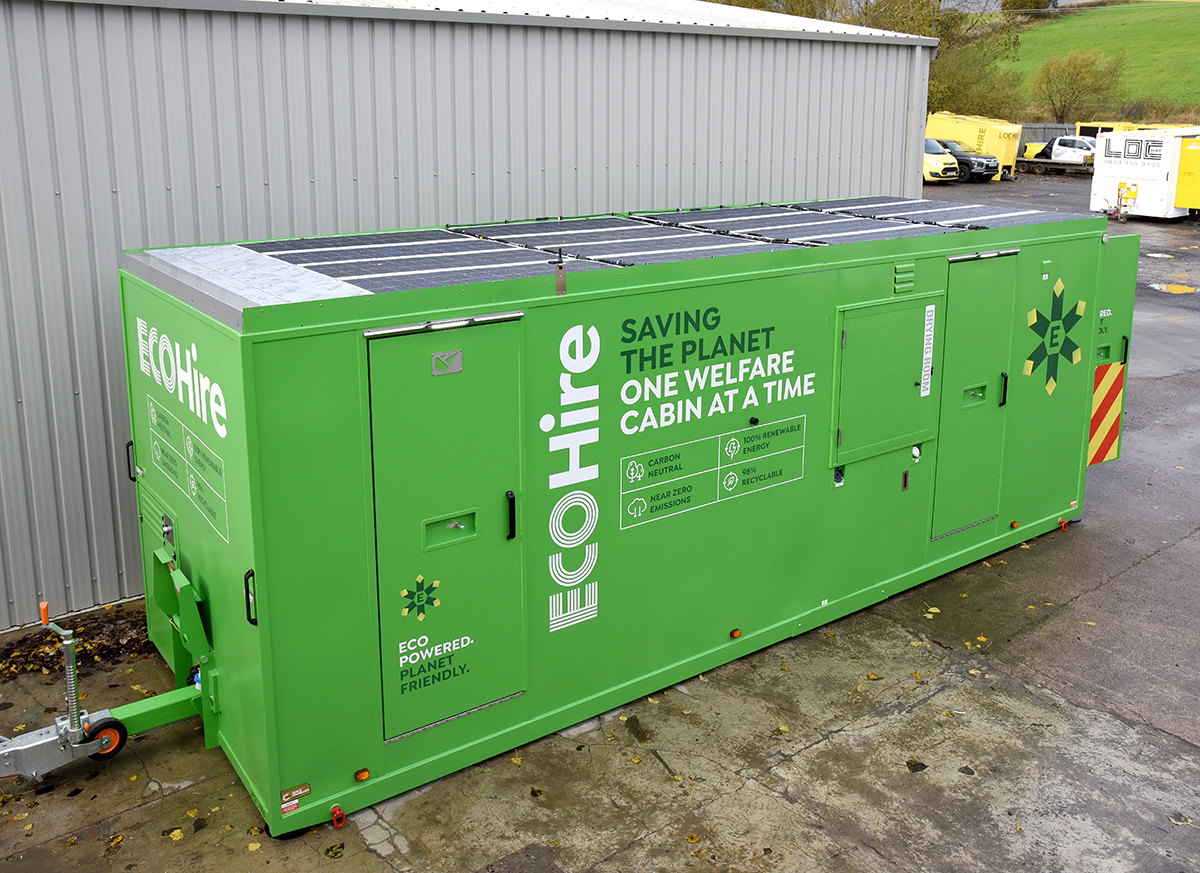 Dan has brought into LOC Hire a new deputy MD – Mark McGuffog – as well as a new financial director, freeing him up to focus on ECOHire.
He used an analogy from the car industry, highlighting Lexus as the luxury vehicle division of Toyota to explain how ECOHire will fit in to the overall group.
"The difference is not just on the quality of the product but all the additional eco features we're putting into this unit," he added. "The ECO range has a clever electrical system that provides power on demand. For example, in a normal unit you come in and the heater is blasting away. You put the kettle on, the microwave is on, the lights are on, people are charging phones – it's using a huge amount of power. What our unit does is that when you put the kettle on, it turns the heater off. The kettle only takes 30 seconds to boil so you don't notice the difference in room temperature. You put the kettle off and the heater comes back on. If you turn the microwave on, the kettle goes off. If you wash your hands for 30 seconds, it stops the heater. It is pure power on demand. The benefit for customers is they are actually making a difference right at the coalface when it comes to their carbon footprint.
"There's no other product in the UK – and I believe probably in Europe – that comes anywhere near this."
Dan explained that Boss Cabins offer a base product with a range of available add-ons. He decided that if he was going to invest in the product, he was going to go all-in and has opted to take 'absolutely everything'. Although the use of HVO biofuel in the generator already cuts CO2 emissions by 90%, Dan has chosen to have additional exhaust filters fitted to the engine which will scrub out other harmful items such as particulate matter, carbon monoxide and hydro carbons from his ECOHire welfare units' exhaust emissions.
On top of that, he is getting VirusShield air purification systems fitted in the canteens, office and toilets of the cabins. These will filter out harmful air-borne viruses and odours and combat the risk of disease transmission for cabin users.
Dan sees the launch of the ECOHire products as a chance for the Bonnybridge-headquartered firm to become the market leader in this end of the welfare market.
"One of the things we've tried to do at LOC is always be slightly different," he added. "When I came to the marketplace in 2014, the only unit you could get was a 12-foot six-man unit. We came out with the 12-foot seven-man unit. It was enough to make us different. Since then, we've developed our whole range of units and been the market leader in that.
"With ECOHire, we are offering variety to the marketplace in a different way. While we won't stock such a wide range of items, all our products will be built to the highest environmental standards with top level environmental performance. We have a flagship 24-foot welfare unit with canteen, office and drying facilities plus twin toilets, and will also offer a smaller 20 foot canteen-only unit. Other products include ECO Loos in two sizes and a brand new mobile tool charging station which also runs on solar power and allows users to conveniently charge their tools on site in a secure and safe environment."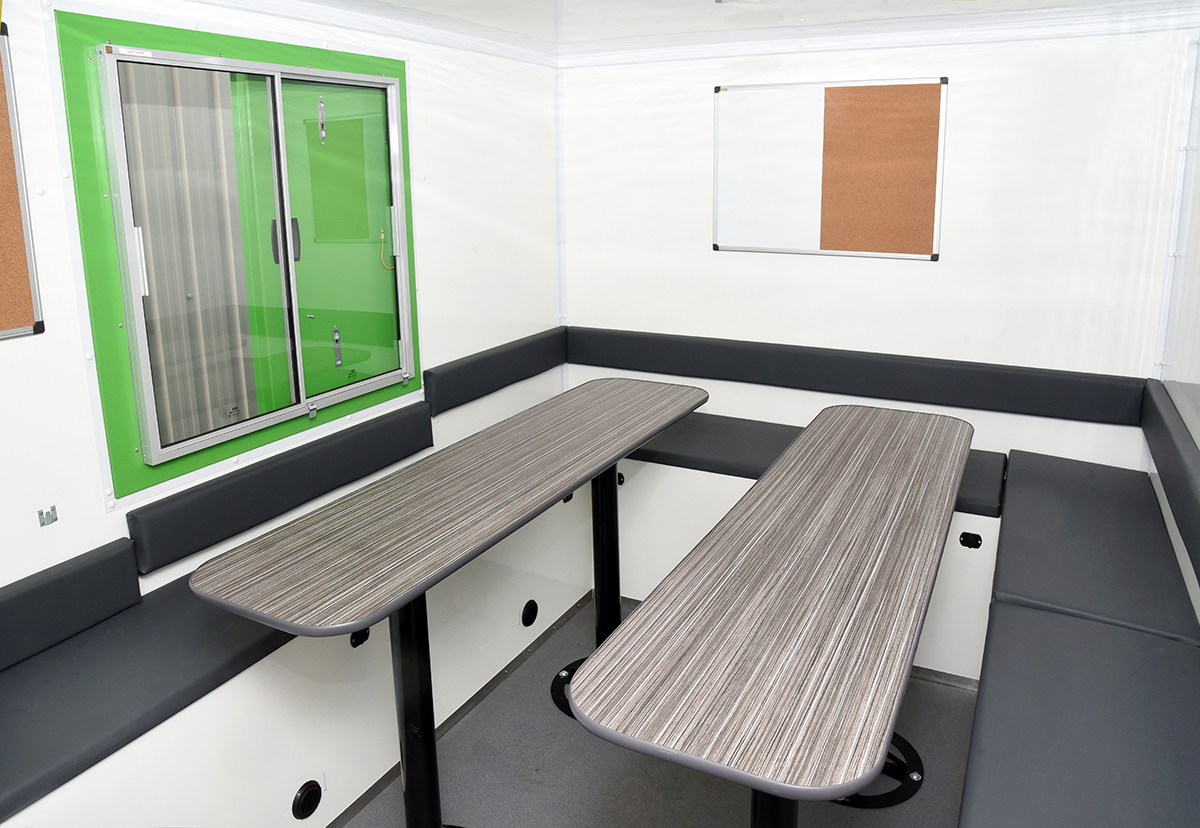 Dan has chosen to price these new products in a different way to usual and will be giving an 'all inclusive' weekly hire rate that includes all fuel, toilet servicing and water deliveries. He freely admits the weekly rental charge for an ECOHire unit will be more expensive than a standard unit, but claims calculations have shown that the products will provide 'excellent' value for money because there are no associated costs.
"At the moment if you hire a welfare unit, you pay a weekly rental and then something for servicing it every week," Dan explained. "You'll pay for fuel, you'll pay for delivery, you'll pay for uplift and some ancillary bits and pieces. Our offering on this is you pay a weekly rental and it'll cost you nothing else. That's because we will maintain everything, and we can do it from afar."
Both ECOHire and the customers themselves will have access to data showing information such as how much power each unit is using, how much freshwater is in the tank, as well as fuel and wastewater levels. If any issues crop up, ECOHire will be able to work the unit remotely. Alarms can be set so that if, for example, freshwater or fuel levels drop to a certain point, the company will be 'pinged'. This will reduce unnecessary visits by service engineers. Technology will also allow ECOHire to see exactly where each unit is at any given time.
With sustainability an increasingly important factor on construction projects, Dan revealed that the ECOHire welfare units will allow companies to 'legitimately' tick boxes to say they're being environmentally friendly. "Companies are making public statements about what they want to achieve and there actually isn't very much out there to let them do that at our end of the marketplace," he added. "For me, this is a game-changer and the level of technical backup we can give along with the quality of the product is unbeatable.
"We've tried to (offer sustainable solutions in the past), but we've always been limited to what's available from the manufacturers. We spent a year developing this with Boss Cabins. There was a huge amount of trial and error, but we've finally got a product that is absolutely spot on."
As a supplier to key projects, LOC Hire remained operational throughout the Covid-19 pandemic when demand for welfare and hygiene products such as shower units, extra toilets, and sanitising stations increased.
The firm was contracted to provide sanitising units for the temporary hospital that was built at the SEC in Glasgow and also provided welfare facilities for ambulance stations south of the border. Additionally, LOC Hire was proud to help Boss Cabins in the installation of Covid testing centres around the UK.
Internally, LOC Hire is going through a series of changes. As well as ECOHire, the group is also investing £2 million in the events side of the business, which has seen turnover double this year, and is expected to double again in the next 12 months. New premises are being taken on in Denny and about a dozen staff will be recruited to operate that.
Dan believes that existing staff are encouraged by all the activity.
"When people see us not sitting back and resting on our laurels, it definitely gives them a bit of a buzz," he explained. "We've changed how we work. Through Covid we lost all our external salespeople bar one. That was partly through our choice and partly through theirs. The world is a different place now. We've recruited two salespeople who are on the phone talking to people, which has made a massive difference to our business.
"Genuinely I think people feel quite proud to be associated with something like this (ECOHire)."
Despite becoming a very profitable business in a short period of time, Dan said there was no temptation to stand still. He wants the group to be innovative and make a difference. While it won't happen overnight, he's confident the introduction of products like the ECOHire welfare units will change people's perception of what accommodation should be. He also believes the launch of facilities like freshwater toilets and nicer, cleaner units 'can't but help' in the industry's quest to attract a more diverse workforce to help tackle skills shortages.