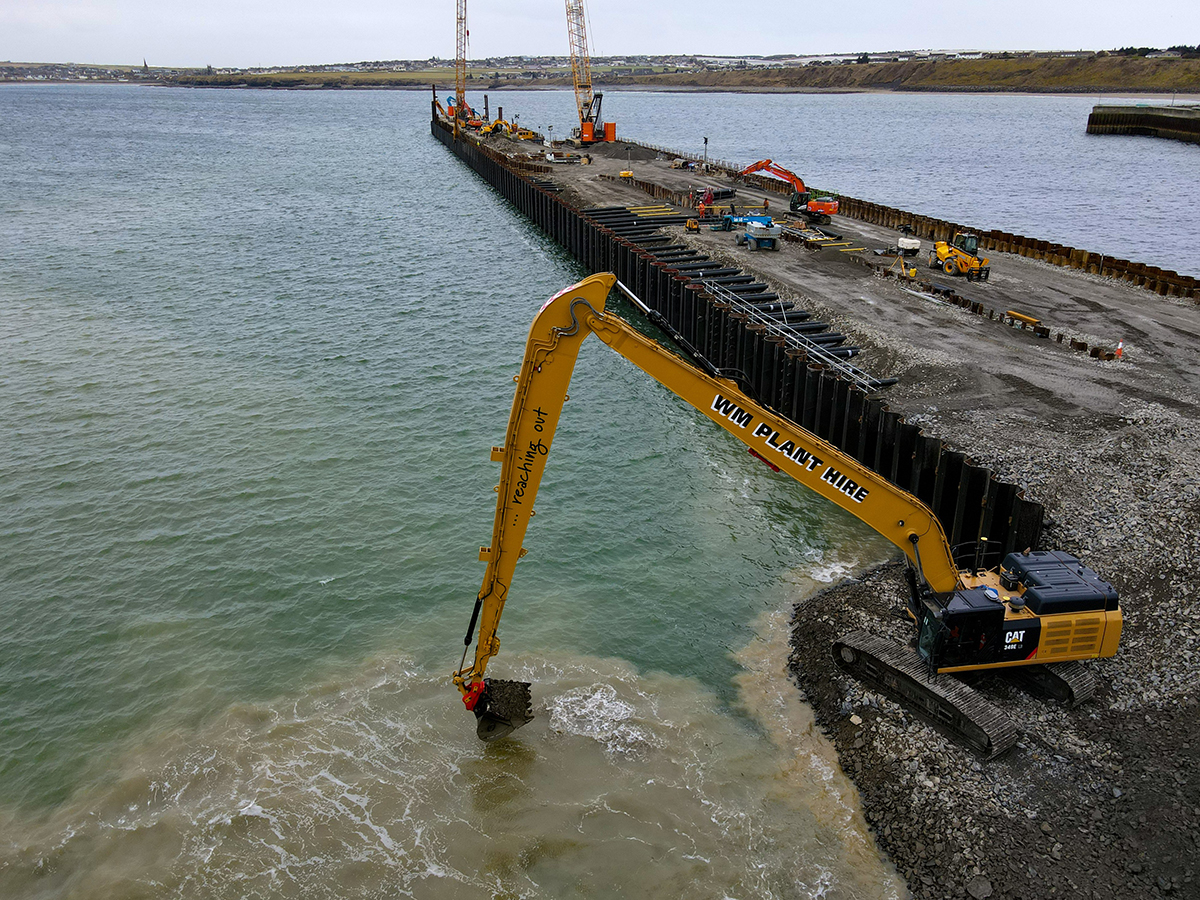 WM Plant Hire has revealed the firm's range of specialist long reach excavators have proved 'invaluable' for numerous projects in Scotland over the past 12 months.
The company's fleet ranges from 8m to 30m, with the firm's flagship considered the longest in the UK.
The long reach diggers have proved particularly effective in sites constrained in terms of access or environmental restrictions, with zero-tail swing, low ground pressure and even a 'walking' or 'spider' excavator with flotation tyres.
WM Plant Hire added that the latest CASE and CAT technology 'ensures high efficiency and low emissions', contributing towards customer targets of net zero carbon.
The company recently supplied five CASE CX210 long reach machines to assist UB Civils with Phase 2 of the Inverness Airport drainage works.
WM Plant Hire has also worked throughout the year with RJ McLeod, assisting in the delivery of the Tarbert Ferry Terminal by supplying various machines to suit different phases. In January 2021 the existing car parking and marshalling area was extended to accommodate more vehicles, which required the bay to be dredged to accommodate 80,000t of rock infill from a nearby quarry.  Once the infill had been placed, WM Plant Hire was mobilised to complete the rock armour works on the slopes of the infill, placing 15,000t of secondary and primary rock armour.  A CAT 340 with 22m reach successfully completed the rock armour from the pre-formed infill platform which sat above the high tide level, forming the rock armour to its designed shape using the design models and GPS capability built into the excavator.  Depending on reach requirements, as the project progressed, various long reach machines were brought in at later stages, including the 68-tonne CAT machine with a reach of 25.5m to carry out rock placement between existing structures.
A project on the redevelopment of St Ola Pier at Scrabster used a 65-tonne CAT long reach to carry out the 4,000m3 of rock armour placement.  Working through the challenging winter snowfalls, the 24m long reach was set up with GPS capability to ensure accuracy underwater.
"The benefit of using WM Plant for rock armour works is the quality of plant and operators they supply, plus the technical back up regards engineering to ensure the GPS model works throughout the period the machine is on site," said RJ McLeod agent Sean Melville.
Heavier rock armour between six and ten tonnes was placed for an offshore energy project on the east coast at Carnoustie using a 100-tonne CAT 385 with a 17m reach configuration for power together with the 60-tonne CAT 352 long reach on the cable trench excavation.