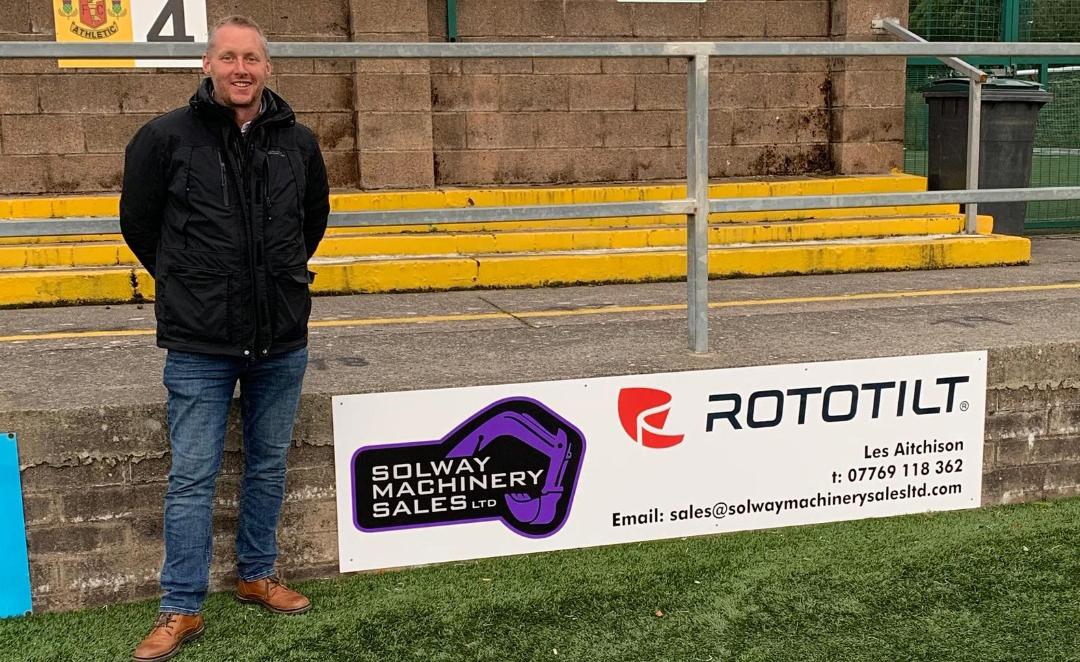 ROTOTILT'S expansion plans in Scotland have gathered pace with the appointment of two new dealers.
Dumfries and Galloway-based Solway Machinery Sales and Crowmec, located in Aberdeenshire, have joined the tiltrotator specialist's network of distributors as the manufacturer looks to capitalise on the growing appetite for the machines.
The appointments follow a careful re-evaluation of Rototilt's approach to the market and quest to install dealers capable of providing a service and backup in tune with the quality of the products.
Solway Machinery Sales was founded in 2016 by Les Aitchison, who has worked in plant sales for around 15 years. Les told Project Plant that the Rototilt dealership originated from a chance conversation in the early part of last year.
"I phoned for a price on a Rototilt and recognised Malcolm Long's (Rototilt country manager) voice. I dealt with Malcolm for years in a previous role he was in, and the conversation started. He mentioned at that point there would maybe be opportunities in the future. He phoned in the early part of this year and said they were in a position to take things forward."
Solway became an official Rototilt dealer on September 1st, covering a wide geographical area including the Scottish Borders, Argyll, and the central belt. Les believes the opportunity to grow the Rototilt brand in Scotland is enormous.
"If you go to other parts of the world, you'll struggle to see a machine without a Rototilt in certain areas," he said. "I've got a massive customer base. People deal with people. I'm fairly sure that I can provide something different from everybody else, by answering the phone when it rings regardless of what day and time it is, and at the end of the day if you've got the parts and the backup, Rototilt has got the product."
Les revealed there's already 'quite a buzz' around the machines, with plenty of people talking about them.
"People are starting to sit up and recognise that this is a game-changer in how they work. I really think we're just at the bottom of a very steep rise in popularity.  Rototilt is right up there with all the major manufacturers, so I see no reason as to why, in the right hands, they wouldn't become the brand of choice."
One aspect which excites Les about Rototilt is the manufacturer's dedication to customer service and backup. He told a story of how, during a meeting with Rototilt's UK team in Warrington, he learned of a service engineer who that day had driven three hours south in the morning, two hours north in the afternoon, arrived at the depot to meet him, and was then keen to drive to depart for Aberdeen in late afternoon for a breakdown.
"Rototilt has a relatively small team but a very experienced team in the UK," he explained. "The staff they have in the background that I would need to call upon have got massive knowledge, experience, and dedication. You're dealing with a massive company but a very small family of people who can make decisions – and that's what's crucial in the world today."
Rototilt's Malcolm Long and sales manager Andy Little are also excited about the new Scottish dealers, believing Solway and Crowmec, between them, will provide excellent coverage north of the border.
"We've continued to establish ourselves and taken a measured approach to doing that," Malcolm told Project Plant. "We're very conscious that, with this still kind of considered new technology, you can sell the first one but you're not going to sell the next one unless you're able to support it, back it up and give people confidence that you're still going to be around.
"Looking for strategic partners is one of the avenues that we're going to use. I've got to say, Les typifies everything that you want in a dealer. His focus on his customers is obvious. That is the kind of support and approach that we would want and makes him an ideal fit to represent Rototilt and vision we've got. There are loads of people who could go and repair a hose but understanding tiltrotators and how they integrate with machines is a little bit more specialised. You've really got to look for people who have that future outlook and embrace the technology, but we also have to be sure they can deliver on that local contact to the end customers because it is a considerable investment."
Malcolm described Scotland as a 'mature' market for tiltrotators, with the sector here generally quicker to embrace the technology than the rest of the UK. He said the conversation has evolved and Scottish plant operators understand what benefits the machines can bring.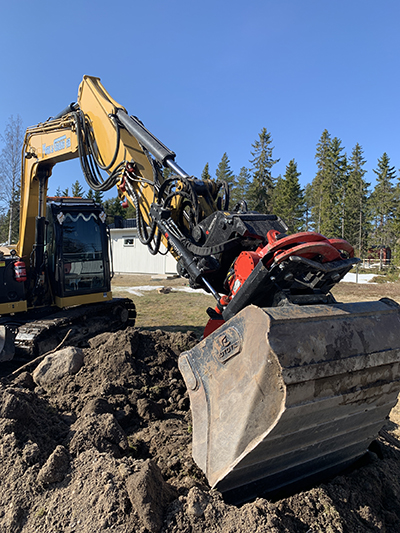 Agreeing with the statement that tiltrotators are becoming a more mainstream product on construction sites, Malcolm stated that infiltration of the machines into traditional fleet set-ups is continuing.
"Some people who are owner-operators clearly see it's an opportunity to make the most out of one particular unit that they've got," he added. "And then you have companies who see the benefit within a wider fleet. Then you've got other people who have made the jump completely and now everything that they would buy would be tiltrotators going forward. That expanse and that infiltration into standard fleet set-ups is happening everywhere."
Andy Little explained that Crowmec will cover the Aberdeenshire territory and also look after Inverness and down the east coast.
"That has given us a really good coverage," he explained "Both Solway and Crowmec are very enthusiastic to do well with a good product.
"It's a case of giving that confidence of support. It's important to get the right people with the right attitude – that 'never leave the customer with a problem' attitude.
"Service is equally important as selling the product. That's the stance we're coming from. Anybody can buy a product; it's how it's then going be supported six months/12 months/eight years down the road."
Also on Rototilt's Scottish radar is April's ScotPlant exhibition, when the company will be demonstrating the latest products and innovations, including QuickChange, which allows operators to change attachments without leaving the cab.