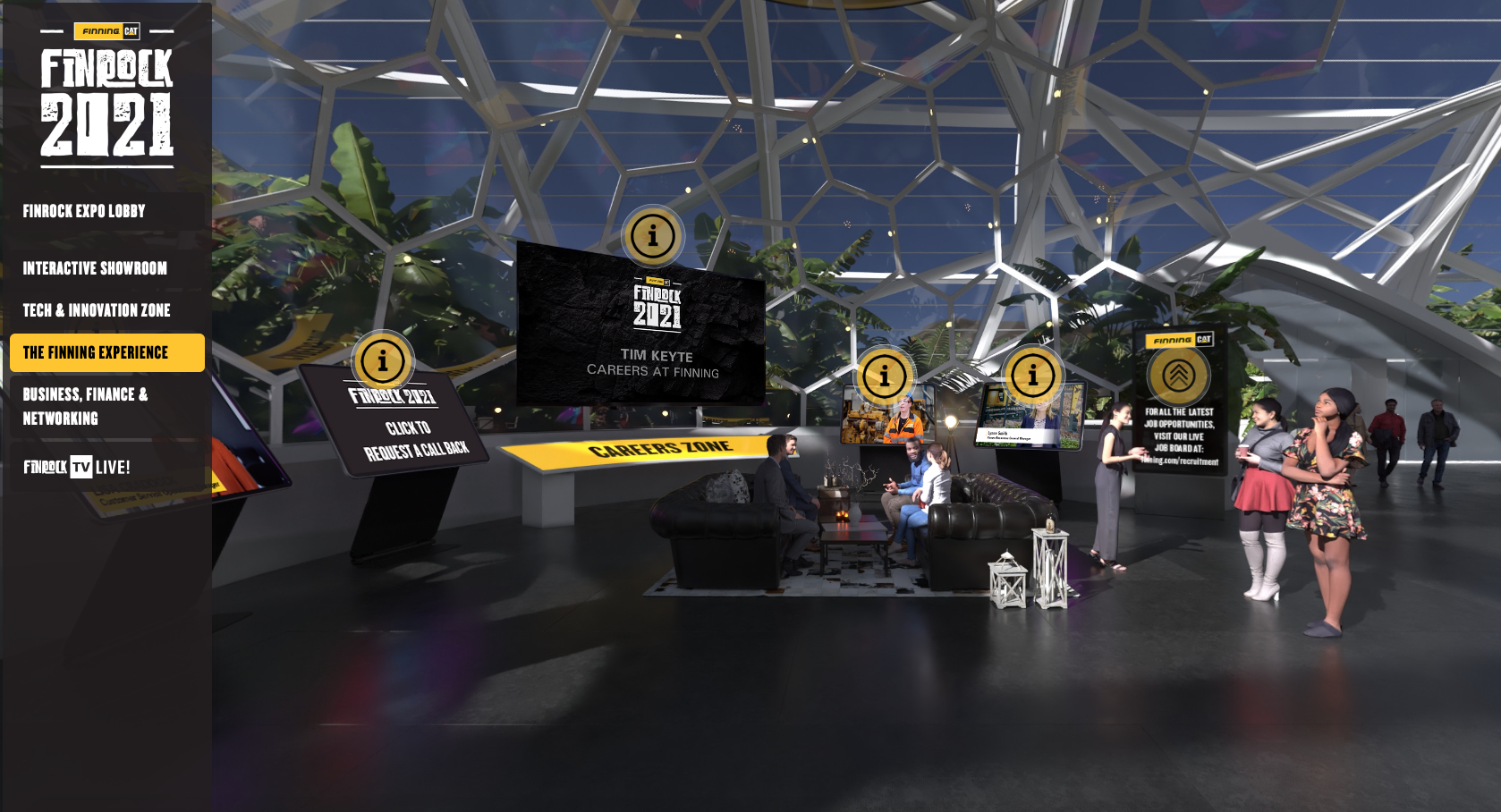 ORGANISERS of FINROCK 2021, a live virtual exhibition for plant operators, construction professionals and heavy equipment enthusiasts, have hailed the event a roaring success.
Hosted by Caterpillar dealer Finning UK & Ireland, the event was billed as the 'antidote to video call fatigue' as the company looked to strike the balance between the welcome return of in-person events and the convenience of attending from a desk.
Operating almost like a video game, users were able to navigate their way around the virtual Finning Island using the click of a mouse – with it featuring all the commodities of a traditional event including networking areas, interactive showrooms, and presentations. There was also the chance to participate in guided tours of Finning facilities and competitions.
Peter Seaman, customer experience and marketing manager at Finning UK, told Project Plant that some presentations attracted over 15,500 viewers, with visitors spending an average of two hours exploring the virtual world.
"The industry is used to fairly traditional events, and I think there's always going to be a place for such events," he explained. "But I guess with the challenge of Covid and the way that a lot of people are working, and indeed the diverse geography we serve, we wanted to do something a bit different."
The Great Demolition Debate was perhaps the most hotly anticipated attraction. Hosted by Finning's industrial manager, Jonathan Davies, the discussion focused on a range of issues relevant to the sector, with a panel comprising Howard Button (CEO of the National Federation of Demolition); Ian Arnott (chief engineer, Keltbray); and Paul Johnston (MD, Bradley Demolition).
Opening on a discussion of the sustainable credentials of the demolition sector, Howard Button said, "The greater public still don't look at demolition as being a key player in the industry, but without us clearing the way we'd be seeing far more greenfield developments – by clearing redundant buildings the industry is, at its core, recycling the land."
Jonathan then moved the discussion onto whether the technology was there to keep up with increasing demand for sustainability, to which Paul Johnston  likened it to a puppy in the sense that the owner never really notices its transition into a dog, before he detailed his amazement when he thinks of how advanced the demolition sector has become.
"You've got to grasp how far we've come in our industry," he said. "I think we're at the front, in terms of construction – how we recover materials, how we are doing this recycling, and the technology has come along with us."
Prior to the debate was the Bridging the Gap discussion hosted by Stuart Chapman, HR director at Finning, featuring Lynne Smith (HR leader at Finning), alongside Matthew Ayres (group MD, Bennie). Centred around the changing labour needs of the industry, with a particular focus on encouraging diversity and inclusion, Matthew revealed what he has learnt in his own role – including an instance when he was subjected to homophobic abuse by a member of staff, only to let it slip due to not wanting to be known as a leader 'who called someone out for being mean to someone about being gay'.
"Then, I thought about it and realised what an idiot I'd been," he said at the event. "I realised that I was a senior person in a business and that if I wanted a prosperous, healthy, inclusive and diverse business…you don't just ignore it – you stamp it out and get rid of it."
He encouraged fellow business leaders to learn from their own experiences and use their standing to promote inclusivity.
Last year, the firm purchased a D6 dozer from Finning and wrapped it in Pride colours, a move which Matthew said led to conversation and 'far more love' than hate.
Peter reiterated Matthew's thoughts, before revealing the importance of having such a discussion at the event. "Inclusion and diversity is something I'm personally hugely passionate about," he continued. "We have a risk, as does any industry, of sometimes turning a blind eye to things; what we've decided to do as a company is to do the exact opposite and get right out there and really champion inclusion and diversity."
Other presentations centred around the digital transformation in the plant sector; what the future of the industry looks like; the optimisation of the commercial viability of products; the new technologies that can keep workers safe; an insight into the use of data analytics; financial advice; sustainability; and used and rebuilt machinery.
Tim Ferwerda, MD of Finning UK & Ireland, concluded the presentations by saying that FINROCK 2021 is 'just the start' of a new 'digital journey' at Finning.
Peter expanded on this, revealing that the 'sky is the limit', with the firm leaving the virtual world open with plans to add fresh content to it and continuously develop it. "For me, as with many things in the virtual world, (it will be) as advanced as the imagination and aspiration can take it," he said. "In terms of how that'll look, I think we could have more specialised activities – I think we could expand areas within the platform, we could potentially look at how our sales team can use it in place of the usual static flat brochures; this could be a really engaging way of bringing products to life.
"We're a big organisation; what we want to be is that big organisation but actually has a human face on the end of it – we are all people at the end of the day, and it's the people in this business that make it tick. We talk about people in this business having yellow blood, because they're passionate about what they do."