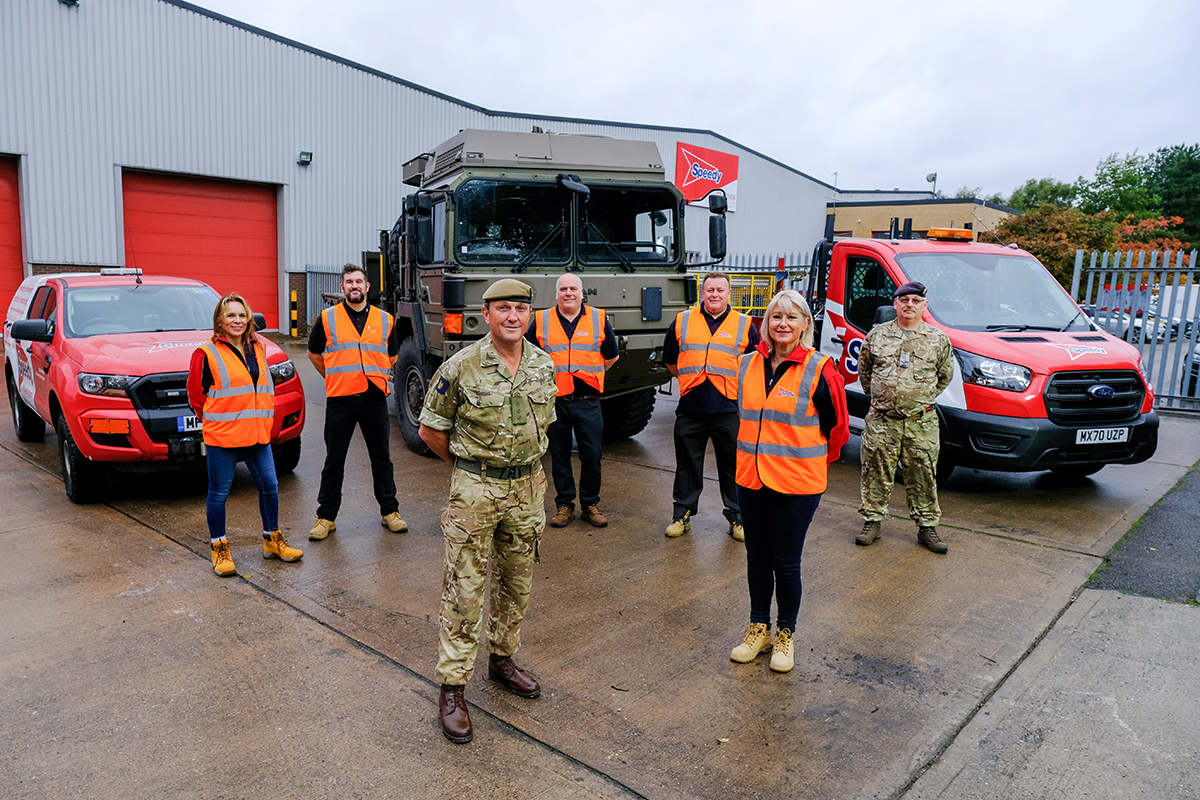 SPEEDY has signed the Armed Forces Covenant, pledging to establish a tailored employment pathway for veterans by working with Career Transition Partnership and recognising military skills and qualifications in interview processes.
The hire specialist, which revealed it already has a number of ex-service personnel in its ranks, is aiming to increase the number of employees from armed forces backgrounds.
Speedy has received the bronze award in the employee recognition scheme, which evidences the support an organisation offers to its armed forces community, with the company now progressing through silver towards its gold standard.
The covenant was signed at Speedy's national support centre in Tamworth, where HR director Ellie Armour was joined by co-signatory Colonel Paul Gilby and veteran colleagues from across the company.
Speedy joins some of the UK construction industry's largest contractors in signing the covenant, signalling they are 'armed forces friendly' at a time when almost one in five (17%) veterans in work say that finding the right job is very difficult.
The business has also committed to support its employees with family in the armed forces by upholding principles including sympathetically reviewing requests for leave surrounding partners' overseas deployment and providing paid leave for employees whose loved ones are lost or injured in the line of duty.
Ellie Armour, HR director at Speedy, said, "Signing this covenant formalises the respect we have for those that come from armed forces backgrounds and underlines our commitment to supporting them in developing their future careers.
"Our veteran colleagues enrich our business with the training and skills they developed while serving their country, from project management to driving heavy goods vehicles, and we recognise our duty as a major employer to give back to armed forces communities nationwide."
Richard Crane, veteran and area manager at Lloyds British – a Speedy company – said, "Speedy and Lloyds British recognise the transferable skills that service personnel bring with them to the company, demonstrating great awareness of the nuances that come from service life – from communicating in military-speak to understanding personal circumstances that can impact individuals. It's fantastic to see such a renewed focus on how the company can best support its veterans sparked by the signing of this covenant."
Colonel Paul Gilby, co-signatory and MoD representative, added, "Construction services and the armed forces share many complimentary skill sets. It's excellent to have Speedy's support with the covenant. The company shows clear intent to help veterans across the country to build successful careers as they transition away from the military."