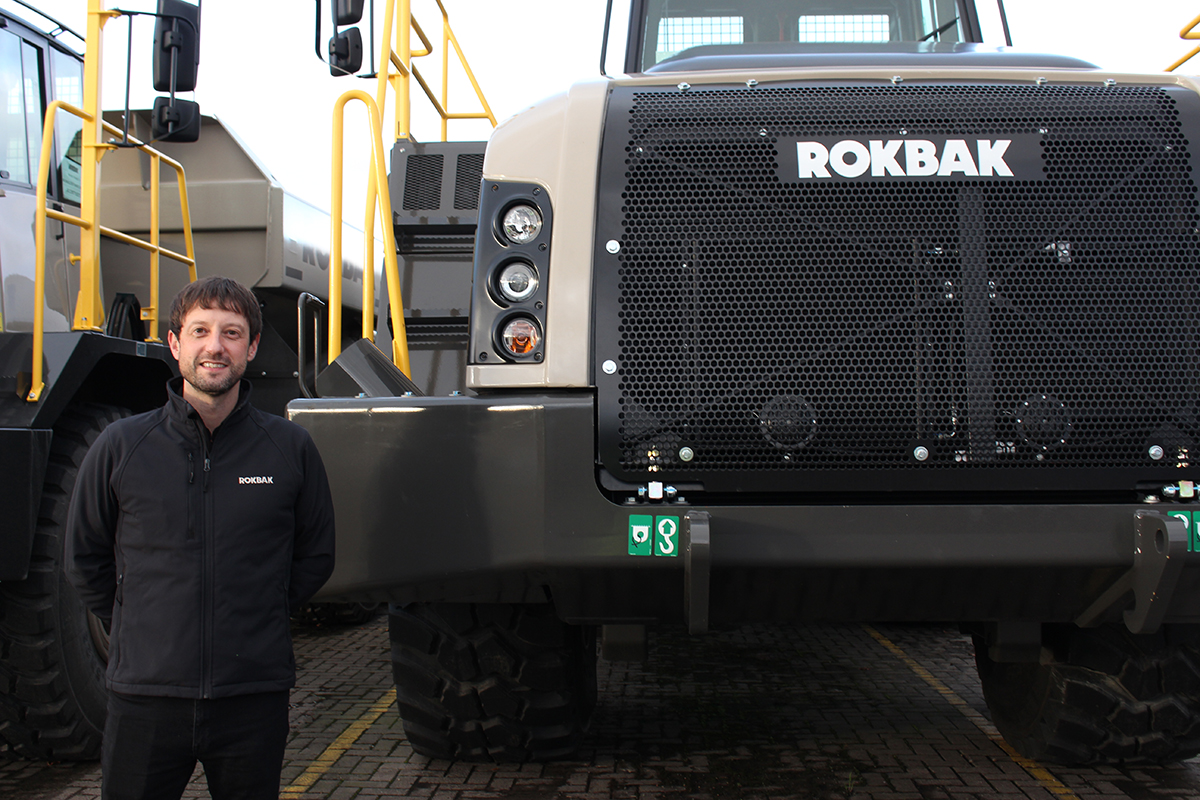 Rokbak is the new name for Terex Trucks after the Motherwell-based articulated hauler specialist rebranded recently. The business, which is part of the Volvo Group, has made significant investment in its products and revealed that the 28-tonne payload RA30 and 38-tonne payload RA40, which now come in new Rokbak colours and livery, are the most productive and efficient haulers the company has ever built.
Kenny Price is regional sales manager EMEA (Europe, Middle East and Africa) at Rokbak, having returned to the business last year. He recently told Project Plant about the impact the rebrand has had, the benefits of being a Scottish-based manufacturer, and travelling the world during the early part of his career.
Q) WHAT'S YOUR BACKGROUND? HOW DID YOU BREAK INTO THE PLANT INDUSTRY?
A) I've been working in the plant industry now for 22 years. I started as an apprentice maintenance electrician with Terex at the factory in Motherwell.
In 2005, two years post-apprenticeship, the business invested in a purpose-built training facility for supporting the dealer network and team members. A training team was formed and I moved from the facilities side into dealing with the product, supporting the dealer network through technical product training. I worked with the training department for five years progressing to training manager before moving into the role of global product manager for rigid trucks in 2010.
My introduction to sales came in 2012 when I was approached for a position with our dealer. I spent seven years working in distribution of construction equipment as a regional sales manager, head of sales, and general manager, working with a number of OEM's products, before coming full circle back to the factory in 2020.
In the time I'd been away, the business had been acquired by Volvo Group, who had made considerable investment in the six years; it was like a new company but still felt like coming home.
Q) WHAT DOES YOUR CURRENT ROLE ENTAIL?
A) I'm regional sales manager for EMEA, so I'm the principal contact for our dealer network within the EMEA region with regard to sales support and business development.
At Rokbak we're committed to working closely with our dealers, providing them with the backing required to successfully market, sell and support our product and customers, in order for Rokbak to be a profitable partner within their business. This support can come in many forms, from joint customer visits, training, product information, marketing materials, campaigns and events.
Within our business I'm responsible for providing the sales forecast for the EMEA region to the factory and – the fun part – actually meeting those forecasts. As well as supporting our existing dealer partners, I'm tasked with growing the dealer network in areas where we don't currently have coverage.
Q) ROKBAK RECENTLY REBRANDED FROM TEREX TRUCKS – WHAT IMPACT DO YOU EXPECT THIS TO HAVE?
A) It's already having an impact on the business, in a positive way. It's provided that clear vision for the future with the strength and stability that comes from the investment of our parent company, The Volvo Group. That commitment to continuous investment in the product, processes and people secures a long, prosperous and sustainable future for us.
You can see that, internally, the team is energised and our dealer network has really got on board with the new brand. It's exciting times for us; we've received a large number of orders for our products – the RA30 and RA40 – and the first units have been delivered to our dealers and customers. The new brand is creating interest from new customers along with potential dealer partners, who are interested in working with us in different areas of the world. Personally, I love the new brand – it's modern, it's forward-thinking, and still acknowledges our heritage.
Q) DOES THE FACT THE MACHINES ARE MANUFACTURED IN SCOTLAND PROVIDE THE COMPANY ANY ADVANTAGES?
A) I think it does. Lanarkshire has a rich history of engineering and our facility here benefits from that experience and tradition when it comes to design and fabrication. Those skills and knowledge are key. Scotland, and the rest of the UK, is a key market for articulated haulers, particularly now with the current large infrastructure projects.
Being based here allows us to work closely with our dealers and customers to provide quick, responsive support. I think there's also a willingness within the Scottish customer base to invest in a local manufacturer, so it's up to us to continue to produce robust, reliable trucks to turn that willingness into a reality. On the global stage, Scotland has a reputation for ingenuity and innovation, so it's great with the investments we're making here that we can continue to grow that reputation.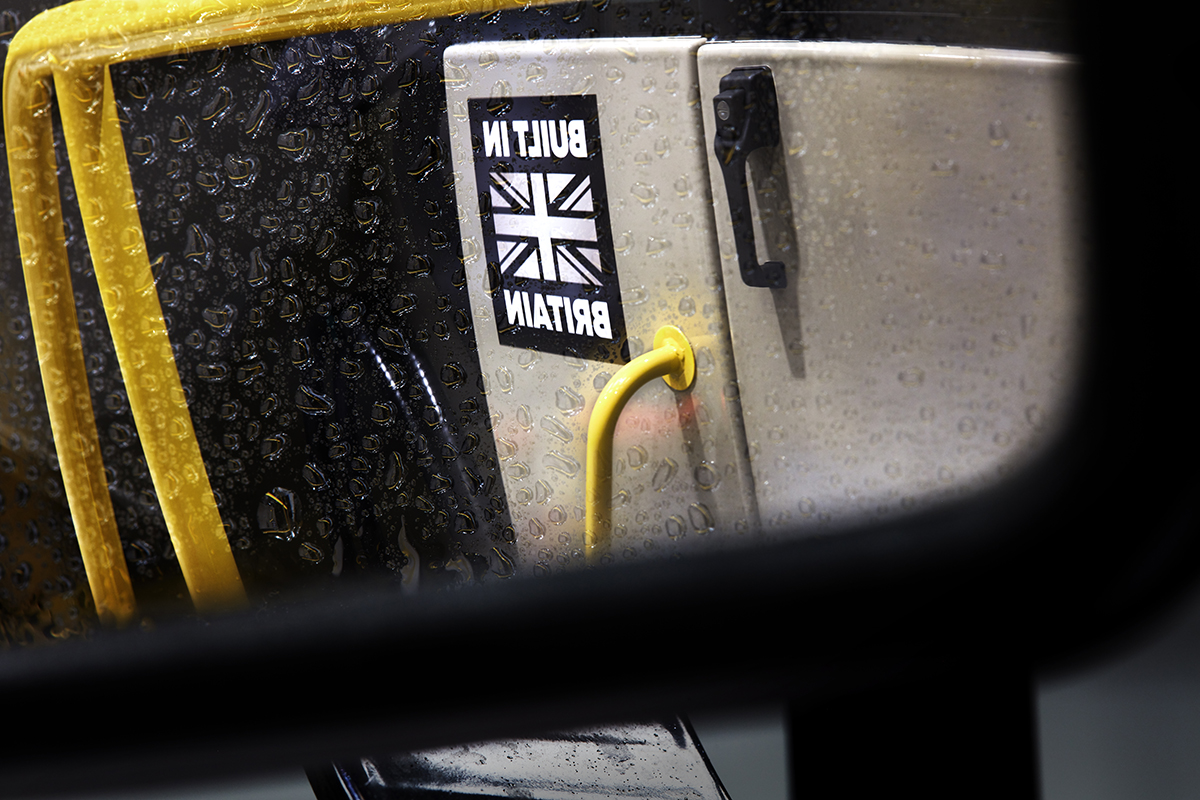 Q) HOW DO THE RA30 AND RA40 MACHINES STAND OUT IN A COMPETITIVE MARKETPLACE?
A) The RA30 and RA40 stand for power, performance and reliability. The trucks are also the most efficient we've produced. So, as well as providing the productivity that customers require, they maintain a low total cost of ownership through features such as extended service intervals and low fuel consumption.
A Rokbak hauler is a smart investment; we care about our customers' businesses and consider ourselves an approachable and dedicated partner. Our trusted dealer network is on hand to provide a high quality, responsive service, and reliable parts availability –wherever they are in the world.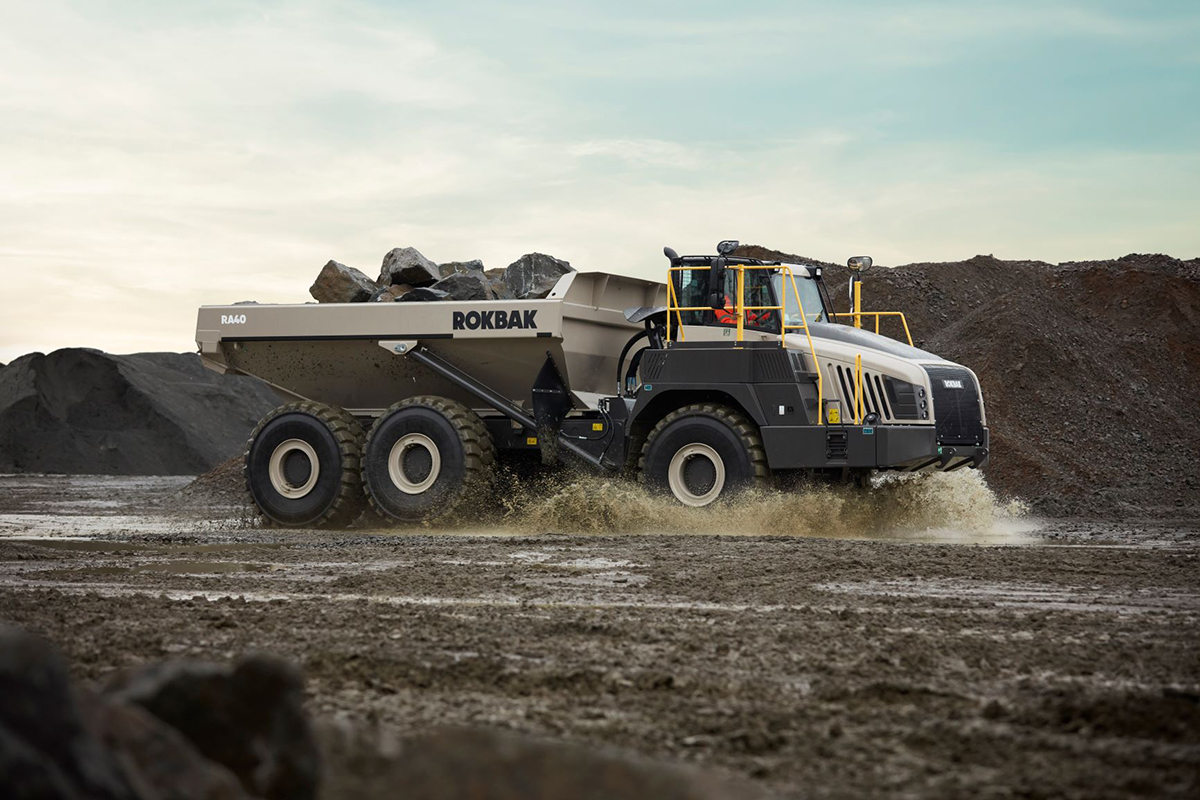 Q) WITH GLASGOW HOSTING COP26 THIS MONTH, CAN YOU TELL US WHAT SUSTAINABILITY MEASURES ROKBAK HAS IMPLEMENTED?
A) Sustainability and responsibility for the environment is a key part of our business. As I mentioned, our products are the most efficient we have produced, with the lowest emissions and fuel consumption.
Extended service intervals reduce the quantity of disposals such as oil and filters. We're committed to science-based targets – partially that's reducing our CO2 by 1,458 tonnes by 2030, which is the equivalent of 52 fully loaded RA30s. There is a focus on energy and water management and pushing towards becoming landfill-free on our waste.
From a social standpoint, we support local charities and work with partners on mental health. Investing in our people is key to raise awareness, as we all have our part to play.
Q) WHAT'S THE BEST ADVICE YOU'VE EVER RECEIVED?
A) Always be fair, whether that's with customers, colleagues or business partners. Being fair helps build trust, and trust is crucial in the industry and life in general.
When I was an apprentice, my tradesman used a phrase when referring to the way somebody would act: 'They never licked it off the road'. What that means is they learned it from somewhere. I've been fortunate in my career to have worked with some great colleagues and leaders who I've learnt a massive amount from, from watching how they conduct themselves.
I'd also add that: 'Shy weans don't get any sweeties!' You shouldn't be afraid to speak up.
Q) MOST MEMORABLE CAREER MOMENTS?
A) Getting to travel the world to places I would never have visited myself, especially in my earlier career. I've been to Russia, Indonesia, China, Japan and South Africa amongst others, getting to meet so many people from the different parts of the world, learning about their culture and ways of doing business.
Also, the launch of the Rokbak brand. It's a new chapter and there's a great energy about the place. It really feels like a positive moment.
Q) ANY FUNNY ANECDOTES FROM YOUR CAREER?
A) There's been a few. One that always makes me chuckle is from a good few years ago. I worked with three colleagues who, for the purposes of the story, we'll call Jim, Robert and George.
Jim had a desktop diary featuring a random fact in every new day. Every morning, Jim would give Robert the vaguest of clues and Robert had to guess the fact or person that was noted on that day. Every day Robert would wrack his brain and make a big show of how hard he was thinking about it and would always manage to come up with the answer.
He had a 100% record, much to George's amazement. This went on for weeks, with George believing Robert was some sort of oracle of trivia. He would tell anyone who would listen how great Robert's knowledge was.
Eventually, Robert had to let George into what everybody else in the department already knew – they'd been given the same desktop diary from a supplier that year and he already had the answer!
Q) HOW DO YOU RELAX WHEN YOU'RE NOT WORKING?
A) I've two young daughters, aged six and seven, who have got a better social life than myself these days, so much of my spare time is spent ferrying them around to their various clubs and parties.
If I do get the chance, I like going to gigs, whether that's small venues or festivals. Live music is a great way to spend time with my wife and friends. Throw in some good food and drink and I'm a happy man.