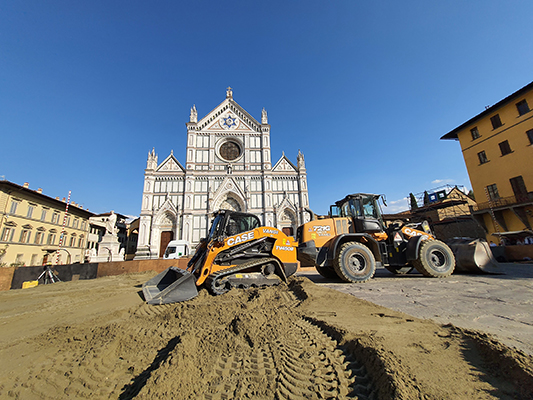 TWO CASE machines have been utilised on a unique project in Florence, which involved the creation of a playing field in the heart of the Italian city.
The site is where the Calcio Storico Fiorentino (Florentine Historical Football) match took place in September. The game, which dates back to the 16th century, mixes football, rugby and wrestling and involves up to 27 players.
This year's event featured two teams: the Verdi of San Giovanni and the Azzurri of Santa Croce, with the latter winning 12-1.
The preparation of the playing field involved covering it with sand, to replicate how the game was played all those centuries ago – on a dusty, unpaved esplanade.
A CASE 721G wheel loader and a TV450 compact track loader were used by local firm, Vangi Srl, for the works.
Fulvio Vangi, MD of Vangi Srl, said, "600m3 of sand was brought to Santa Croce. 30 trips were necessary. But thanks to the two CASE machines working in tandem, we were able to unload the trucks and spread the sand carefully in just two days".
Another two days were then needed to clean the paved floor of Piazza Santa Croce, returning it to the state that the thousands of tourists who visit the city every year expect.
Lorenzo Ghetti, principal dealer at Ghetti, CASE dealer for Tuscany, commented, "Vangi has been our customer since 2017 and we are happy with the relationship of trust that has been created. The company's CASE fleet includes no less than ten machines including crawler excavators, wheel loaders, mini-excavators and a compact track loader. We can see they are satisfied with the product and service, and we are delighted."