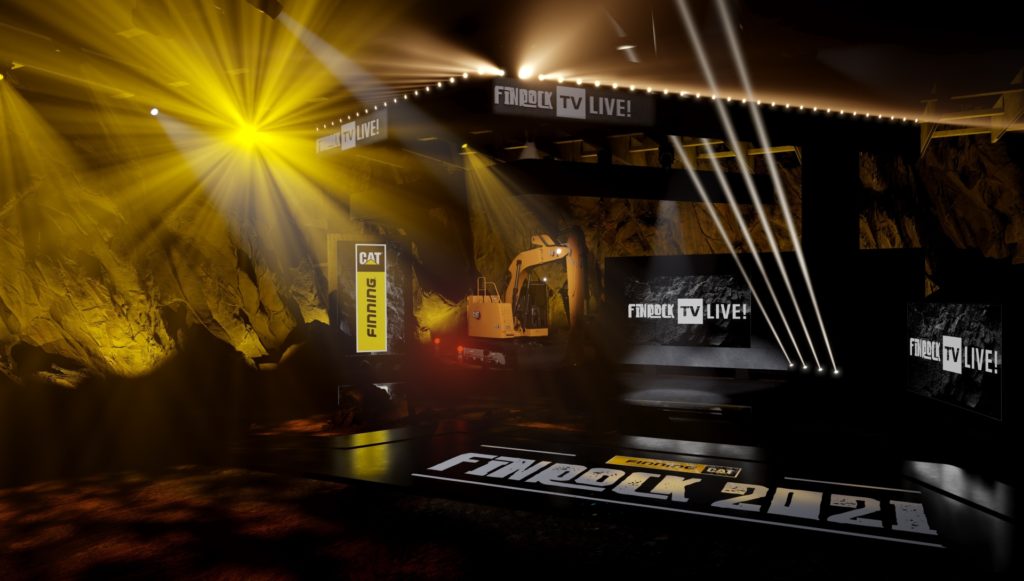 A 'one-of-its-kind' immersive event is to be held in the virtual space for plant operators, construction professionals and heavy equipment enthusiasts later this month.
FINROCK21, hosted by Caterpillar distributor Finning UK & Ireland, will feature product walk arounds, interactive showrooms, competitions and content straight from 'Finning Island'.
The interactive exhibition will also broadcast FINROCK LIVE! from its own TV studio, with it billed as having a variety of interesting topics throughout the day from experts and wider industry influencers.
Topics on the day will range from digital transformation and technology to changing labour needs within the industry.
The organisers said that one of the most hotly anticipated events on the day is The Great Demolition Debate, which takes the form of a panel discussion. During the debate, FINROCK's panel of experts, which includes industry leaders from Keltbray, Bradley Demolition and the National Federation of Demolition Contractors (NFDC), will be discussing the hot topics of demolition, such as recycling, and a focus on the latest technology being used in the sector.
Another highlight will be hosted drop-in sessions, in which attendees can get advice real time advice and answers to their questions. These hour-long sessions focus on a variety of topics — from servicing solutions to support business in the morning, to a one-stop-shop for hydraulic services in the afternoon, all hosted by the experts from Finning and Caterpillar.
Peter Seaman, customer experience and marketing manager at Finning UK & Ireland, said, "As well as having the opportunity to discover the latest technology and products that Finning, together with our partners Caterpillar, SITECH and Trimble have to offer, FINROCK will give business owners and operators the chance to interact with experts in the field to understand how technology can support their business.
"The topics throughout the day are centred around companies being able to get the best out of their equipment, as well as discussing some of the key challenges and trends in the industry.
"We are excited to have brought together experts from Caterpillar, SITECH, Finning, and Trimble, together with a number of leading industry figures to consider some of the critical issues we face as a sector. FINROCK has been designed to encourage as much conversation and interaction as possible. We have live question and answer sessions after each TV section, hosted drop-in sessions on a range of topics, and live chat with experts available throughout the day.
"Furthermore, we have created a networking zone which gives everyone at the event the opportunity to connect and interact. We are keen that FINROCK serves the needs of all our customers, colleagues and industry friends, and hope that the platform creates an open and engaging environment for us to connect."
FINROCK LIVE! is being held on October 21. To register for your free place, click here.