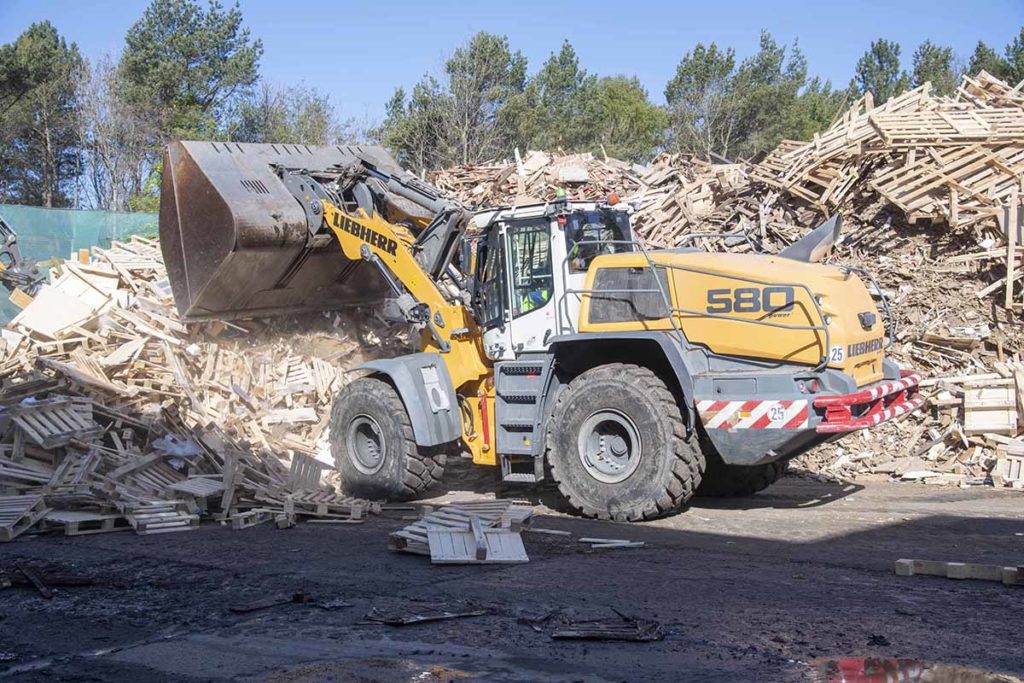 A specialist producer of wood-based panel products has added a Liebherr wheeled loader to its UK fleet.
Egger UK makes chipboard for use in homes, utilising a combination of virgin timber and waste wood to keep its plant at Hexham in Northumberland supplied with raw material. Its Timberpak subsidiary, which is responsible for collecting and processing waste timber, feeds the plant from three locations in England and one in Scotland.
A Liebherr L 580 XPower wheeled loader has now been added to Timberpak's north east plant in Washington, joining two LH 24 material handlers already in operation at the site.
The yard receives materials from local authorities and private recyclers, usually in bulk tippers and walking floor trailers. With the two LH 24s sorting the material and loading the shredder and screeners, the XPower machine has been tasked with unloading curtain-sided trailers and moving incoming material around the yard prior to processing.
The 28-tonne model was supplied with Liebherr's industrial arm equipment, hydraulic quick hitch and high-tip bucket. Due to the dusty environment, the specification also included wide core radiator, reversible fan, engine air pre-cleaner, rear crash protection, drivetrain undercovers, cylinder protection, and a mesh screen guard. A 360-degree camera system, LED lighting, and fire suppression package also feature.
Timberpak director Mark Hayton said, "The L 580 is a great product, the operators like it, our supervisors like it because it delivers to production we require and our accountants like it as it is very good on the fuel. We are very happy with the loader's performance and the back-up we are receiving from the team at Liebherr GB."