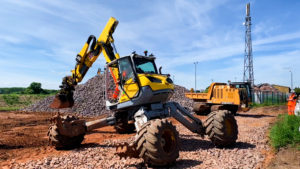 NETWORK Rail brought spider excavators on board its recently completed project to protect the West Coast mainline from landslips.
The line, which runs from Glasgow to London, underwent £5 million of works which resulted in 'thousands' of tonnes of earth moved to improve embankments.
Large stretches of sloped lineside were re-profiled with new stone to make them more stable, as well as slope gradients being reduced.
Because of the steep locations experienced throughout the project, Network Rail used specialised spider excavator to carry out the works.
Andrew Walker, project manager at Network Rail, said, "This major project will allow us to deliver more reliable journeys for millions of rail passengers and freight goods in future. Even though passengers won't interact directly with the areas improved, it's their journeys that feel the impact when movements underground pose a risk to the railway above.
"We want to make sure the railway network is in the best shape as winter approaches for the increasing number of passengers returning to rail travel following the pandemic."