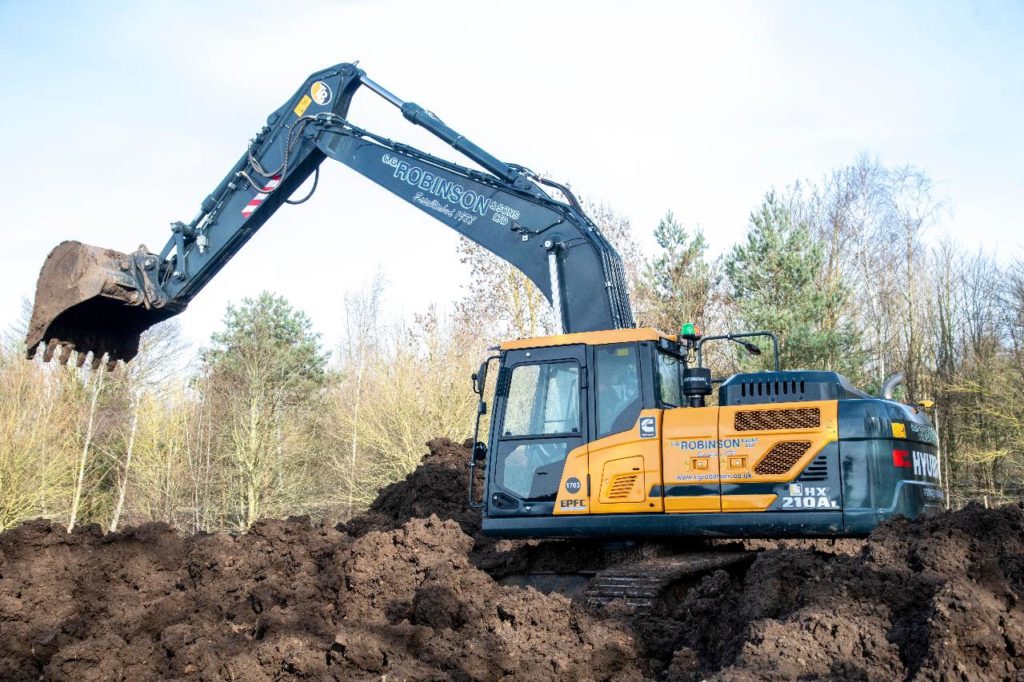 THE first Hyundai HX210A crawler excavator in the UK has been sold to Darlington-based contractor C G Robinson.
The 20-tonne class digger was sold by Cumbria-based Hyundai dealer, Taylor and Braithwaite. The machine is described as a 'slimmed-down' version of the HX220A, with the upper structure's overall width reduced by 240mm. There is also a 40mm reduction in the rear overhang.
Hyundai said the HX210A isn't seen as a replacement to the HX220A, but is rather a machine aimed towards the general hire market.
Ian Burton, MD at Taylor and Braithwaite, said, "Where the HX220A is powered by a Cummins B6.7 engine at Stage 5, the HX210A has a B4.5 unit, also meeting Stage 5 regulations. The smaller engine carries Cummins' innovative all-in-one exhaust after-treatment package which reduces emissions but also reduces maintenance time and costs. The smaller engine also does away with the requirement for EGR again; this offers a cost-saving when it comes to maintenance, increases fuel economy and also increases service intervals."
A new EPFC (Electronic Pump Fuel Control) system is said to improve the fine control and also allows operators to tailor the machine for the job they are undertaking.
Hyundai claims the smaller engine can reduce daily fuel burn figures by up to 24% over the 6-cylinder HX220X model without EPFC.
CG Robinson runs a mixed fleet of excavators and has already put the HX210A out on hire to a large residential development in Stockton on Tees. The machine was required to move a large volume of stockpiled soil, which had not been sealed.