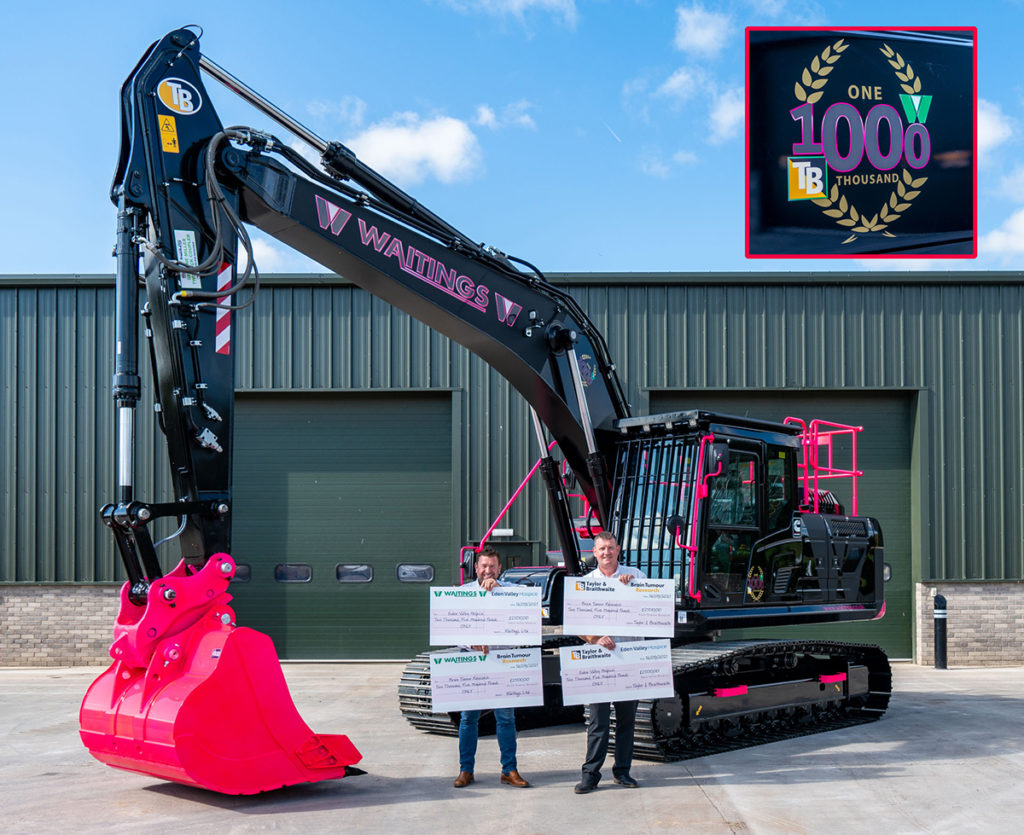 TAYLOR & Braithwaite's 1,000th Hyundai machine sale has resulted in a £10,000 windfall for charity.
Civil engineering specialist Waitings bought the first ever Hyundai machine sold by the Cumbrian-based dealer back in March 2010 – a R170W-7A wheeled excavator.
The company has bought in excess of 40 Hyundais, with the most recent purchase being an HX220AL 22-tonne crawler excavator, adorned with a bespoke black and pink livery, in support of various cancer charities.
The machine also happens to be the 1,000th Hyundai sold by Taylor and Braithwaite. To celebrate the milestone, Waitings and Taylor and Braithwaite will be donating a total of £10,000 to charities.
Waitings director of operations, Adrian Ash, explained, "As a business we work very closely with our chosen charities, and we do a tremendous amount of work with these aid organisations. Various charities are close to our hearts, but particularly cancer related charities, as in 2016 my fellow director, Victoria Waiting, died from a brain tumour aged just 44, this was very hard hitting for us all at Waitings as Victoria was a fantastic person and is sorely missed, the business today is steered by Victoria's brother, Robert Waiting and myself.
"There is a thread of pink running through our company and we have one excavator in particular that is entirely pink, which represents the charity work we do. The work is so well received, and we are glad we are able to help. I would estimate that we have donated in excess of £100,000 to various charities to date.
"Waitings and Taylor and Braithwaite will donate £2,500 each to Brain Tumour Research and the Eden Valley Hospice respectively."
Ian Burton, sales director at Taylor and Braithwaite, added. "With selling our 1000th machine we are delighted to contribute to local charities and team up with Waitings. We have had the support of the local community and many local businesses, therefore it's good to be in a position to give something back.
"Waitings were the first local blue-chip company to support buying the Hyundai brand back in 2010 and 11-years later Waitings remain loyal to both T&B and continues to invest in Hyundai. They have bought a varied cross section of machines from across the range, and I believe we have helped each other grow."