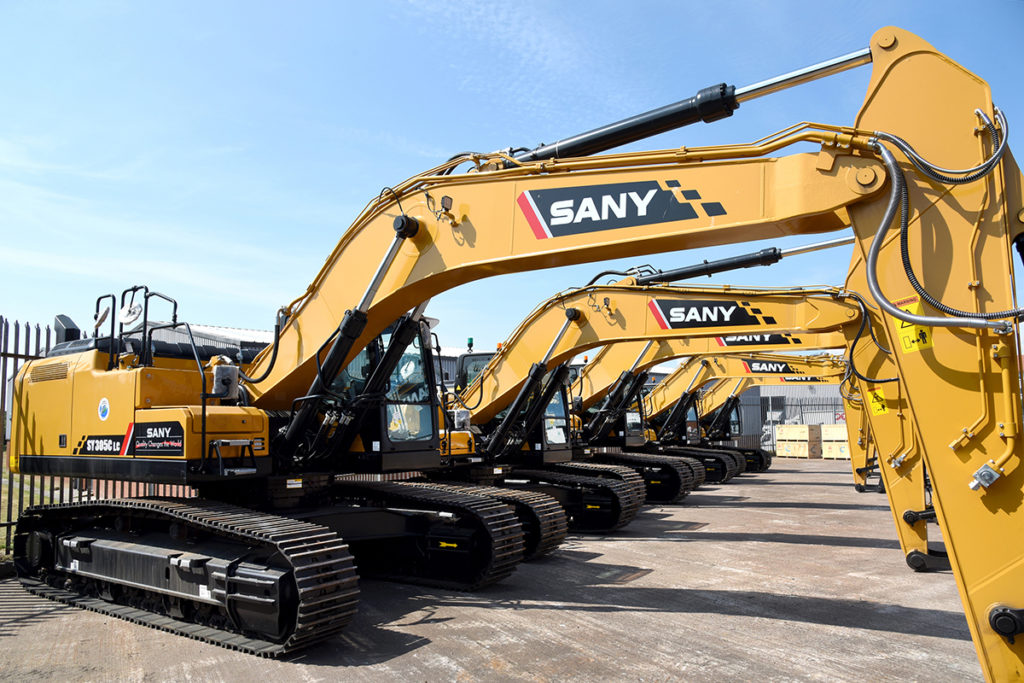 SANY has completed the refurbishment and fit-out of the company's new UK and Ireland HQ in Coatbridge, Lanarkshire.
The manufacturer received the keys to the 11,000 square foot depot with storage yard and parts warehouse at the Interlink Estate earlier this year, and spent several months preparing the site, which will stock and service excavators for direct sales customers in Scotland.
The building will also support the dealer network for the rest of the UK and Ireland with parts, technical support and product development specialists.
SANY has now ramped up its recruitment plans to help meet ambitious growth targets. The company's ultimate aim is to become the largest supplier of excavators in the UK and Ireland.
Lyle Sibbald, Scotland general manager, told Project Plant that it's been 'fantastic' to finally get the chance to show off the premises to customers and highlight the substantial investment the Chinese-headquartered manufacturer is making in the UK and Ireland.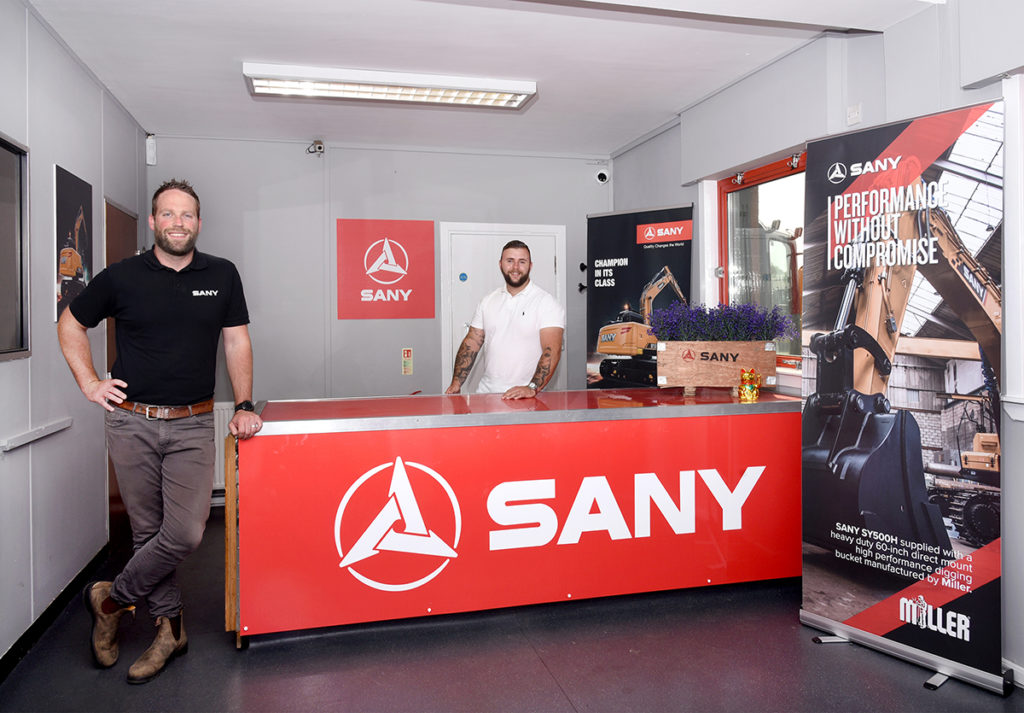 "We've been telling customers for the past 12 months what we were going to do, and now they can come and see it," he revealed. "It's really good for them to see that what we've told them is true. They're really pleased to see the number of parts we have on the shelf.
"A lot of our key customers have been to visit, as well as new customers interested in what SANY is doing. It's been a busy time over the past few weeks and months; the set-up has taken such a long time, getting the place decorated and overhauled with security and all the different requirements.
"Our first parts container arrived at the end of April/beginning of May. Since then, we've had a container every month arriving direct from China, and we now have over 12,000 line items of parts here. That's not just for us here in Scotland; it's for all of the UK and Ireland. The dealers draw from our stock."
The SANY UK and Ireland team currently numbers 20, but this will grow in the near future. One of the first recruits was area sales manager Stewart Smith, who returned to the plant industry following a stint in car sales. He's been joined by experienced personnel in key roles including a parts supervisor and workshop and field service engineers.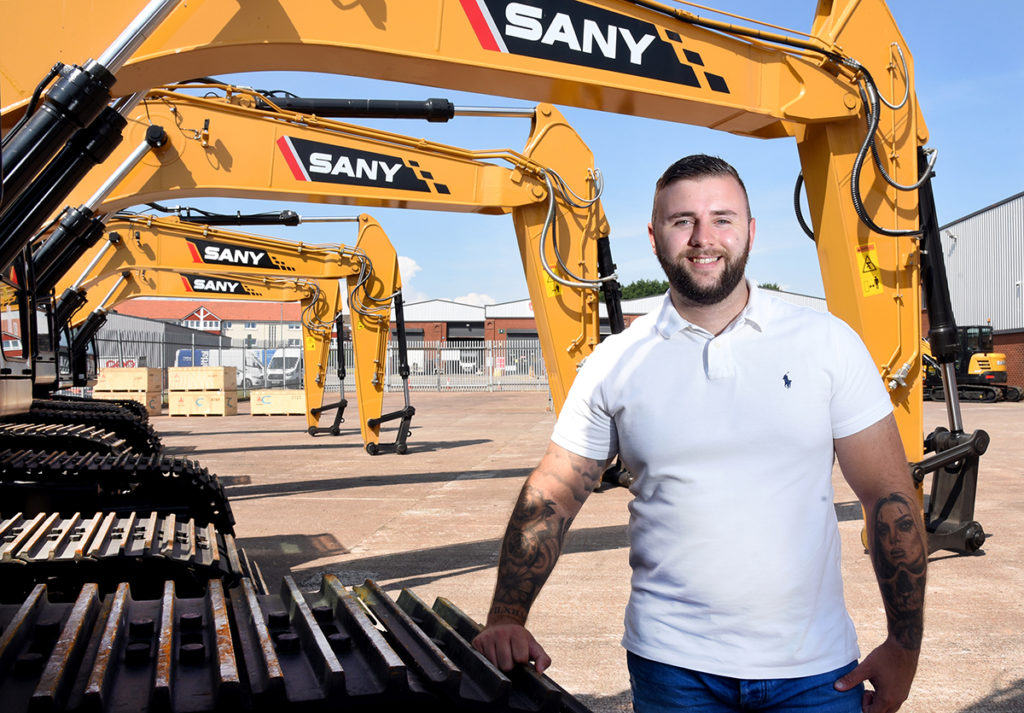 Lyle said the investment in staff, premises and equipment is giving customers confidence in SANY's long-term aspirations.
"We had a key customer visit us last week – a company with four SANY excavators," Lyle explained. "We met with this customer last summer and told him what we were doing. He, along with a lot of other customers, had concerns that when TDL closed the business in Scotland that SANY was leaving. It was the contrary. SANY was investing and upping its game.
"When they come to see what we've done – and see the branding and investment we've made in team members – they're really encouraged. We've taken it to the next level. Instead of SANY retreating from the market, we're fully invested and want to be number one.
"At the moment we've got one sales manager. I'm recruiting for two more covering Scotland. We're recruiting a service manager for the depot here and also more field service engineers. We'll also be investing in a depot up in the Highlands in the beginning of 2022."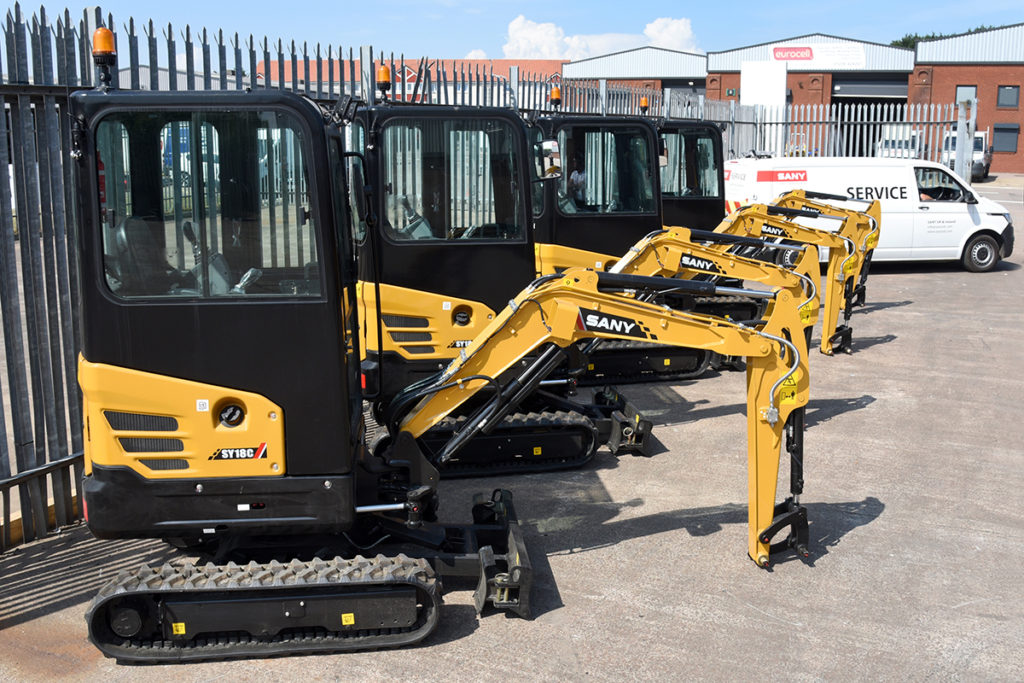 SANY recently completed a large order with AB2K, which was one of the first companies in Scotland to invest in the SANY product back in 2015. They've now got the biggest fleet of SANY excavators in the UK, numbering 25.
"We did a deal with them for six units, and they said it's some of the best equipment they've ever owned," Lyle added. "It's never in their yard as it's always out working. It's some of the most reliable pieces of equipment they've bought. They're delighted. They were waiting to see what we were doing and when they came to the facility and saw the level of investment, it gave them the confidence to extend their fleet and buy more.
"We've also seen a lot of companies we haven't dealt with before. We're starting to really push the mini excavators. Your Equipment Solutions have purchased four from us and have been delighted by the reliability and value the SANY product brings. It's all well-known and proven components. People are seeing they can get a really good return on their investment."
Lyle described the SANY product as 'really tough'. The firm is now globally number one for excavator sales, with the diggers operating in harsh environments around the world. He believes the machines are well-suited to the Scottish conditions.
Another benefit is the fact there's no issues with the supply of machines, despite unprecedented demand for construction equipment across the country.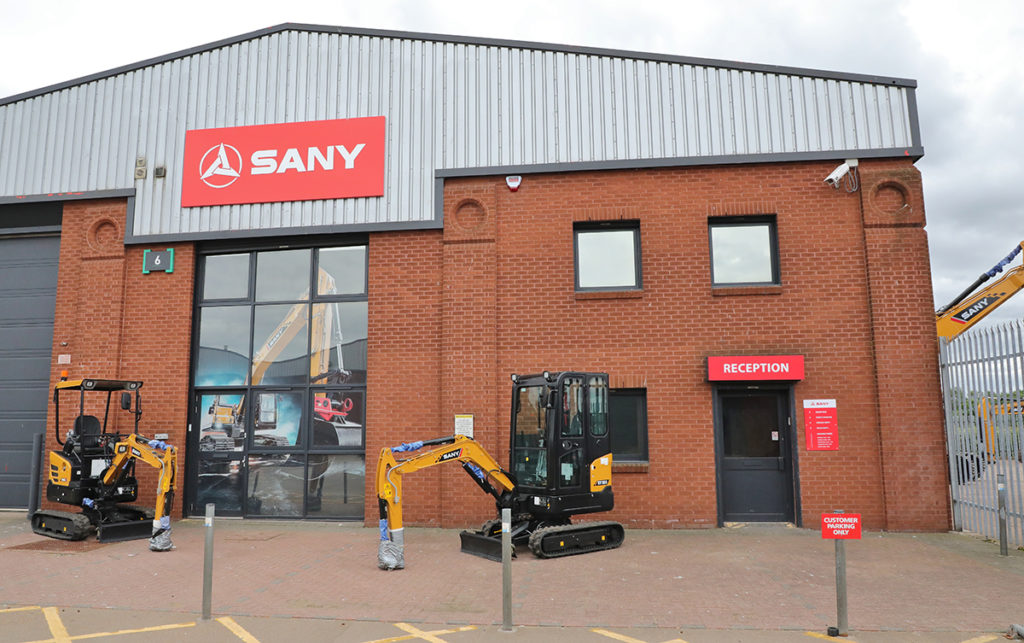 "We're not quoting crazy lead times; we've got machines in stock and a steady stream of machines coming direct from China," Lyle revealed. "We've got a good stock just now, with machines from 1.6-tonnes up to 30-tonnes in the yard here.
"We've got a steady stream coming for the rest of the year and the 2022 machines coming at the end of the year. Supply for us is not an issue. Because SANY is the world's largest excavator manufacturer, they never slowed down during the pandemic. Last year SANY accounted for 15% of all sales of excavators globally. This year we're looking to do 120,000 excavators. Whereas other manufacturers aren't able to meet the demands seen over the last 12 months, SANY can meet and exceed those demands."
Scotland was chosen as the HQ for SANY in the UK and Ireland because of the way the Scottish customer base has accepted the product over the past five years. More than 100 SANY excavators are now in operation in Scotland, with the nation seen as a 'test market' for other markets around the world to show that the direct sales route can be hugely effective.
The new base will be familiar to a lot of workers in the sector, having once been home to Scotia Plant.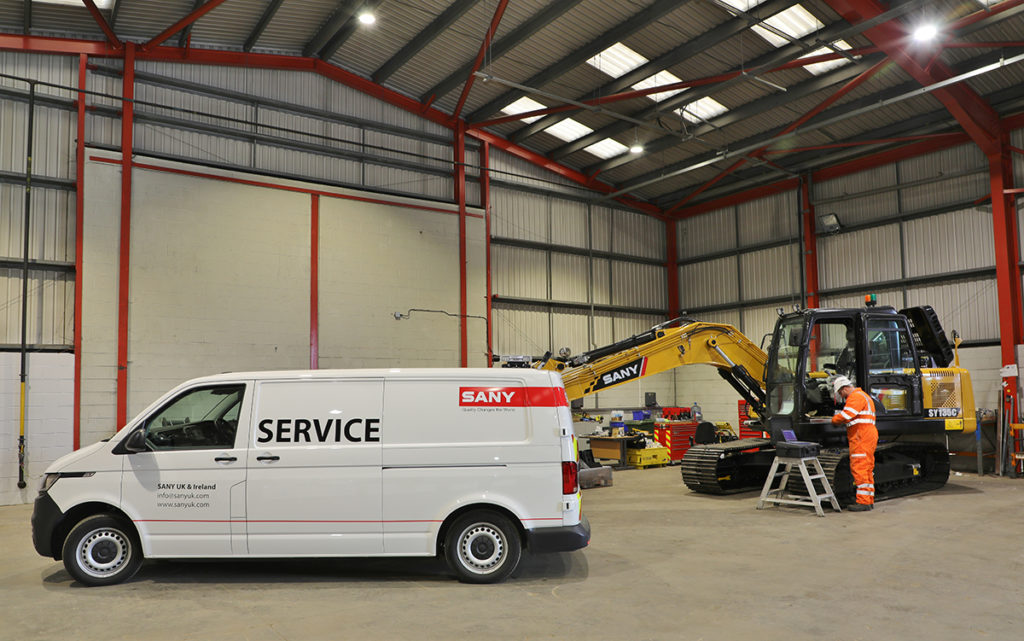 "It's a well-known location," Lyle said. "Scotia Plant was here for many years. It's centrally located. It was a facility that was purpose-built for this type of thing. There's a large yard where we can stock machines, and a massive workshop – about 8,000 square feet where we can prepare machines for delivery and repairs. We're also stocking all our parts there."
Setting up a facility of this magnitude during a pandemic wasn't without its challenges, with Lyle admitting a 'lot of hurdles' have had to be overcome. However, the fact they are the manufacturer has been crucial, with all the purchasing power and financial investment that goes along with that.
"Trying to operate and get in and out of premises during restrictions was a challenge, and also trying to recruit people," Lyle said. "You get a feel for someone when you're sitting in front of them. We had to do recruitment over Zoom, but we managed to get a good team of people willing to wait to join us. We did a lot of interviews last year just prior to lockdown. A lot of these people waited; they wanted to be part of the SANY journey.
"Sibbald Training gave us a facility to use for about eight months at Blackridge. They allowed us to stock machines there and gave us office space whilst we were waiting to get into these premises. It was a challenging time trying to convince customers to buy machines when we didn't have our own facility. But now that we have this place, we're really keen to show it off and let people know what we're doing."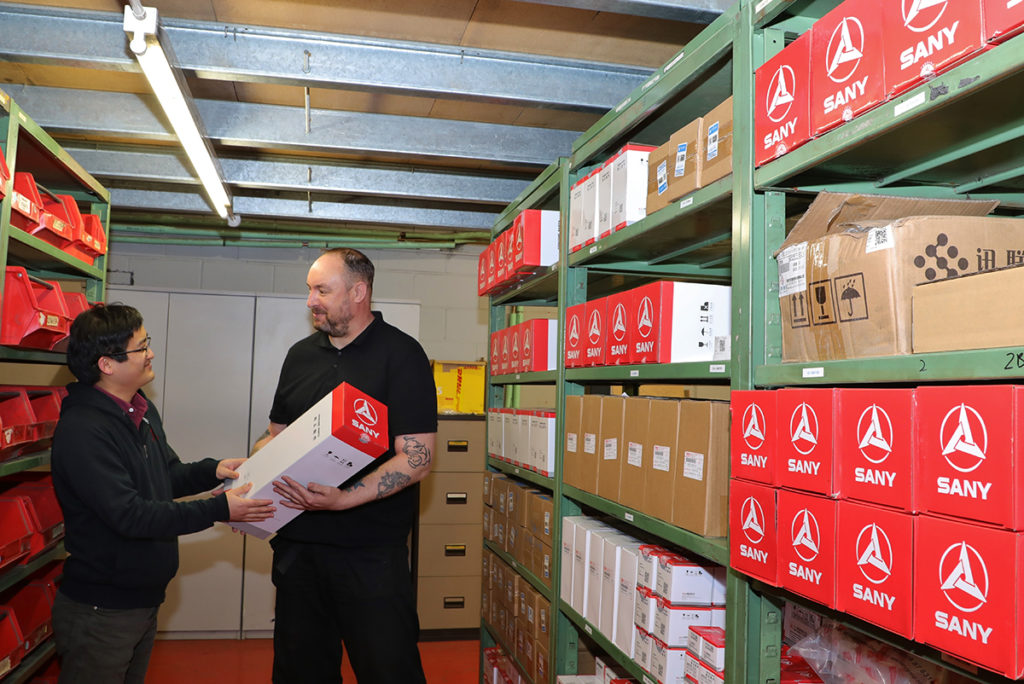 With construction workloads rising across the country, SANY has received a 'phenomenal' number of enquiries for machines in recent times. Lyle said the firm is hoping to sell between 700 and 800 machines in the UK and Ireland this year. To put that in perspective, last year the figure was about 100. The company has also become an associate member of the SPOA to raise the profile further.
"SANY is still relatively a new entry to the marketplace," he said. "Although we've been here for five years, we're still the newest player in the game. There's a lot of customers I experienced (in the early days) who wouldn't give SANY a consideration. Now with the way things are, they see the product has proven itself over the last few years, we're getting a lot of companies coming to us who may not necessarily have come in the past. They're starting to see the value that the SANY product presents and also see we've got stock available. Back in 2015/16 it was still an unknown quantity. Now they see a lot of high-profile companies have bought them and re-bought them.
"We've set up eleven dealers throughout the UK and Ireland. These dealers are regional dealers who are experts in their local areas for providing the first level aftermarket support. These guys have been amazed by the demand that's coming in. We can supply the machines and they're doing a fantastic job of selling them.
"SANY is driven; they want to be number one whereas a lot of other manufacturers are quite happy with their market share and will do the status quo to maintain that. SANY won't stop until they get to number one. And it's not just for sales; we want to be number one for support and offer the best level of support in the industry. I'm pretty sure we'll get there."