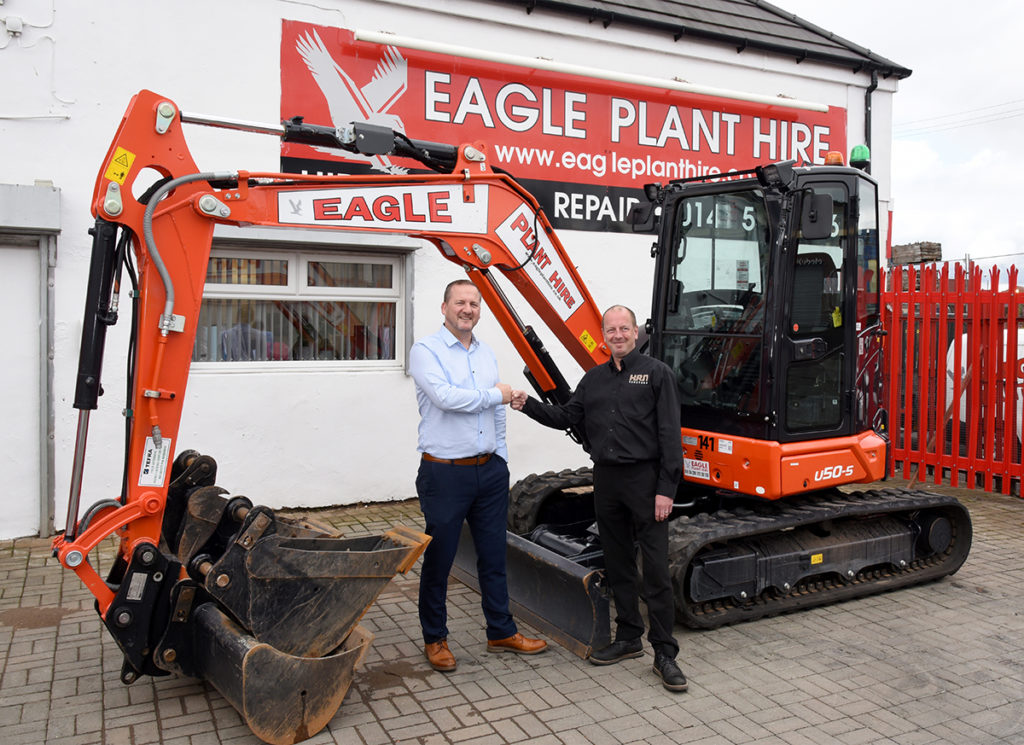 EAGLE Plant Hire has concluded the company's largest ever capital expenditure investment after snapping up 19 Kubota excavators in a deal worth over £500,000.
The diggers, supplied by HRN, are being put to work on a range of projects across Scotland as demand for high quality equipment intensifies.
The haul includes nine 1.5-tonners, three 2.5-tonners, five five-tonners, and two eight-tonne models. Eagle is already in discussions with HRN to place an order of similar value before the end of the year.
"Demand for plant is just through the roof," Eagle director Iain MacDonald told Project Plant. "The hire industry is very much price-driven but we're lucky in that we have a lot of good clients who aren't driven by that. They've been on that journey for the past few years that it's now all about service.
"Normally we tend to buy two or three (machines) and as the demand occurs, we'll add to the fleet. We saw the pandemic was causing restraints on the supply chain and stole a march on our competition by placing a bigger order.
"We've had a relationship with Kubota for a long time. It's a premium brand. Our clients use Eagle because they know they're getting Kubota machines. The majority of our excavator fleet is Kubota."
Reflecting on current demand for machines, Iain revealed the utilities and housebuilding sectors in particular are crying out for equipment.
"Scotland right now is getting dug up, which you can see wherever you go," he added. "If it's not fibre optic cables, it's water and gas. We've got a strong reputation within the utilities sector and more and more clients are coming to us to help support them, which is feeding back into our Capex plans.
"Housebuilding is flying as well. That's generally a good market for us, not just with diggers but also the small equipment and the survey operation that we've got. We've got some big clients in that sector."
Eagle has ambitious growth plans, including relocating to a new purpose-built HQ in the near future and opening a new site in the north of Scotland.
Iain revealed that customers can take confidence from this kind of investment and, at a time of unprecedented pressure on the supply of new machines, stressed the importance of close working relationships with dealers.
"Customers expect to see new machines; it inspires confidence," he said. "The thing about excavators is that they're highly visible so it needs to be a high standard.
"Good relationships with suppliers are fundamental to the business. We've not just got a great relationship with HRN, we've got a number of suppliers like that. We don't consider them as anything other than a really close business relationship and thankfully we've got that with HRN. They can help us to support demand. We (used to be) very much reactive to things. The utilisation is high on our excavator fleet. If you've got 150 units and 149 are on hire, it doesn't give you a lot of capacity, hence why we're planning in Capex now to accommodate growth."
The latest deal was agreed with Andy Wilson, key account manager at HRN, who joined the business earlier this year when HRN was appointed as full-line Kubota construction equipment dealer in Scotland.
Andy confirmed that demand for machines across the country is intensifying and is encouraging more businesses to think long-term when it comes to fleet requirements.
"HRN has hit high numbers of Kubota sales very quickly," he revealed. "Kubota across the whole of Scotland is flying.
"We're now currently forecasting our numbers for 2022 and speaking to our customers about the number of machines they need for next year so that we don't have a repeat of 2021 with stock and supply shortages.
"We're trying to predict what we'll be selling throughout the year right up to December 2022! It will be challenging but by sitting down and speaking with my loyal customers to make sure they are able to get pre-orders in place, I can then try to make sure I can fulfil those orders and make 2022 a much smoother year.
"I'm trying to get people to think outside the box and do what Eagle Plant did, which is think about what they'll need for the year and get the orders in early."