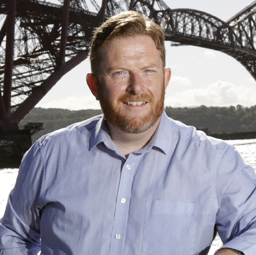 HILL Engineering's recently appointed business development manager Andy Martin believes there is huge potential for growth in Scotland for the attachment specialist.
Andy, whose career in the plant industry spans more than 15 years and has included stints at Finning, Atlas Copco, Epiroc and HHH Equipment, joined the business earlier this year as part of a restructuring process.
Hill appointed him to cover the company's new territory of GB North, while another experienced plant stalwart, Rick Still, joined to look after the GB South region. They both report to John Lines, Hill's head of global business development.
"I've known Hill since when I was at Finning from 2005-2013," Andy told Project Plant. "It's a well-established company with a product range that speaks for itself.
"Previously Hill had more salespeople covering smaller areas. They decided to take a different approach. With the experience that Rick and I have, we can bring more of a structured approach."
Andy's geographical remit covers the whole of Scotland and the north of England down to Manchester. He sees the Scottish market – with its many rural and forest locations – as being ideal for the Hill products, which include the fully automatic TEFRA tilting hitch and quick hitch.
"The Scottish market is very important for us," he explained. "Historically Hill has done very well in Scotland. Whilst the bulk of our product is standard hitches, we have the TEFRA tilt, which is popular for demanding applications. Scotland is a lot more rural so there are more civils and construction jobs in the middle of nowhere in need some sort of tilting mechanism on the machine to do the grading, etc.
"There's definitely scope for growth in Scotland. With myself on board, I'll make sure customers get the attention they deserve. From my experience in previous roles, I've dealt with a lot of the key hire customers. These major players in Scotland are quickly expanding and pushing south of the border as well."
Andy described the sector generally as 'very busy' at the moment, with equipment in high demand as construction projects gather pace across the country following the easing of pandemic-related restrictions.
"It's constant," he added. "The phone's always ringing, both from existing customers and new customers we're getting on board. So far this year we've had an extremely busy and successful year.
"We're not the cheapest in the market but we deliver a quality product. People look up to us. We're open and honest; we'll tell customers what the price is, what the lead time is, and we'll stand by our word that what we say is what they'll get."