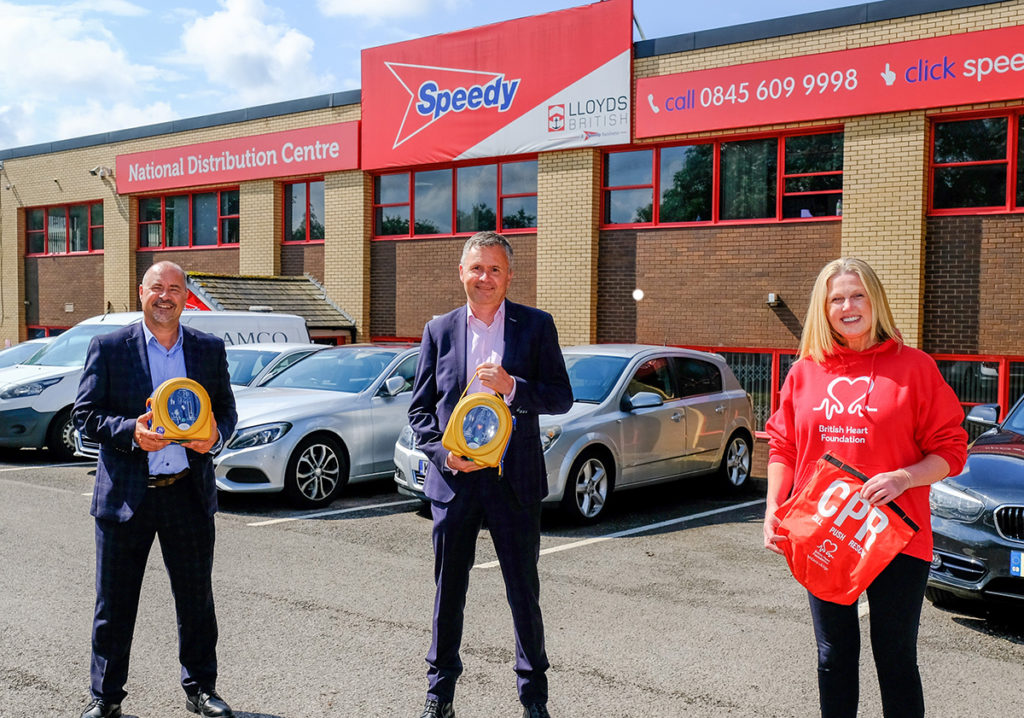 SPEEDY has teamed up with Aero Healthcare and the British Heart Foundation (BHF) to install Automated External Defibrillators (AEDs) at all of the company's operational locations in the UK.
Aero Healthcare has supplied 170 Heartsine PAD 500P potentially life-saving defibrillators to the firm as part of the rollout. There are more than 30,000 out-of-hospital cardiac arrests in the UK each year, and every minute without CPR and defibrillation decreases a person's chances of survival by up to 10%.
Defibrillators can restore a normal heartbeat by sending an electric pulse or shock to the heart. They can also restore the heart's beating if it suddenly stops.
Speedy colleagues at every store will be trained to use the defibrillators, while receiving CPR training from the BHF as part of the partnership.
In return, Speedy has pledged to help raise much needed funds for the charity as part of a long term partnership. The money raised will help fund research into heart and circulatory conditions such as coronary heart disease, stroke, vascular dementia and risk factors such as hypertension and diabetes.
Employees are also participating in a BHF-supported health and wellbeing programme, which includes health checks and personalised advice on decreasing cardiovascular risk.
Russell Down, chief executive at Speedy, said, "The safety and wellbeing of our colleagues and customers is our number one priority. By installing AEDs at all of our sites, we can be confident that if colleagues, customers or nearby residents suffer a cardiac arrest, we have the means to make a lifesaving difference as part of a first medical response. We're delighted to partner with the BHF and support a cause we are passionate about, while also helping to improve the health of our colleagues."
Hayley Gough, corporate and community manager at the British Heart Foundation, added, "The BHF is proud to be working with Speedy this year to help raise further funds towards our vital research. Our life-saving work aims to find cures and treatments for the 7.6 million people in the UK living with heart and circulatory diseases, and we cannot fund this research without the support of organisations like Speedy. We are pleased to be part of the rollout of defibrillators across the business and look forward to working together to make sure that colleagues have the confidence to use them if needed."
Iain Lawrence, business development manager at Aero Healthcare, commented, "We are delighted to make our AED's available to Speedy. Sudden cardiac incidents can happen to anyone at anytime, anywhere and we would encourage every business to follow the example of Speedy in installing these lifesaving devices."