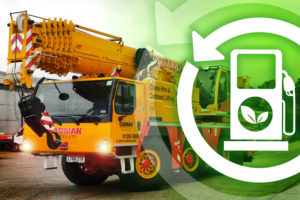 A mobile crane operator has announced it is to use hydro-treated vegetable oil (HVO) as an alternative to regular diesel.
Cadman Cranes, which is based in Essex, revealed that its calculations show that, over a 12-month period, it produced 645-tonnes of CO2 – with 519-tonnes of that coming solely from the use of red diesel.
Following internal discussions on future goals for carbon neutrality, the firm said it was the 'perfect' time to take the leap with the move to HVO fuel and take the lead on what it says could be considered one of the biggest transitions the mobile crane industry will ever face.
Cadman Cranes has vowed to immediately switch 50% of their crane fleet to the new alternative, with plans for 100% adoption to be met by the end of 2021. As part of the Milbank Group, this switchover is set to play a major role in the group's overarching sustainability strategy to contribute towards a cleaner planet.
MD, Matt Waddingham, said, "We are a mobile crane company, and we can't avoid taking these big vehicles on the road. But we can do it in the most responsible way possible by investing in the huge advances in green technology that exist right now. The introduction of HVO to 50% of our crane fleet will mean an immediate reduction in CO2 of 230-tonnes a year and our planned move to 100% HVO will see our carbon footprint drop by 72% overall. This is on top of greatly improved air quality caused by a substantial reduction in nitrogen oxides and particulate matter. The benefits of a switch to HVO are undeniable and for Cadman Cranes it is a vital first step on our journey to net zero carbon."