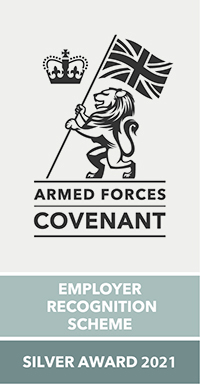 SUNBELT Rentals has been recognised by the Ministry of Defence (MoD) Employer Recognition Scheme for its work to provide employment opportunities for veterans.
The hire giant aims to support veterans into sustainable employment by utilising and building upon the transferable skills they have acquired in the military.
The Employer Recognition Scheme (ERS) allows the MoD to honour organisations that pledge, demonstrate or advocate support to the defence and armed forces community and align their values with the Armed Forces Covenant.
This includes employing serving and former members of the armed forces community and demonstrating flexibility towards training and mobilisation commitments for reservists and cadet force adult volunteers.
Sunbelt Rentals announced it is one of a small number of companies across England to have received the silver award.
Jimmy Scott, project manager at Sunbelt Rentals, is one of the company's founding veteran ambassadors. He served with the 1st Battalion the Scots Guards for eight years and was then selected to join the reconnaissance platoon.
He said, "Being awarded the ERS Silver award is a fantastic achievement. It is just the beginning of our journey to get more veterans into employment whilst also working closely with our veteran communities to mentor and support service personnel during their transition from military to civilian life. More than half of UK armed forces veterans struggle to find work in their desired fields after leaving the military because civilian employers want experienced and educated candidates, often without realising veterans meet this criteria.
"There are many reasons why veterans are a great fit for any company, some of which include being able to thrive under pressure, delivering against tight deadlines and an ability to cope with change. I am extremely proud to say that Sunbelt Rentals have identified this and are actively seeking to increase the number of veterans employed within our business."
Shane McKenzie, director of Sunbelt Rentals' veterans programme, added, "This is wonderful news. I am extremely proud of Sunbelt's amazing teams as we continue to grow a 'first of its kind' multi-national veterans' program that exceeds 'best in class' standards."
Bryony Mulcrone, who is a management accounts assistant with Sunbelt Rentals, served in the army in the Royal Corps of Signals between 2010 and 2016. She said, "Sunbelt has personally given me the chance to build a career that I have dreamed of for years and I look forward to witnessing the same for many other ex-forces members too."
Leo Docherty, UK Government minister for defence people and veterans, said, "I would like to thank all the organisations who have proven their support for the defence community during such unprecedented and challenging times. The vast range of those recognised this year demonstrates how employing the armed forces community makes a truly positive and beneficial impact for all employers, regardless of size, sector or location."