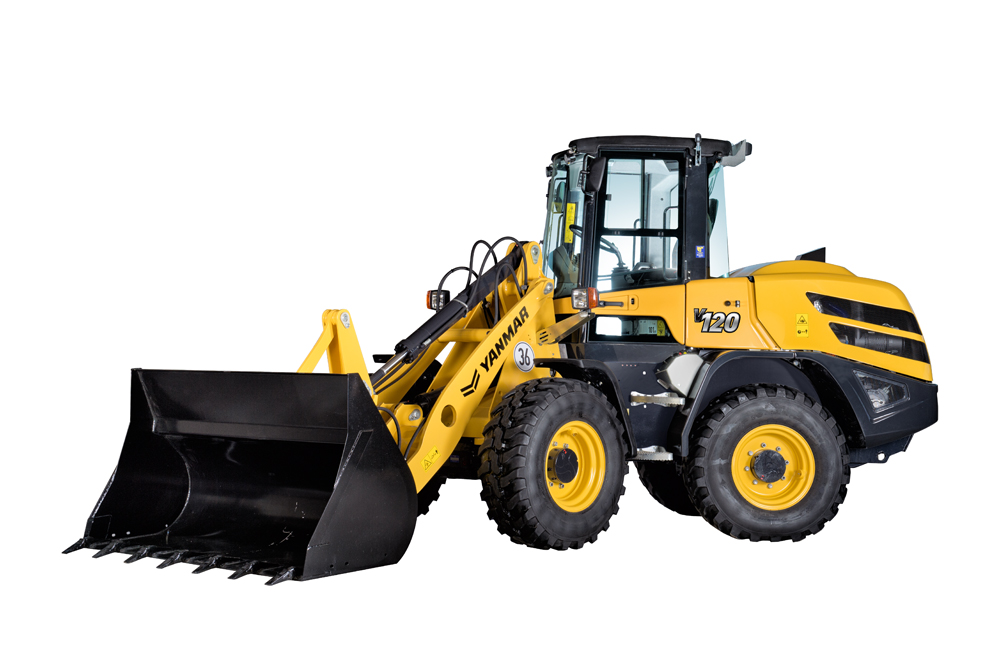 YANMAR Compact Equipment EMEA has announced the introduction of the next generation of its V120 wheel loader.
The machine is described as being 'ideally suited' to space-restricted urban job sites, infrastructure developments, agriculture and landscaping applications.
Powered by a 3.6-litre, 4-cylinder turbocharged diesel engine and fitted with a diesel particulate filter (DPF) as standard, the V120 is EU Stage V-compliant. The engine delivers 101hp at 2,000rpm and 410Nm of torque at 1,600rpm.
Yanmar explained that parallel kinematics allow operators to 'quickly and precisely' move loads to a maximum lifting height of 3,365mm and a maximum dumping height of 2,680mm, with static tipping load capacities of 5,000kg (straight) and 4,400kg (full turn) and a maximum digging force of 55,000N.
For complex jobs, the V120 has three available attachments: a general-purpose bucket, forklift attachment, and a multi-purpose bucket. Changing between attachments is boosted by Yanmar's hydraulic quick hitch system, which can be operated from within the cab.
An adjustable steering column and suspension seat mean that the cabin can be tailored to individual requirements. Other features include heating and air conditioning, while visibility and safety is enhanced by large windows and LED working lights.
Yanmar added that the cycle time of digging and loading work is shortened due to the inclusion of an inch brake pedal that can slow the loader's travel speed while maintaining engine rpm. The manufacturer's Smart Control system is included as standard.