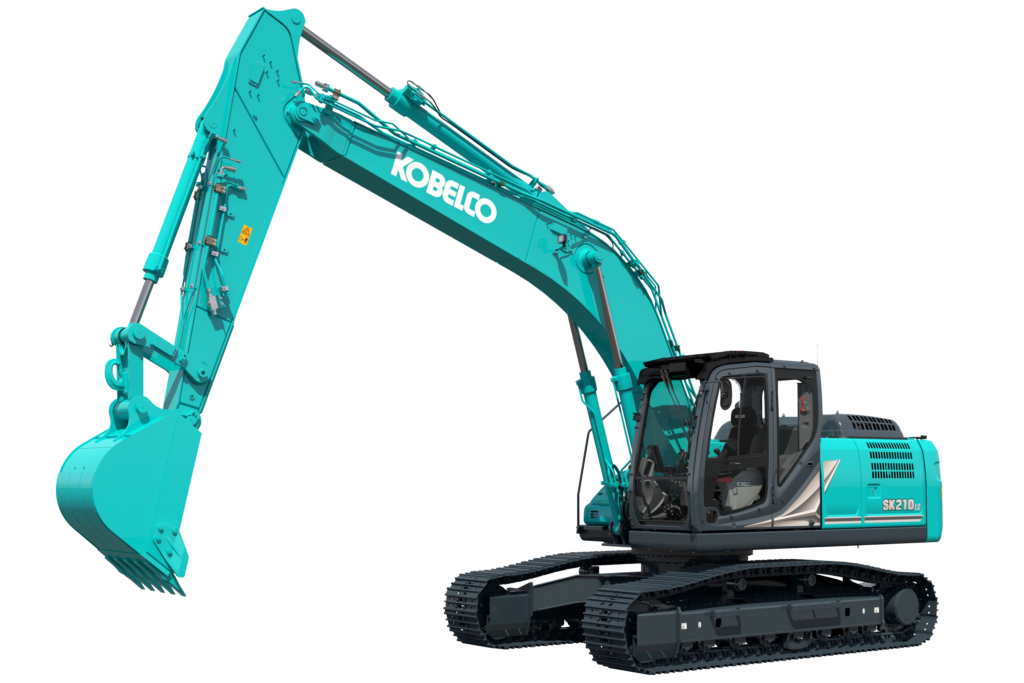 KOBELCO has announced the launch of the new SK210LC-11 and SK210NLC-11 (narrow undercarriage variant) excavators to its portfolio.
The next generation machines follow Kobelco's Performance X design concept. Boasting a Stage V Hino engine, the new SK210(N)LC-11 delivers 124kW output, 143kN digging force (157kN with Power Boost) and 228kN drawbar pulling force.
The manufacturer stated that 'smooth and steady' operation while moving heavy objects is assured through the 'Independent Travel' function, which dedicates one hydraulic pump to travel and one to the attachment on a continuous basis. The higher operating weight (21,900-23,500kg) leads to increased stability and lifting capacity when compared to the previous model.
When fitted with the standard counterweight (4,300kg), the SK210LC-11 is said to be 'ideally suited' for general construction and economic transportation, while the optional heavy counterweight (4,900kg) can be fitted for heavy-duty performance such as handling heavy attachments.
Three work modes are available: Eco, S and H mode. Kobelco explained that major components have been reviewed and improvements have been made to ensure stable performance. The side panels and rear supports have been made thicker to enhance body rigidity, while the increased diameter of the bucket cylinder rod pin helps enhance durability for various attachments.
The cabin features a Kobelco-branded Grammer air suspended seat, which moves together with the armrests and hydraulic controls. The operator can move the levers horizontally without twisting their wrist, while the upgraded hydraulic control system is said to respond to shorter lever strokes. The jog dial controls multiple functions on the 10-inch colour monitor.
All internal switches and dials in the cabin have LED backlights and the SK210(N)LC-11 comes with air conditioning as standard. The cabin is also equipped with a DAB+ radio and a 12V power outlet.
Kobelco said the newly structured hydraulic oil filter prevents foreign matter from entering the oil tank during maintenance, and all fluids and filters are easy to access from ground level.
Product manager Peter Stuijt said, "The 20-tonne excavator market is extremely competitive, but the new Kobelco SK210(N)LC11 more than holds its own against the competition. Promoting an excellent balance between performance and machine stability, the SK210(N)LC-11 delivers superior lifting performance and fuel consumption, while the machine's interior has been beautifully designed with the operator in mind."