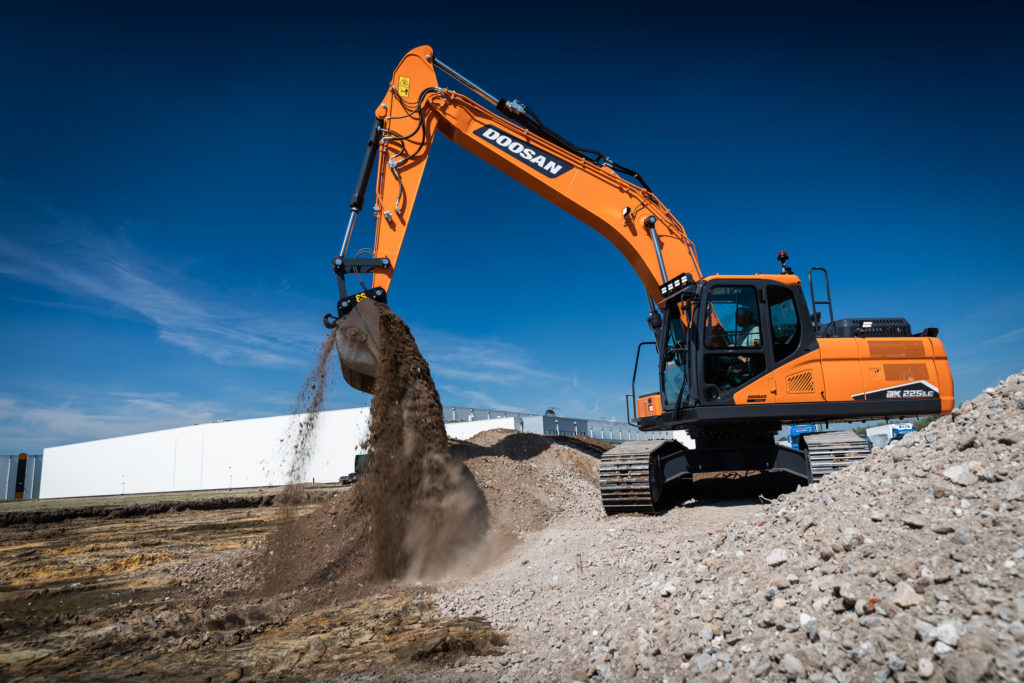 DOOSAN has announced the launch of its first new generation medium-sized Stage V-compliant excavators.
The 23-tonne DX225LC-7 is also the first Doosan digger of this size to feature the manufacturer's D-ECOPOWER virtual bleed off (VBO) technology, which is said to provide operators with higher productivity and around 7% lower fuel consumption per hour than the previous Stage IV model, as well as smoother controls.
New features include a 14% heavier 4.9-tonne standard counterweight, which is particularly suited for working with heavier attachments such as tiltrotators. Doosan explained that the heavier counterweight also contributes to higher lifting and digging capacities compared to the previous generation model.
The DX225LC-7 introduces a new smart hydraulic system, which Doosan revealed applies a smart hydraulic logic for 'optimal' distribution of the hydraulic flow rate when both the arm and attachment are working simultaneously, with a new priority valve and additional hydraulic line maintaining continuous hydraulic flow to the attachment, even when the arm is being used.
There is a new tiltrotator mode on the control panel, while another standard feature is the Fine Swing function, which is described as minimising the shaking that a lifted object undergoes at the start or stop of a swing movement with the excavator. When Fine Swing activates, the overrun disappears, allowing the DX225LC-7 to reach maximum swing speed, whilst removing the shock from the turn reversal at the moment of stopping.
New features in and around the cab include an 8-inch touchscreen, providing more information via a 30% larger screen; DAB audio (Handsfree and Bluetooth); smart keyless start system; Leatherette cooling seat with seat belt warning alarm; parallel wiper system and new design pedals; improved air flow for defrosting and air conditioning; nine LED work lights as standard; and four more LED lamps as an option.
Doosan added that the D-ECOPOWER technology utilises an electronic pressure-controlled pump within a closed centre hydraulic system to provide increases of up to 26% in productivity and 7% fuel consumption improvements, depending on the mode selected. A closed centred main control valve minimises pressure loss.
The acceleration and deceleration of the excavator workgroup functions are said to be smoother, allowing operators to perform repetitive swinging and digging motions with less jerking movements.
The new excavator is powered by a Doosan DL06V diesel engine, providing 129 kW (174 HP) at 1800 RPM. The engine offers a new solution to exceed Stage V regulations without exhaust gas recirculation (EGR).