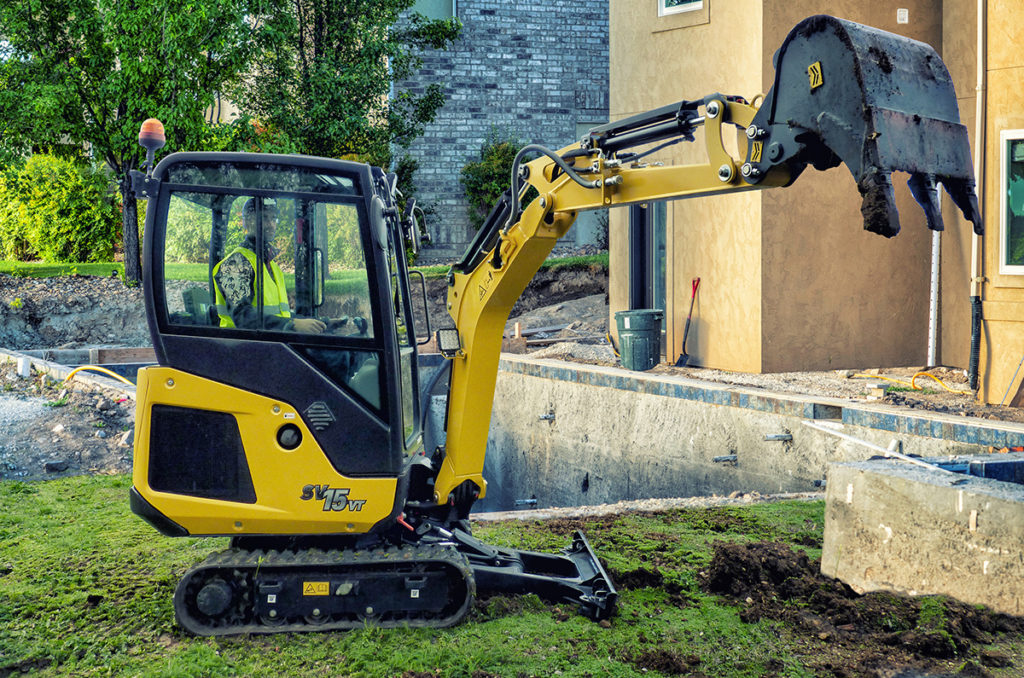 YANMAR Compact Equipment EMEA has unveiled three new mini excavators, comprising the SV15VT, SV17VT and SV19VT.
The models are described as being 'perfect' for urban job sites where space is limited. All three machines boast a Stage V-compliant 3-cylinder indirect injection engine from Yanmar's TNV series.
The SV15VT has a double gear pump hydraulic system, which delivers a flow of 28.6 l/min at a maximum 205 bar pressure, achieving a digging force of 7.4kN (short arm) and 12.9kN (bucket), while also coming with a standard auxiliary hydraulic line to power breakers or augers.
Alongside achieving ROPS, TOPS and FOPS certification for both the canopy and cabin variants, operators are said to benefit from 360° visibility, LED work lights and an orange seatbelt as standard.
The SV17VT  is suited for tasks such as trenching and landscaping in tight areas or residential properties. The model adopts Yanmar's ViPPS hydraulic system, which cumulates the flow of separate pumps to obtain the 'optimal' combination of speed, power and balance. The model has a digging force of 9.9/16kN (short arm/bucket), traction force of 12.8kN/8kN (first/second speed) and two travel speeds (2.4 or 4.8km/h).
This machine is available with the option of either long or short digging arms and levelling blades. Hydraulic hoses have been routed inside the boom, while the boom cylinder itself is located in an upper position to avoid accidental damage. Yanmar added that optional bucket/cylinder arm guards offer 'maximum protection and minimise unnecessary downtime'.
The SV19VT is suited to a variety of earthmoving applications. The model boasts a short turning radius at both the front and rear, alongside a wide boom swing amplitude. The machine has a digging force of 11.4/16.7kN (short arm/bucket) and traction force of 12.9kN, with two travelling speeds – either 2.4 or 4.4km/h. Yanmar stated that the cab provides 360° visibility of the working area, while ergonomically designed control pedals, levers, switch boards and an LCD control interface ensure 'maximum practicality'.
The model features long/short arm and blade configurations, a shaped steel extendable undercarriage, wide boom swing amplitude, and the option of an additional 50kg counterweight.
All three excavators are fitted with Yanmar's next-generation fleet management system, SmartAssist Remote, as standard.