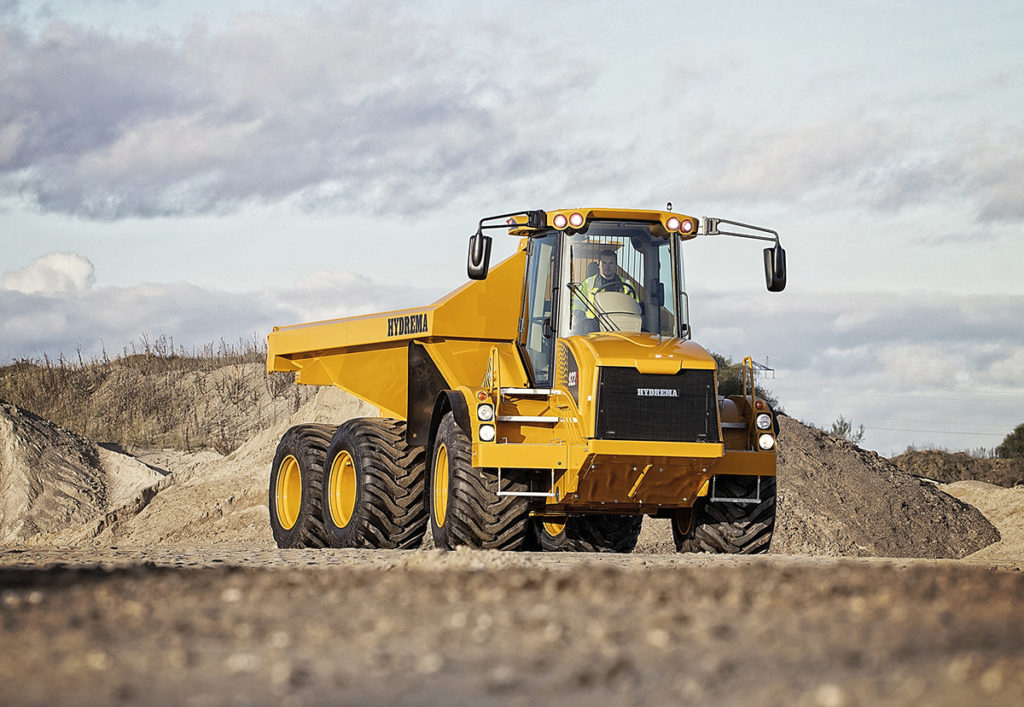 HYDREMA has enjoyed a 'very busy' start to the year, with the manufacturer's ADTs being utilised on a range of projects across the country including the landmark HS2 scheme.
Tim Wadsworth, sales director at Hydrema UK, said the company is benefiting from the upturn in construction activity, while in Scotland the decision to appoint Molson Young as dealers has been rewarded with a significant rise in sales.
"With the amount of work around at the minute, we are extremely busy with our trucks," Tim told Project Plant. "The 912 is a go-to vehicle. We have a lot of machines working on projects like HS2 – contractors know that with the 912/922 and 707 they're going to get safe, stable machines with low centre of gravity.
"Where we score is that our ADTs have the performance characteristics to be predominantly used off-road."
Tim added that Hydrema prides itself on safety, stability and reliability. He previously told Project Plant that the Hydrema 707G – designed to offer the benefits of a larger rear tip ADT but with the compact size of a traditional site dumper – is 'ideal' for the Scottish market, with its focus on safety.
The firm's 920G extra low ground pressure dump truck is also suitable for the Scottish conditions, with the model targeted at contractors operating on soft terrain but still requiring the speed and efficiency of a wheeled machine.
Last July, it was confirmed that Molson Young had secured the distribution rights to Hydrema dump trucks throughout Scotland. Tim revealed the move has been a great success.
"We've definitely seen an increase in sales in Scotland," he added. "It's always been a good area for us and this year so far has been fantastic.
"Molson have brought in a whole new raft of salespeople, with some really experienced guys who've been in the industry a long time.
"We've got a lot of customers in Scotland built up over the years. Adding a base up there and having guys out knocking on doors has made a big difference.
"We've completed a lot of deals these past few months and I'm really delighted with what Molson Young have achieved."
Tim said that throughout the Covid-19 pandemic, Hydrema has maintained its contacts and adapted to the situation by introducing new working practices.
"People very quickly adapt in this industry," he explained. "We've experienced very little disruption to our business during the pandemic by simply separating our reception, service and spare parts, and meticulously obeying all the guidelines. From a sales and management point of view we have worked from home where necessary using Teams and Zoom and It's worked a treat. On a personal note, It's always nice to be out there amongst it seeing people, and it's been good to see the level of effort our customers have gone to make site visits safe."