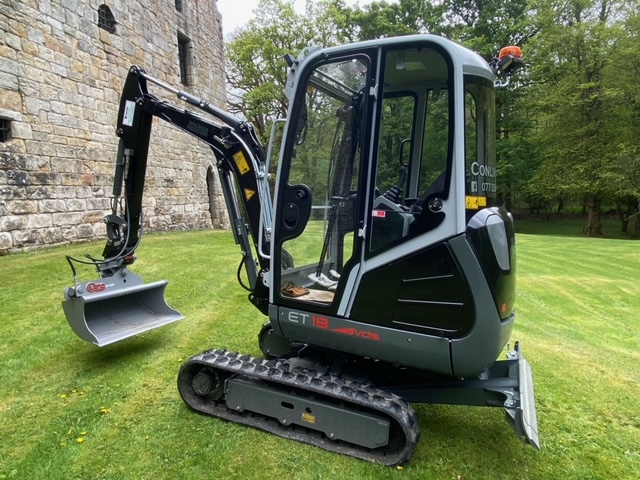 FALKIRK-based Conlin Plant has become the first company in the UK to take delivery of a special edition black-painted Wacker Neuson ET18 compact excavator.
The machine was bought from Wacker Neuson dealer WM Rose & Sons – and comes three years after the business bought its first ET18 just after ScotPlant 2018.
Conlin Plant was founded three years ago by Craig Conlin. The business specialises in the likes of groundworks and landscaping projects.
"I had my last ET18 for three years and didn't have one bit of bother with it," Craig told Project Plant. "It's a fantastic machine so I didn't see any point in changing to another brand. It's been an outstanding wee digger for us.
"I'm on quite a few of the Scandinavian digger Internet pages and had noticed a few black-painted machines on there. I wanted something to stand out.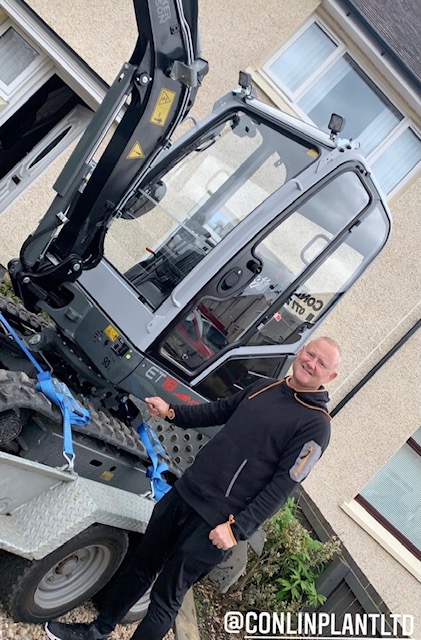 "The reaction's been phenomenal. I posted some photos of the new machine on social media and two people messaged me that night to ask if it was for sale! The customer I was working with this morning is delighted with it."
Andrew Muir, sales manager at WM Rose & Sons, told Project Plant he's also already had further enquiries from customers who spotted photos of the attention-grabbing machine on social media.
"The customer bought his first machine from me three years ago – a standard yellow ET18 – and his plan was always to change it after three years," Andrew said. "We discussed things like wrapping the new excavator in different colours and finally came to agreement to get it painted black. It's full spec, with hydraulic quick hitch, VDS (Vertical Dig System), two-speed tracking, extendable undercarriage, long dipper and dozer blade, LED lighting, and proportional controls – it's a very high spec machine for the size of it.
"This is the first black-painted ET18 to be sold into the UK. It looks very different; it's really eye-catching. There's nothing like it on the market."
WM Rose & Sons has enjoyed success with the Wacker Neuson brand in the early months of this year, with Andrew adding that sales in the first two-and-a-half months of 2021 surpassed the whole of last year. "We've been kept busy," he added. "I like the variety of machines offered by Wacker Neuson and the spec. They cover every single product you can think of in the market from Wacker plates to breakers and concrete equipment.
"Feedback from customers has all been very positive. When customers get a shot of the Wacker Neuson machines, they start to request them."