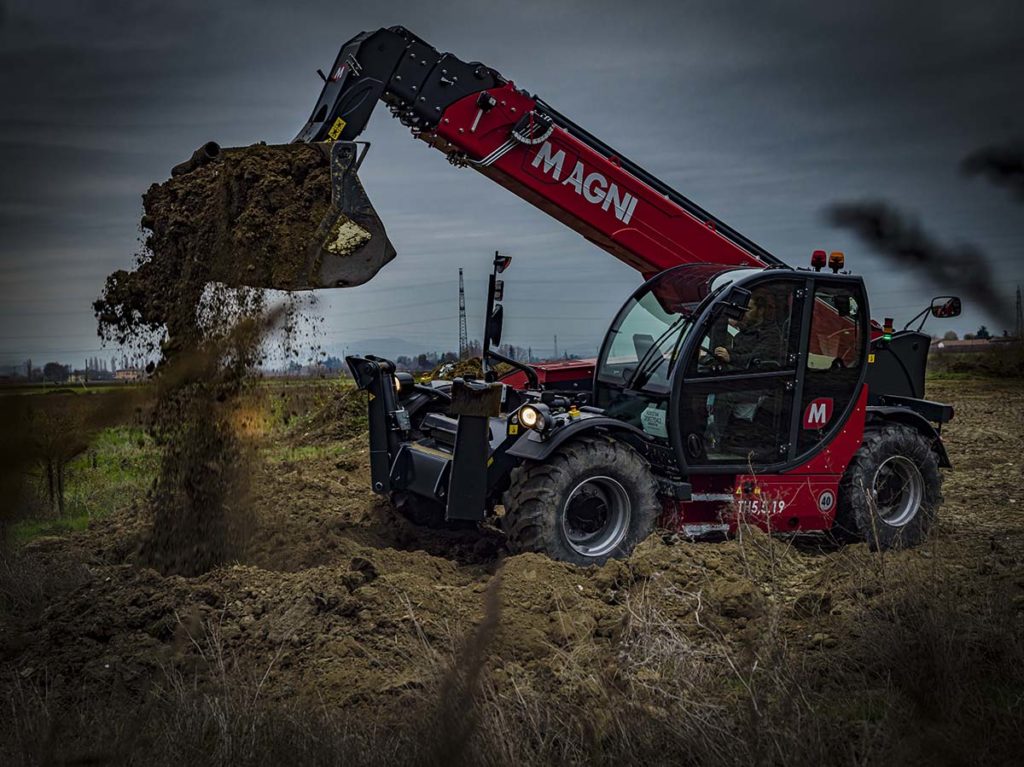 A new range of telehandlers has recently been launched by Italian company Magni Srl. The Magni TH range consists of nine fixed boom telescopic handlers from five to six-tonne capacity and 8m to 19m lift height.
These machines join the 20m and 24m lift height machines that were launched a few years ago. Powered by a Deutz 55 kW or 75 kW Stage V engine, all the machines conform to the latest emissions regulations.
The hydrostatic transmission of the TH range is said to offer 'precision and manoeuvrability'. This machine is compatible with a wide range of attachments and is equipped with the R.F.ID system, which allows for automatic recognition of attachments and the creation of the relative load charts.
Magni revealed that the company has used its expertise gained in the production of rotational telehandlers, where they have become known for innovation and quality, and transferred this technology into their telehandlers.
The result is that Magni has real time load information with the safety systems of a rotational handler. The machines also have the same cab with 'unmatched' visibility and integrated air condition on the higher-powered models.
CanBus electrical circuit, load sensing high pressure hydraulic system, and touch screen display are other features lifted straight from the firm's range of rotational models.
Low boom pivots and compact dimensions give the machines a small profile described as belying  the lift height and capacity. The Magni machines are built with heavy duty axles. The TH range can be fitted with attachments such as winches, man platforms and hooks as standard with no additional hydraulics or electrics required.
Alex White, director of Magni UK, explained, "Telehandlers have been built to the same basic design for years and although the introduction of EN has brought in greater safety they are principally still working with basic strain gauge overload systems that are not accurate and easy to override.
"At Magni, we have introduced advanced safety systems to the standard telehandler. The Magni machine calculates the length of the boom, the angle of the boom, the position of the stabilisers and the weight on the forks and from this gives the operator dynamic real time load information. We believe this system is the safest on the market and the future of telehandlers that can be used now in every new Magni TH telehandler."