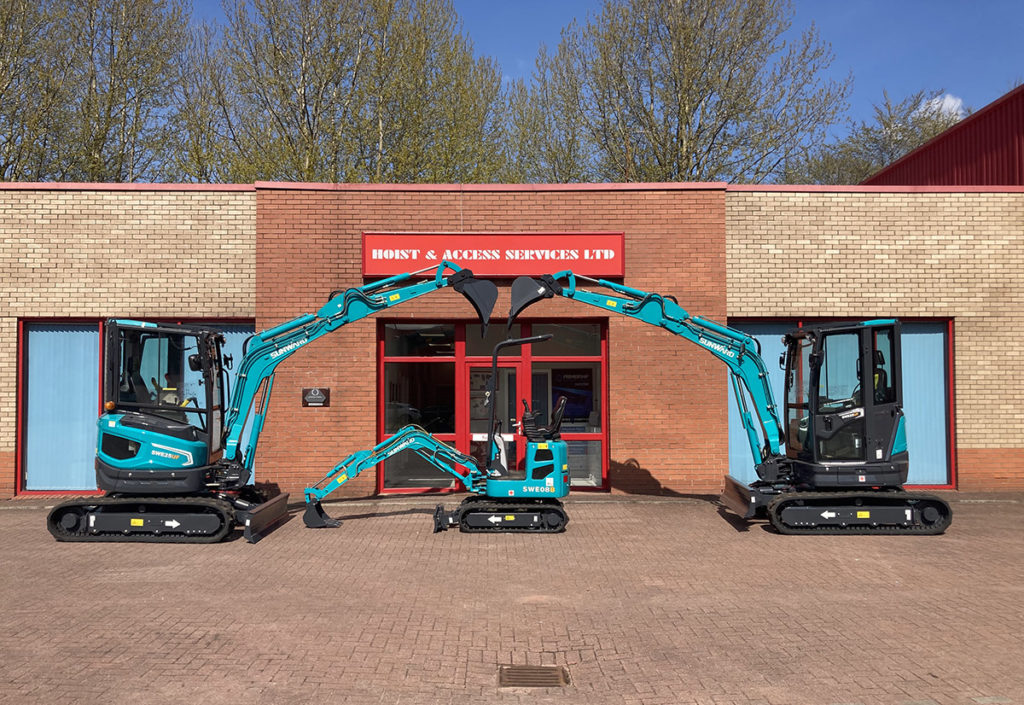 GLASGOW-based Hoist & Access Services has been appointed as the sole Scottish distributor for Sunward excavators.
The business, which has specialised over the years in hiring and selling hoisting and access equipment, has added excavators to its portfolio of products for the first time.
The move follows the appointment of Robert Forbes as business development manager. Hoist & Access realised the excavators would 'dovetail nicely' with their existing range of products and add to the company's ability to offer customers more of a one-stop-shop offering.
Sunward was founded in China in 1999 and has grown to become one of the largest equipment manufacturers in the world with a product portfolio featuring over 200 items and an annual turnover of nearly $1 billion in 2019.
"The Sunward product is a quality product," Robert told Project Plant. "Hoist and Access' core business is hoisting equipment but many of our customers who rent hoists also buy excavators, and vice versa. It's been a good niche to add to the portfolio. Hoist & Access has been in the construction and plant hire industry for 25 years and are very well known and respected in the industry."
Robert stated all the feedback to date from customers who have bought or demonstrated the Sunward excavators has been wholly positive.
"All the customers comment on how well built the machines are," he added. "The machines feature premium components like Yanmar and Kubota engines. The excavators have handled everything very well. We have a customer in Pitlochry who has been tracking up and down hills with no problem. The power is there. That customer is looking to buy more Sunwards, they will be taking one of our nine-tonne demo machines next week.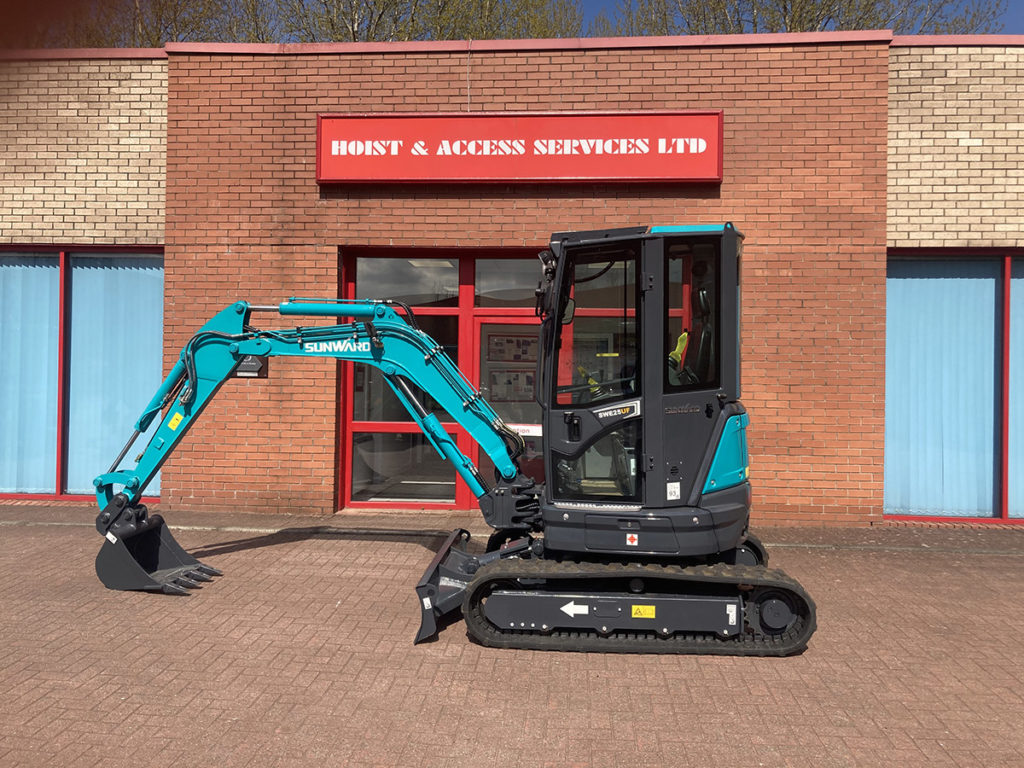 "Another customer in North Uist said the machine has been received very well. He's been hiring it out so it's making a name for itself up there and we've had quite a few enquiries."
Sunward has its European headquarters in Belgium, meaning parts can be ordered and received within 24 hours.
While Hoist & Access is currently concentrating on excavators, Robert added there is potential to expand in the future and start offering more of the Sunward products.
"Scissor lifts is something we'll be looking into a bit further down the line," he explained. "We're trying to walk before we run. Our aim is to get the excavator side right first, with the current Hoist & Access infrastructure in place we can already support our customers. Our engineers have gone through Sunward's training programme.  The more we build the brand in Scotland, we'll be able to sustain bringing more people on board."
Hoist & Access MD John Coyle described the move as a 'perfect fit'.
"What attracted us was that it's a quality product," he said. "Sunward is a huge company. Their input with resource, finance and expertise is phenomenal, second to none.
"This is completely new venture for us. There is a severe shortage of machines in the market. The availability of Sunward machines is far greater (than many competitors), and that is coupled with a quality product, very competitive price and a backup service which is exceptional.
"I expect us to get a foothold in the market. This market's been there for a long time with a lot of major players."
While Hoist & Access is new to the excavator market, Sunward certainly is not. John believes that once the name gets out there and operators start to work with the machines and realise what they can do, the brand can go from strength to strength in Scotland.
West Lothian-based plant operator Luke Cunningham took delivery of a Sunward 2.7-tonne SWE 25UF several weeks ago and has been using it predominantly on landscaping projects such as driveways and gardens.
"It's a great machine," he said. "It's very smooth and also very comfortable to operate for a machine that small. It's got a full size seat, which a lot of smaller machines don't have.
"It's a very stable machine. This is the first Sunward I've ever been in. I'm a plant operator by trade. I drive all sorts of machines for different people."
Luke revealed he'd have no hesitancy in buying more Sunward excavators in the future. "The way I see it, a good salesperson will sell the first one but the way the machine performs, and the customer service, will buy the second and third one," he added. "So far the customer service from Hoist & Access has been spot on. I would definitely buy another one."
Robert Stewart of Pitlochry-based Peter D Stewart & Son has also been operating a zero tailswing SWE 25UF ahead of a demonstration of a Sunward nine-tonner.
"It's definitely been value for money," Robert told Project Plant. "The machine is doing everything it's needing to do. We're doing a lot of work for SSE at the moment – cable works, etc.
"It's holding its own. It's a very powerful machine for the size of it."
When it comes to new machines, Peter stated that smoothness of operation is one of the standout features he looks for.
"The Sunward is very smooth," he added. "It grades fine, it's simple, access is good. I'm now waiting on a demonstration of the nine-tonner. If that ticks the box, it will be seriously thought about as well."