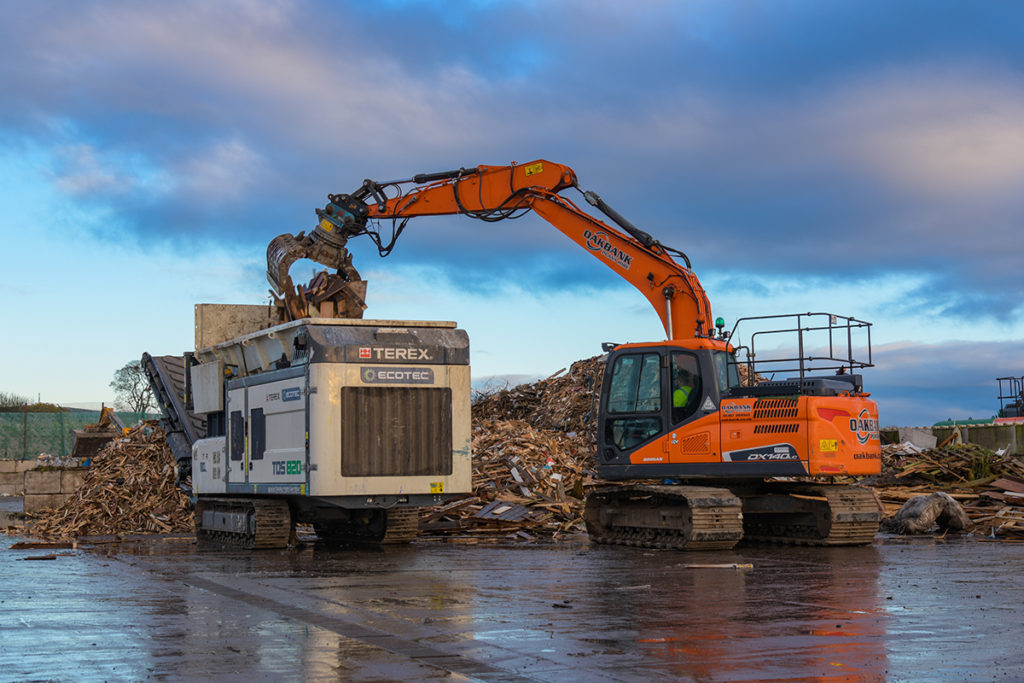 ESTABLISHED in 1983, Oakbank Waste Management has built its reputation throughout the Dumfries, Galloway and Cumbria regions, proudly achieving 100% diversion from landfill.
The firm's fleet of more than 50 waste collection vehicles includes skip wagons, roll-on roll-off wagons, walking floor artics and front-end loaders. The business services customers ranging from domestic skip hire and kerbside collections, through to C&D/C&I waste from major commercial clients.
A separate division, Oakbank Plant Hire, boasts more than 75 machines, ranging from 1-30 tonne excavators, through to crusher and screener hire.
At its waste processing facility in Mosspark, the Oakbank team provides clean separation of waste streams and is able to process over 60,000 tonnes of waste per year.
The latest investment, a Terex Ecotec TDS 820 slow speed shredder, supplied by Molson Finlay Scotland, is said to have helped the company process multiple waste streams with greater efficiency as well as increasing the percentage of recyclables recovered. The mobile shredder is able to be tracked between areas of segregated bulky waste, timer, plastic and green waste, reducing the number of times the material is moved.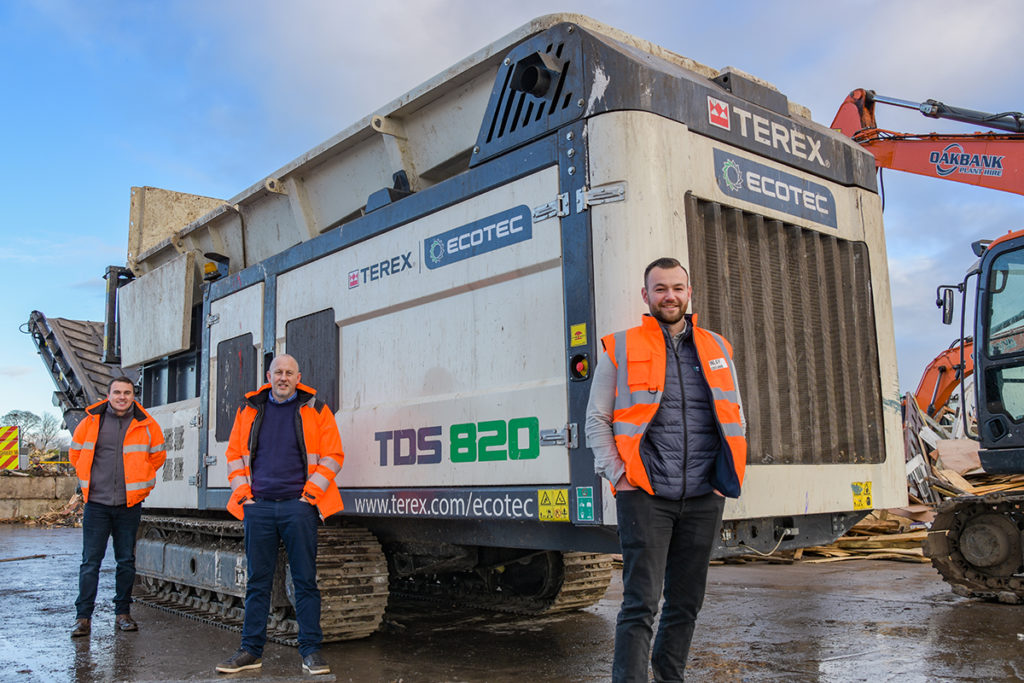 The TDS 820 features customisable shredding programmes that give operators the opportunity to configure the machine to their specific requirements, reduce material wrapping and maximise production. Designed with self-driven shafts, this double-shaft slow speed shredder is designed for the  most challenging of applications.
Key features include hydrostatic drive that provides increased protection against contamination and allows for bi-directional shredding. The two-metre long shafts are manufactured with a fully-welded tooth configuration, which Molson Finlay Scotland described as  making for 'massive throughput and excellent material reduction'. Its independent gearboxes enable each shaft to be run separately, reducing material wrappage.
Additional features include the tipping feeder which increases the feed area. Hopper extensions provide increased capacity in bulky applications. The machine is manoeuvred via a tracked undercarriage.
John Reid, Oakbank Group manager, said, "Although we have previously run a shredder, it was not in the same league as this new Terex Ecotec TDS 820. We are now able to process a much higher volume of material and achieve a more consistent product size.
"For us this means savings at every stage of the process. We now have much better transport efficiency thanks to being able to get more material into each load. We get a better gate fee for our RDF material and unlike its predecessor, we can use the TDS 820 to process all of our waste streams."
With this shredder fitted with the 9-9-4 configuration shafts and a short tooth breaker bar, Oakbank is able to achieve its desired product size on all waste streams, whilst delivering strong throughput figures when producing RDF which makes up the bulk of material.
John added, "We have always had excellent levels of service from the Molson Finlay Scotland team on the crushing and screening equipment we have been running for some time. This made it a natural progression once they were able to supply and maintain the Terex Ecotec range."
Darren Petersen, Molson Finlay Scotland sales manager, added, "This is a great example of the benefits our customers are now able to take advantage of following the acquisition of Finlay Scotland by Molson Group in February 2019. The increase in product range, along with additional investment in after sales support systems, parts and coverage has really helped us improve the support we offer customers after a deal is done."